With last week's episode's self-discovery done, this week we jump right into operation find and destroy the Variant Loki.
Loki has accepted his fate (kind of) and decides to help Mobius track down the other version of himself. Of course, he works on other God of Mischief, take over the world plans while he does so. There are a lot of little hints to pick out, plus that one big thing people are working hard not to spoil. Let's get to it.
Major spoilers after the GIF.
The episode starts in a medieval town… in Wisconsin in 1985. Variant Loki has trapped another team of Minute Men and takes over their minds, having them attack one another. This time Variant Loki takes a hostage to distract the team hunting them, which works pretty well when you add in Loki's need to pontificate. Needless to say, they get no closer to apprehending Variant Loki.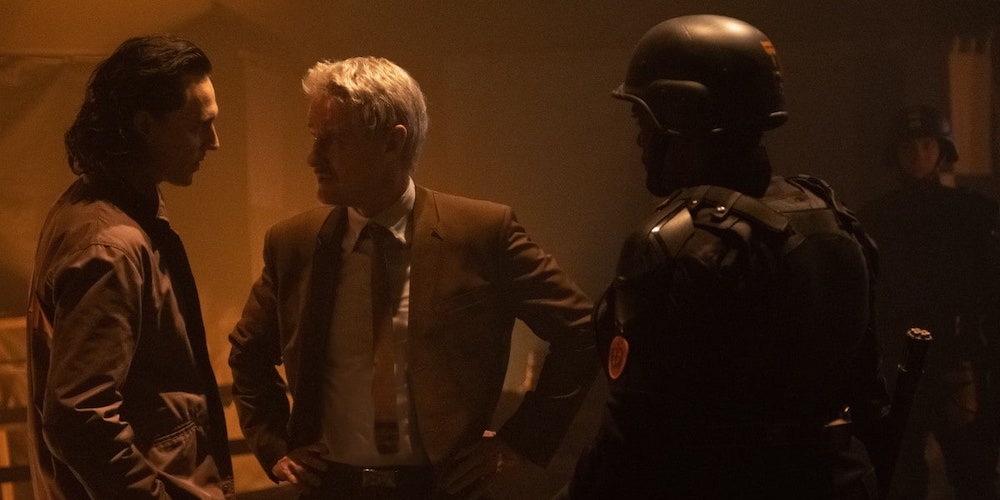 Due to this failure, Loki is given desk duty and has to sift through all of the files about the Variant Loki to find clues. An epiphany comes when he comes across the report that covers the destruction of Asgard in his own file. Variant Loki is hiding behind apocalypses in the timelines. The chase is on… to a big box store in 2050 Alabama whose name is related to this bit of Marvel history.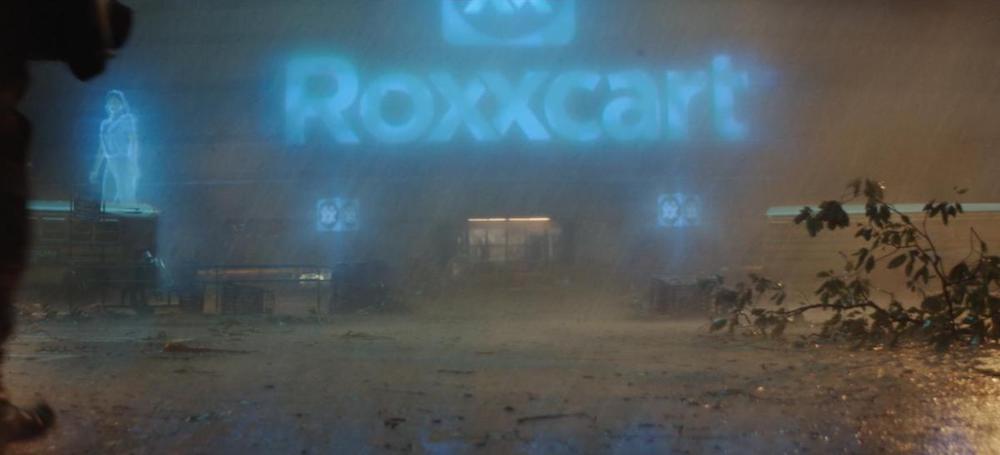 Let's pause for a moment to talk about that pen and the conversation around it.  When Mobius has to get approval to move forward he talks to Ravonna Renslayer and both have to sign off on the paperwork (the TVA is and always will be a bureaucracy). In their friendly chit-chat, the two talk about some artifacts that she keeps in her office that are from various operations Mobius has been involved in.
She then hands him a pen from that collection of artifacts that he doesn't recognize. He jokes about her having a secret TVA agent on the side. This could be another individual entirely or another Mobius. In the comics, there is an infinite number of him. He's a clone created to serve a particular function and rises through the ranks at the TVA by chasing Reed Richards and making deals with Kang the Conqueror. He also has run-ins with Jennifer Walters/She-Hulk (who has a series at Disney+ in the works).
Franklin D. Roosevelt High School is not in the Marvel universe, and there are a ton of wild theories around why it's highlighted including one about a possible connection to Molecule Man. I'm thinking this is another red herring. We'll have to wait and see on this.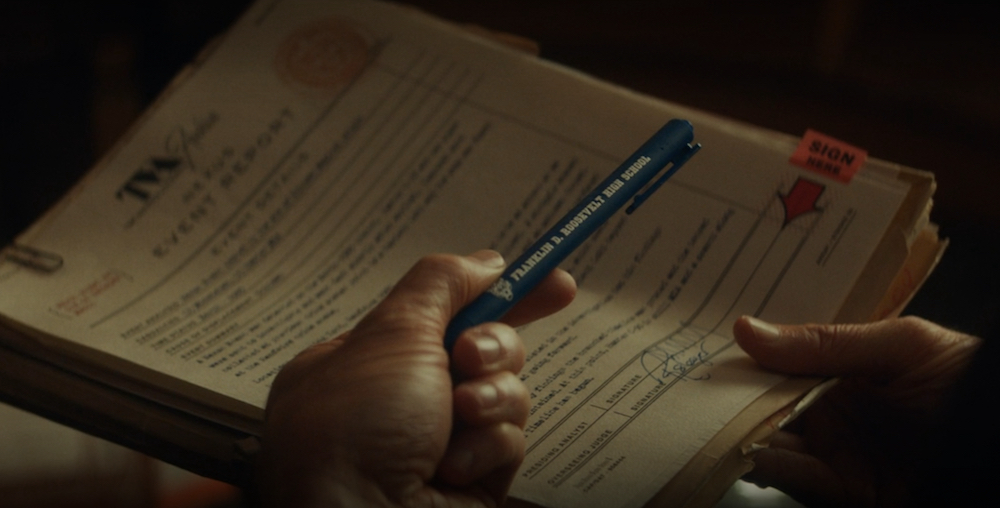 Back to the big box store. Loki finds the Variant exactly where he thought they would be. The two have a physical and verbal fight (where Loki says that he has infiltrated the TVA to kill the Time Lords and take it over, which is on-brand but feels not quite right) as the Variant transfers from body to body to hide their identity. Until Loki figures out her plan – to use the equipment she's stolen to facture the sacred timeline.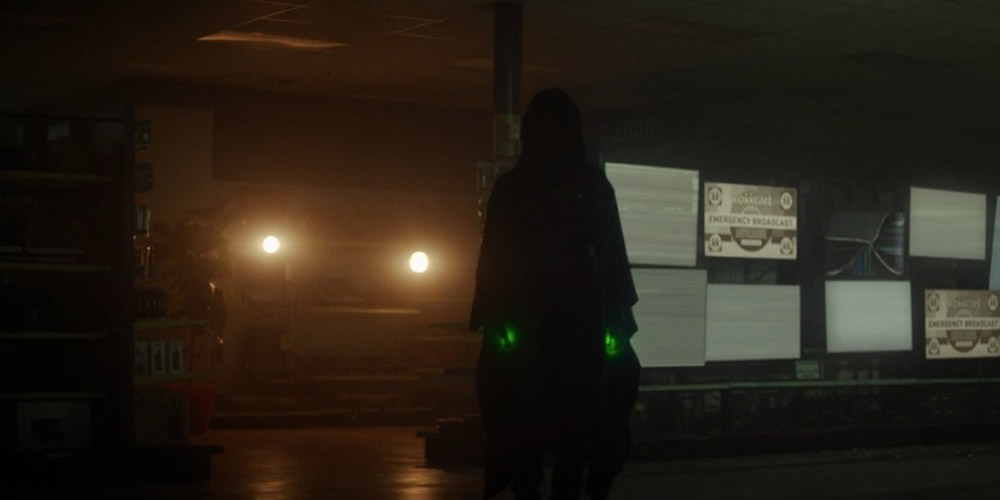 The big reveal: the hooded figure our merry band of TVA employees is hunting is Lady Loki (played by Sophia Di Martino) who, unlike Loki Loki, has the ability to possess other people. Not sure when or where she's from, or what her goal is. I'm assuming screw over the TVA and possibly create another multiverse war – but why? Loki follows her into a time door after her bomb goes off because he just can't help himself.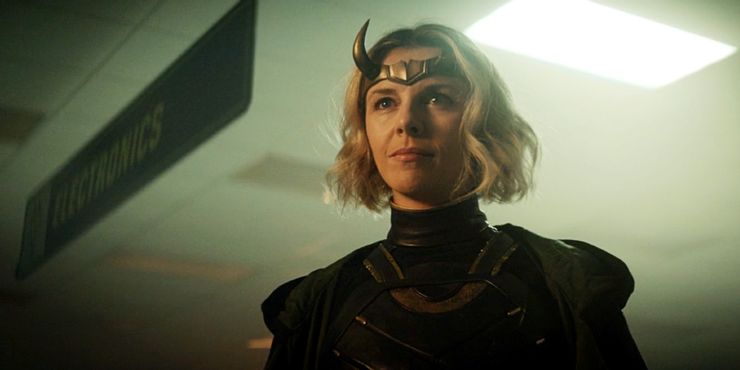 There have been hints about Lady Loki in the trailers (that woman with the bob haircut), Loki being listed as gender fluid in his TVA file, and paparazzi photos of filming. The stature of the hooded Variant Loki hasn't exactly matched a tall or super muscled version of the character, either.
So, who is Lady Loki? After Ragnarok in 2007, Thor's ongoing comic book covered the search for missing Asgardians or ones that had been re-born into new forms. One of those was Loki – he stole a body intended for Lady Sif, a warrior and one of Thor's companions. In this form, Loki swears to only tell the truth but then uses it to manipulate people. Her main goal does not change – she continues a mission to destroy Thor and rule Asgard. She was involved in the Secret Invasion event in 2008, was a member of the Cabal (Norman Osborne's supervillain society), and generally did a bunch of cruel and sketchy stuff.
Her look, with the broken horn, is taken from Lee Garbett's work on Loki: Agent of Asgard.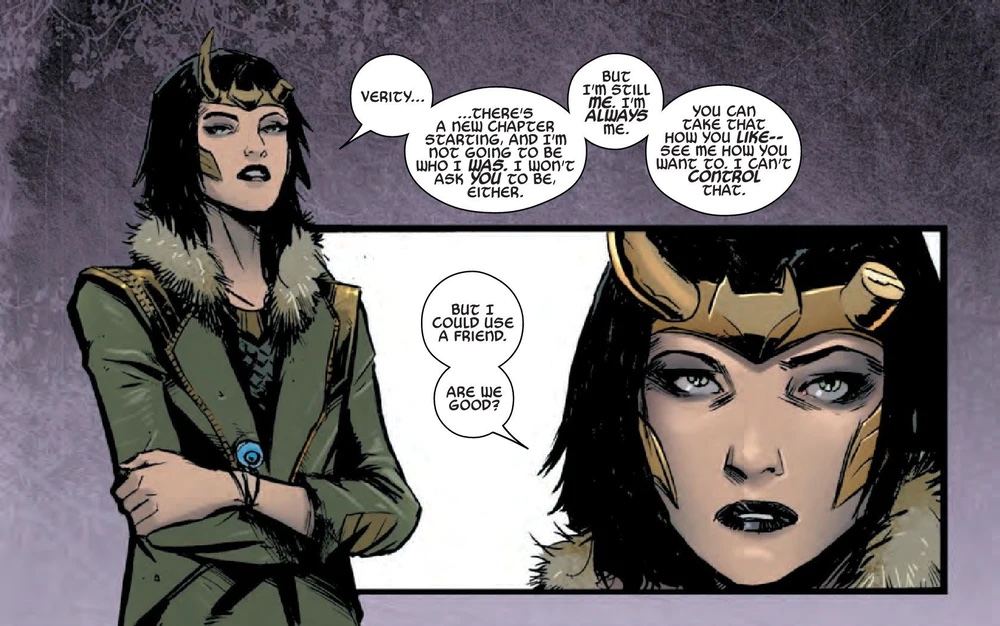 This could be Lady Loki, this could be someone posing as Lady Loki (she does request that Loki not call her Loki). There's a lot to cover in the next four episodes. Some quick takes:
Is Lady Loki Sylvie Lushton?
What is Ravonna's next move?
Do we actually get to see the Time Keepers?
New Avengers connections – Kid Loki?
Is this how Kang enters the MCU?
I really want one of those TVA mushroom lamps.
Miss last week's recap? Check it out here.