What happens when you mix the worst aspects of a Giant Spider with the teleportation of a Blinkdog? Nightmare fuel in the form of Phase Spiders is what happens.
First Edition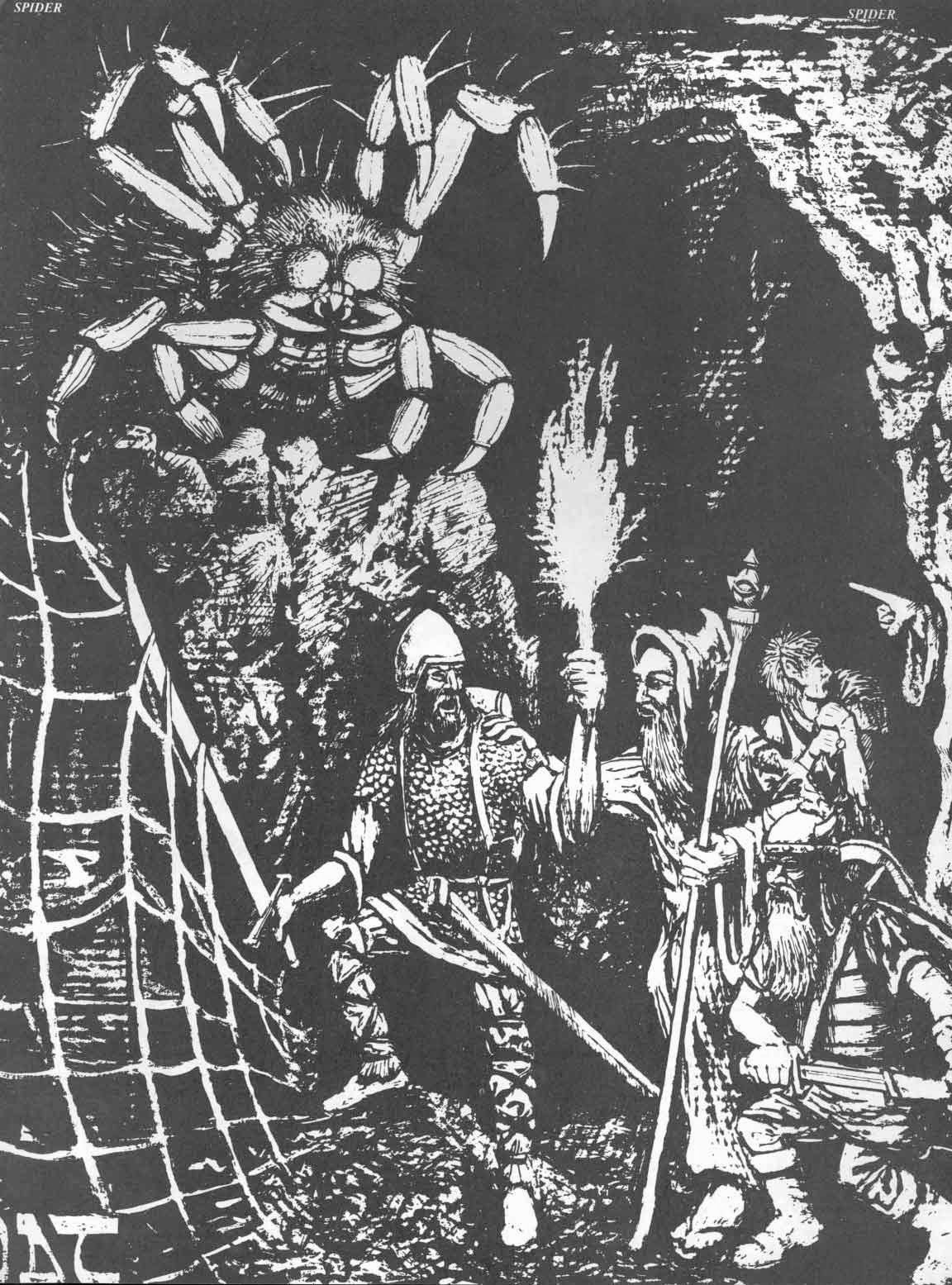 Spiders of D&D are huge compared to our world and live just about everywhere that isn't frigid. But terrible creatures live where it's too cold for spiders, so really it's all bad. Phase Spiders are very similar to their Giant Spider cousins in looks, size, and web, but they are more likely to be in their lairs, have more hit dice, and can phase around the battlefield like a Blinkdog. On its own, the picture of a giant spider blinking in and out of battle is terrifying, but a phase door spell will keep them in-phase for seven melee rounds and oil or armor of etherealness will keep an adventurer in the same phase as the spider so the fight can continue and it can't sneak up on your group.
Second Edition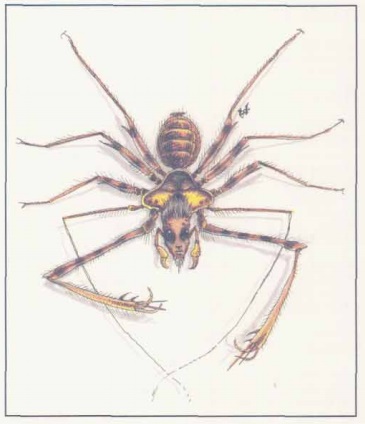 In case a giant spider who can phase in and out of existence for a bit wasn't nightmare educing enough, Second Edition's Phase Spiders have human-like faces. Enough so that they are often confused with Neogi or Driders. They can phase out and back into the Prime Material Plane and attack all in one turn, and if they do very well on their initiative roll they have the opportunity to phase back away again without allowing your party the opportunity to strike back. When the Phase Spider feels outmatched or beaten they will often flee to the Ethereal Plane to hide and recover, so your party can spend the rest of that dungeon wondering if and when it will pop back out.
Third Edition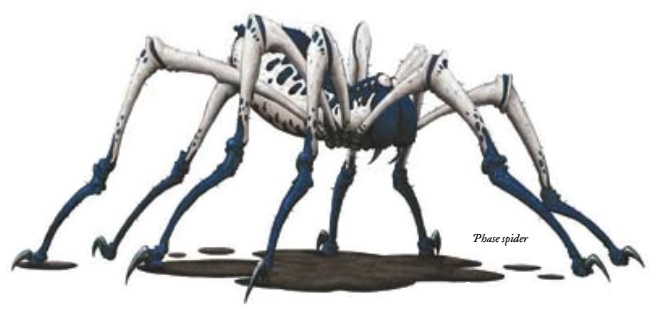 Measuring in at eight feet across and seven hundred pounds, Phase Spiders may be everyone's universal worst nightmare. Their go to attack is to phase in, bite their victim, and phase back out again, and with DC 17 Constitution save, their bite's venom is no joke. They also have a speed of 40 ft, and, of course, a skill for climbing. You'll most likely find a Phase Spider in otherwise pleasant warm hills, and while they are usually solitary creatures, they have been known to live in groups of up to five.
Fourth Edition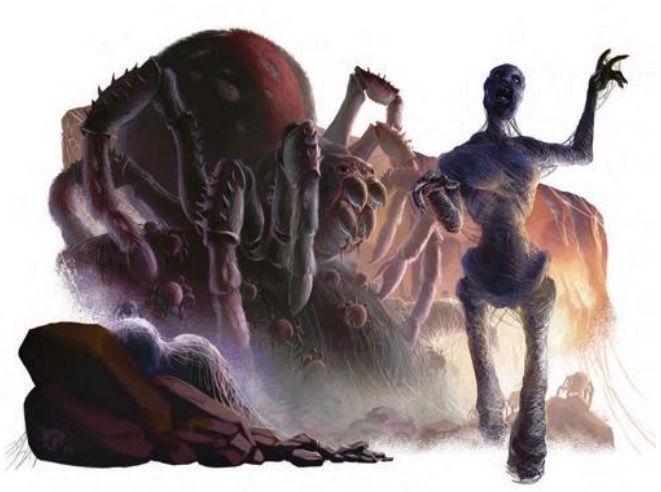 Phase Spiders are back to living just about anywhere for 4E, but now they prefer to go after and eat Fey victims, sometimes ignoring easier prey in favor of a Fey individual. If their favorite meal isn't around or you happen to find a Phase Spider who isn't quite so picky, they like to jump from party to member to party member the same way they jump in and out of the Material Plane, spreading out their attacks and changing position often. Also new to Fourth Edition, the Phase Spiders venom has a chance of rendering its victim unconscious if a saving throw is failed.
Fifth Edition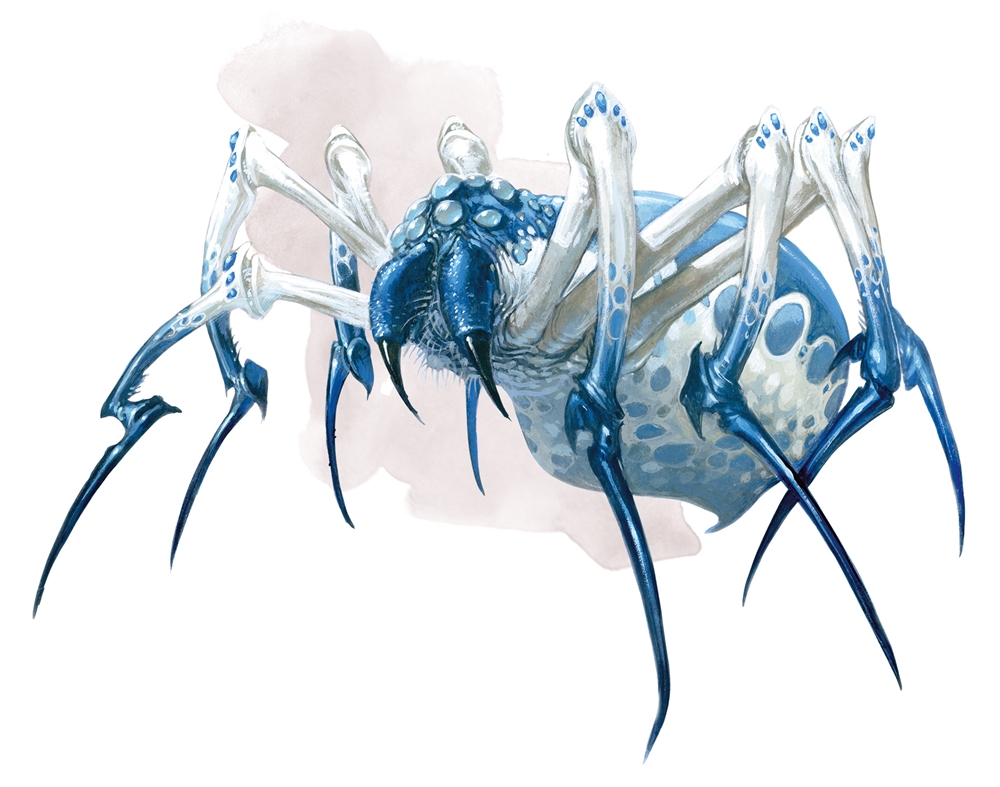 Despite being one of the literal worst things I could ever think of, you won't find the Phase Spider under the Ps or Ss in the Monster Manual, but in the back under "Miscellaneous Creatures" right next to Poisonous Snake and regular, normal Rat. Now their regular speed is reduced to 30 ft while their climb is increased to same with a bonus to stealth, but with only thirty two hit points, the hardest part of killing a Phase Spider would be actually laying a hit on it before it jaunts off to the Ethereal Plane between turns.
Have you encountered a Phase Spider in your D&D adventures? How did your party counteract its phasing in and out of the Material Plane? Did your character have spider nightmares for weeks? Let us know in the comments!
Happy Adventuring!