There's a dice tower for every campaign, whether you're looking for something spooky, something magical, or even a tower you can build yourself.
Dice towers are a double duty RPG accessory when it comes to usefulness. Keeping your rolls unequivocally random and making sure your dice don't roll under the table, lost to the darkness and cats forever, they're helpful tools in keeping the game progressing smoothly. Plus, some of hem look very cool on a table and work as a piece of art or focal point. As always, links to shops are in the item titles.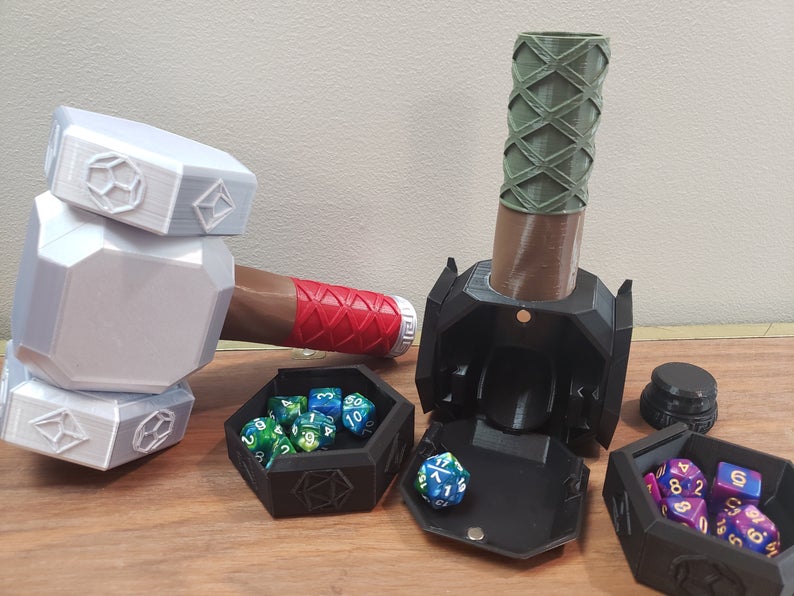 Some accessories impress me to no end with their versatility and creativity in their design. This 3D printed hammer is a double threat working as a sturdy dice vault between games and a simple but effective and smart dice tower at the table. Each end of the hammer comes off for twice the dice storage while the end of the handle unscrews to reveal the hollow dice rolling tube. But when it's all together you'd never know it was full of dice. If your character prefers using a Warhammer, smithing, or you're just a Thor enthusiast, this may be your next favorite addition to your D&D tools.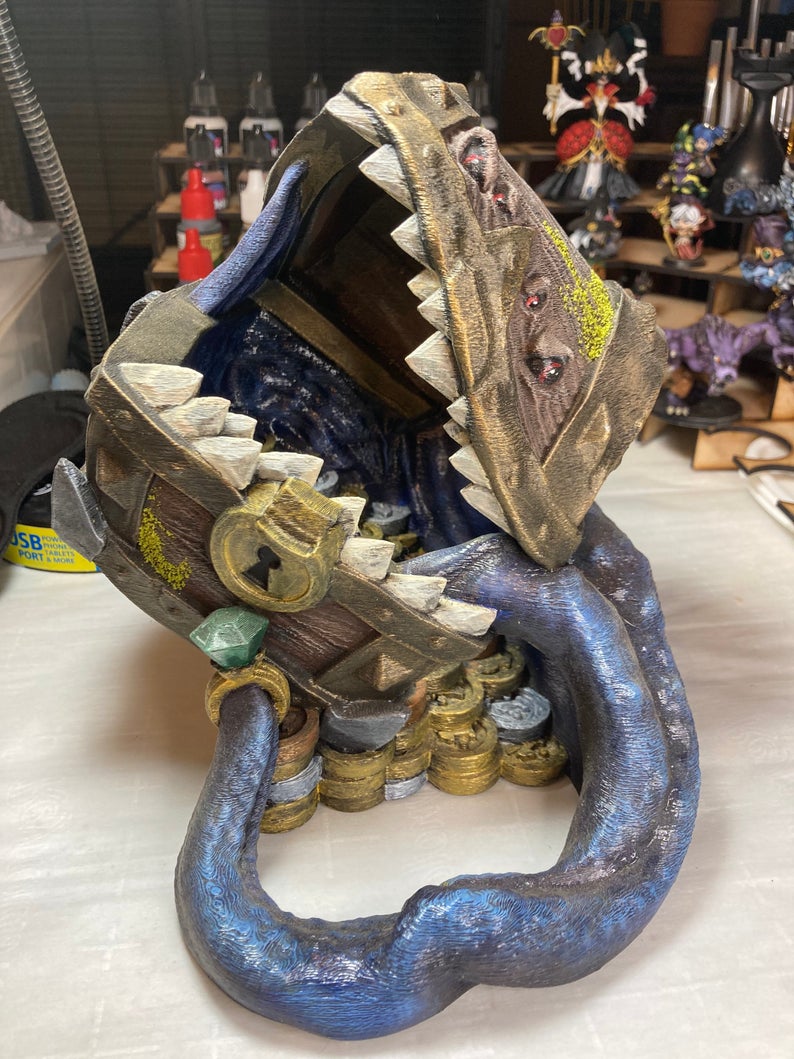 There are a few monsters that immediately make us think of D&D. They're classic, popular, and instantly recognizable even when they look a little different from encounter to encounter. Like the Mimic. Is that a treasure chest or a giant mouth monster waiting to strike? In this case, it's neither! This dice roller looks like a treasure chest and gold showing its true nature as a Mimic with gorgeous little details down to the wood grain and leathery monster skin texture. And unlike some other custom printed accessories, this one comes hand painted so you can go from checking your mail to rolling dice through a Mimic in moments.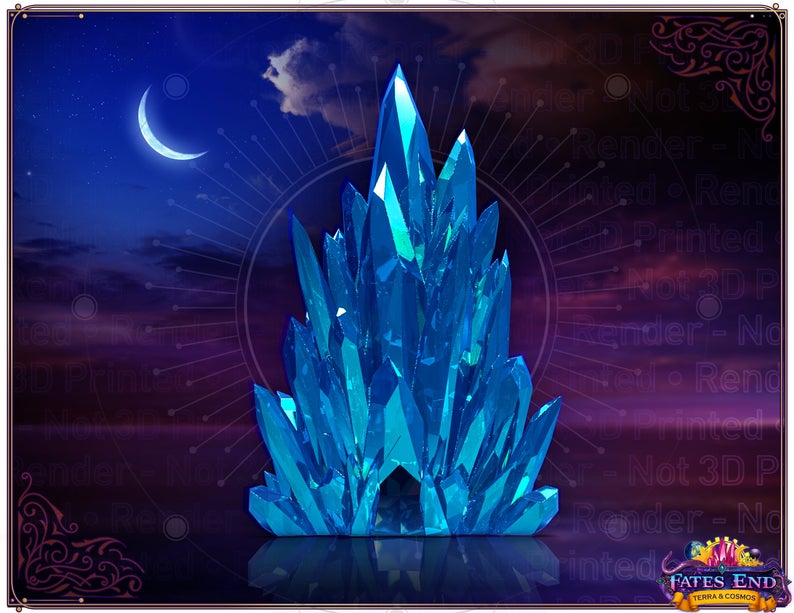 This dice tower feel like it's from the backdrop of a dozen different animes and could be perfect for your next BESM or other anime inspired campaign. Looking like a tower or castle made entirely of giant pieces of crystal, it's a pretty design that would look good at the center of any gaming table. And there are nine colors to chose from, including metallics, for the crystal tower that fits best into your particular game world.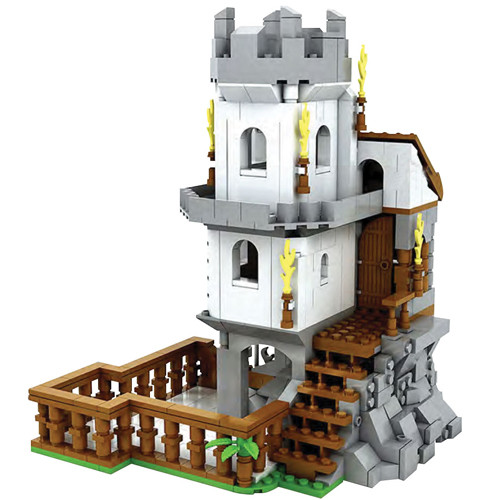 Dice towers are fun and useful, but wouldn't building your own out of Legos legally distinct plastic building blocks somehow make the entire experience better? Once you've constructed this completely functional dice tower, it comes with a D&D 5E campaign for four players and a DM complete with maps. The overlap between toy enthusiasts and D&D players has quite a bit of overlap, and for those people this set may be the perfect present.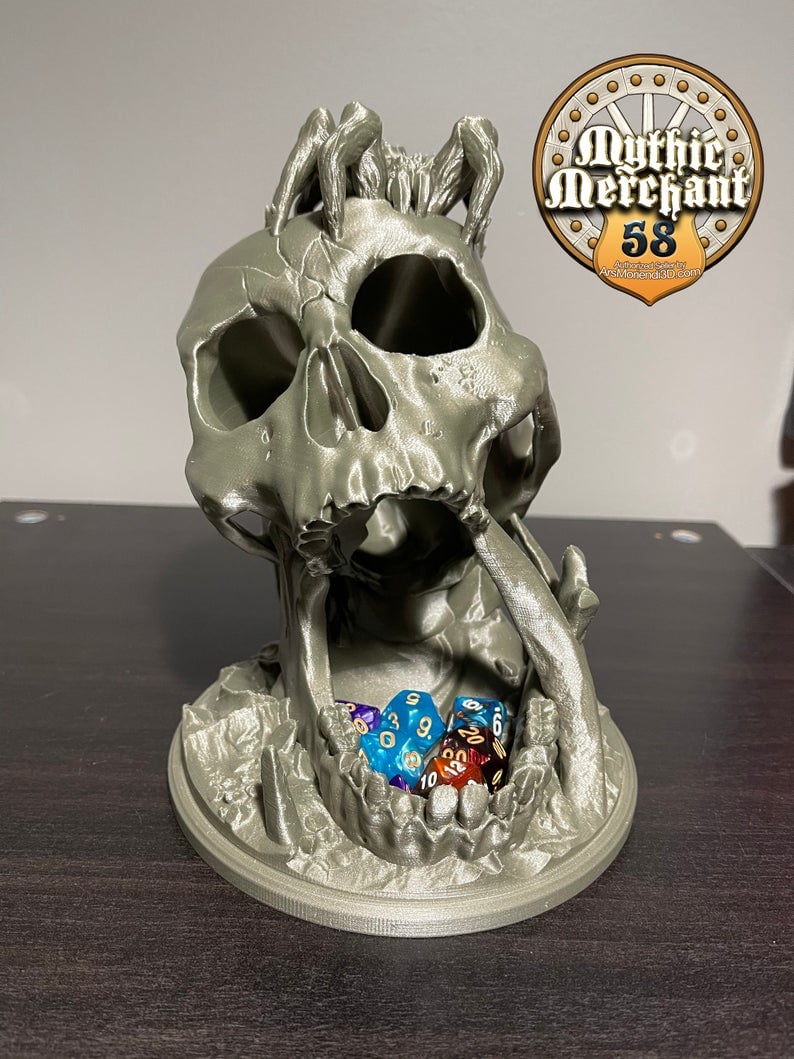 It's a little spooky, but so are monsters, caves, and dungeons. This skull dice tower is designed to roll your dice from the left eye down to the dice tray mouth for a simple and contained design that will keep you game going and your dice on the table. It comes in a variety of filament colors, but you can also get this piece pre glued and primed or even custom painted.
What kind of dice tower do you use at your table? Will any of our picks this week make it onto your wish list? What do you look for in a dice tower? Let us know in the comments!
Happy Adventuring!