Let's explore the nooks and crannies of the first Matrix: Resurrections trailer and see what we can find.
The trailer starts with Thomas Anderson in a therapy session. Neo (Thomas Anderson) seems to have some sort of amnesia and is living an average life, but something is amiss in his world. We get a flash of things in the original trilogy – walking in the construct and being able to see the code, what looks to be the machines performing some sort of surgery after Neo's "death" in Revelations (his eyes are still damaged from Agent Smith/Bane), we see new characters looking a lot like old characters, and Neo emerging from his pod in the first movie.
It's clear Mr. Anderson is stuck somewhere – the matrix? A new version of it? A new simulation altogether? It's not the giant, decaying city in previous movies. It's not green, which is thanks to the reboot at the end of Revelations. Could the reboot and Sati have changed the simulation this much?
There are several callbacks to the original trilogy to jog Neo's clouded memory – the odd bird formations, the disconnect from the people around him, following the rabbit, the choice between the red and blue pill, and the people leading him back. It feels like an echo of the past.
The folks leading him out are very familiar because they are the people he knew, resurrected. Though they share a tattoo, I don't think Jessica Yu Li Henwick is playing Dujour because her role looks to be much more involved. We'll have to wait and see who she is. What's very clear (and confirmed) is that young Morpheus (Yahya Abdul-Mateen II) is back to wake Neo up from a blue pill habit.
View this post on Instagram
And they'll be fighting a bunch of agents (including Daniel Bernhardt as Agent Johnson from Reloaded), police, and SWAT-looking folks in hallways, dark rooms, rooftops, streets. This movie will not be lacking in action.
Agent Smith? Is that you?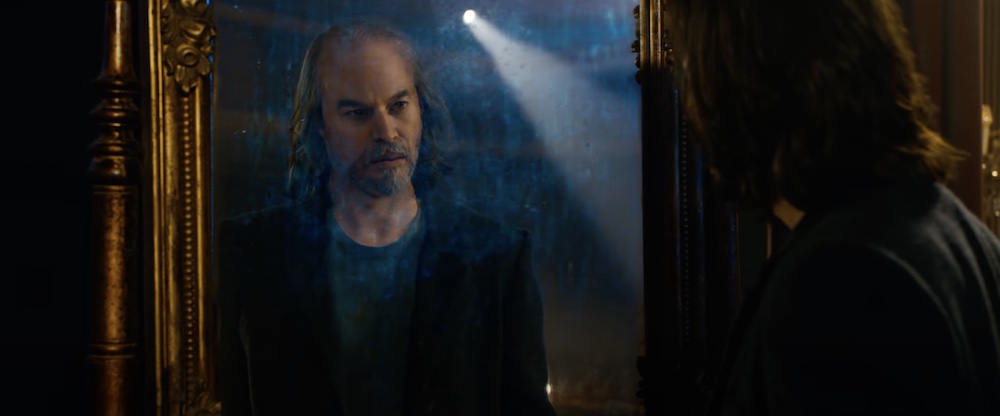 Waking Neo is most of the trailer, but there are some other things going on here. This story isn't limited to the simulation Neo is stuck in – there are shots of real-world cities and the machines harvesting power. Jada Pincket Smith is set to return as Niobe, so that ship might be the Logos.
Quick questions and observations:
What's prompted Morpheus to act?
How are Neo and Trinity back in a simulation?
Neo is seen running from an office labeled 'Deus Ex Machina'
What's up with Trinity's face? Is she real or code?
Who is pointing the fun at Neo?
Who is that other person behind Trinity when she causes the shockwave?
There's also Jonathan Groff's character to contend with. Is this a new Smith or maybe a new Architect? There's a plaque on his desk that includes the initials 'DM' – could that be related to the 'Deus Ex Machina' office Neo runs out of as it explodes?
There are a lot of layers here, but it feels familiar. What did you see that I'm missing?
The Matrix: Resurrections arrives in theaters and HBO Max on December 22nd.