We all know not to play with our food… unless it's D&D and then all bets are off! Let's put together a D&D Thanksgiving feast to fight.
It's almost Thanksgiving and after enjoying a meal with your family, take on a completely different kind of battle with all of the same foods you just defeated in the real world as your party takes on these D&D Thanksgiving feast monsters.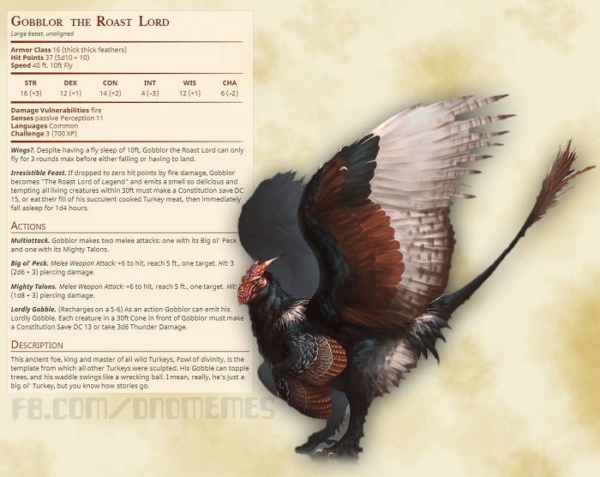 I don't know if you've ever encountered a wild turkey, but they're evil. I was chased by one a few years back and I'm pretty sure it was the closest I will ever come to surviving Jurassic Park in real life.
Basically, turkeys are a small step from your average D&D monster just to start. 2d6+3 and 1d8+3 seem reasonable for a turkey's peck and talons respectively, but Gobblor can topple trees with a thunder gobble, speak common, and has an armor class of 16.
Once (and if) if you defeat Gobblor, he smells so delicious that an adventurer needs to succeed on a constitution save or eat way too much turkey and immediately take a nap. So, only a little more scary than a real world turkey.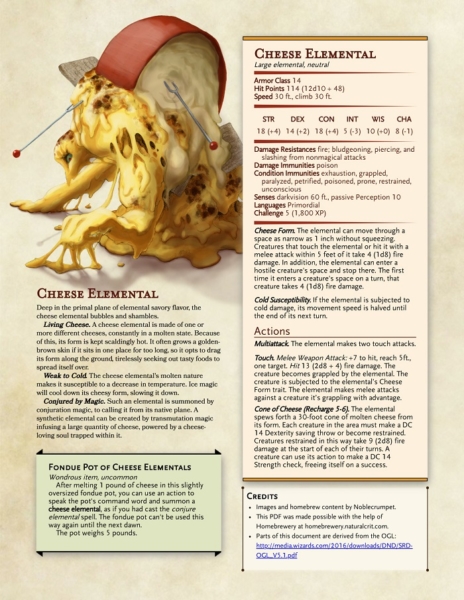 This constantly molten living cheese is perhaps my favorite monster to date. And it's perfect for any D&D Thanksgiving.
Conjure it out of a fondue pot and set it out to cast Cone of Cheese at your enemies. Most of the damage it causes is heat and fire based because of its molten state, but cold damage will force it to solidify and slow down, presumably turning back into a solid hunk of edible cheese.
Will it still be sentient? Maybe! Will it be delicious on a sandwich? Absolutely!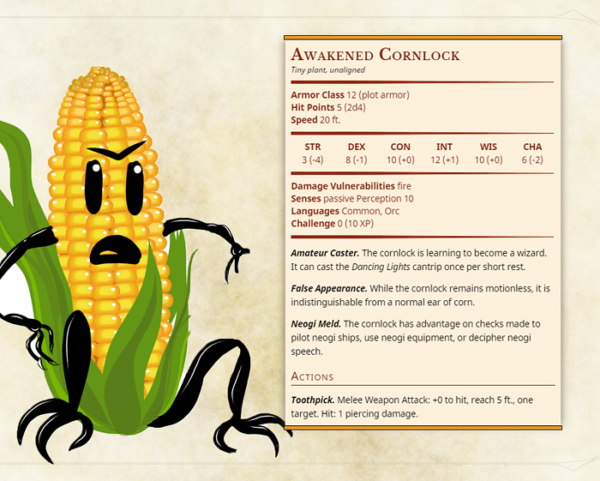 Cute, and not much more dangerous than a non-sentient ear of corn, the awakened corn wants to be a wizard and will adorably cast Dancing Lights to prove it.
Their toothpick attack is only good for 1 point of piercing damage, but they can also blend in and look exactly like normal unawakened corn, so what they really have going for them is the element of surprise. A couple hundred awakened ears of corn may just make for a challenging fight.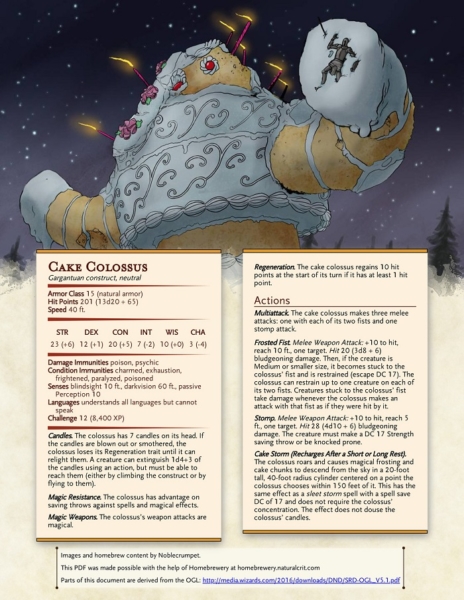 No D&D Thanksgiving is complete without dessert!
Between regeneration, magical resistance, and it's horrible frosting fist, the cake colossus is no pushover. But if you can blow out it's seven magic head candles your party can hopefully stop its regeneration long enough to bring this monster down.
After Gobblor, the Awakened Corn, and the Cheese Elemental, will your party have it in you to defeat another course? If dinner was an indication, probably.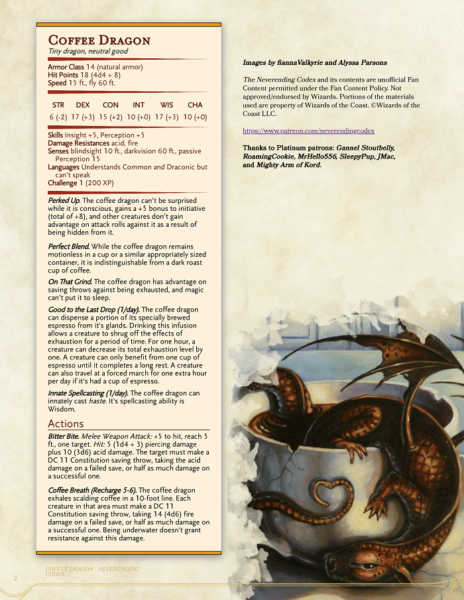 For me, dessert requires coffee, and with these tiny dragons that may be a blessing or another battle to overcome. They're neutral good, so there's a chance that you may not even have to fight the coffee dragons.
That's a good thing if you plan on partaking of their espresso glands to shrug off sleep or ask them to cast haste on you. If you do find yourself in a battle, watch out for that coffee breath, it's a killer.
If your Thanksgiving dinner looks like a D&D battle, who will the top contenders be? Which monster would you look forward to fighting? Which would you rather not? Let us know in the comments!
Happy Adventuring!