Boba Fett gets no respect, but he does get a sweet new pet and a new crime syndicate enemy this week on The Book of Boba Fett.
"Nobody Respects You"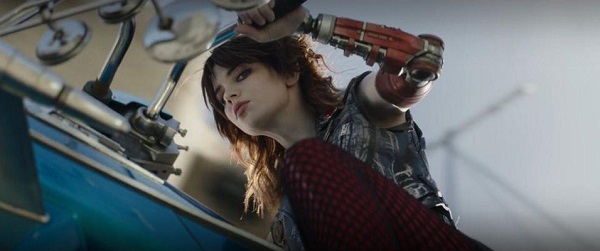 It's hard to tell if Boba Fett is any closer to living his 'respected crime lord" dreams in this episode. But he definitely wasn't at the episode's opening.
A local water vender pays him a visit. He tells the former bounty hunter know in no uncertain terms that he isn't respected by anyone in his territory. But maybe he could be.
There is apparently a local band of street toughs stealing his water. If Boba can make the terror stop, he'll increase his tribute threefold.
Only when Boba Fett and Fennec go to put a stop to this gang, it's clear that they're not hardened criminals as much as cool teens. A week's water costs as much as a month's wage. Not that that matters because there aren't any jobs.
Boba agrees with the thieves and offers them jobs, telling the water vender where to put his gouging prices. At this point, it feels like Boba's campaign of aggressive fairness and equity doesn't belong in a crime family– or on Tatooine at all.
Bacta The Past
The crew heads back to his palace where Boba takes another bacta nap, complete with another flashback to his Tusken days. But this time, instead of an uplifting look at his personal growth and friendship with Tatooine's native people, we're left with tragedy.
Boba leaves the Tusken camp to meet with a a representative of the Pykes. He tells them that they should be paying the Tusken and not the Kintan Striders for access to the dune sea. But negotiations aren't going so great.
The Pyke representative seems unconvinced that the Tusken are in control of the territory. They don't want to pay twice for the same land access.
Boba promises to take care of the Striders and leaves. But when he returns to camp finds it entirely destroyed and all of the Tusken there killed.
It's another in a long string of familial losses for Boba. Not to worry though, and old friend is there to help him out.
What's An Assassination Attempt Between Friends?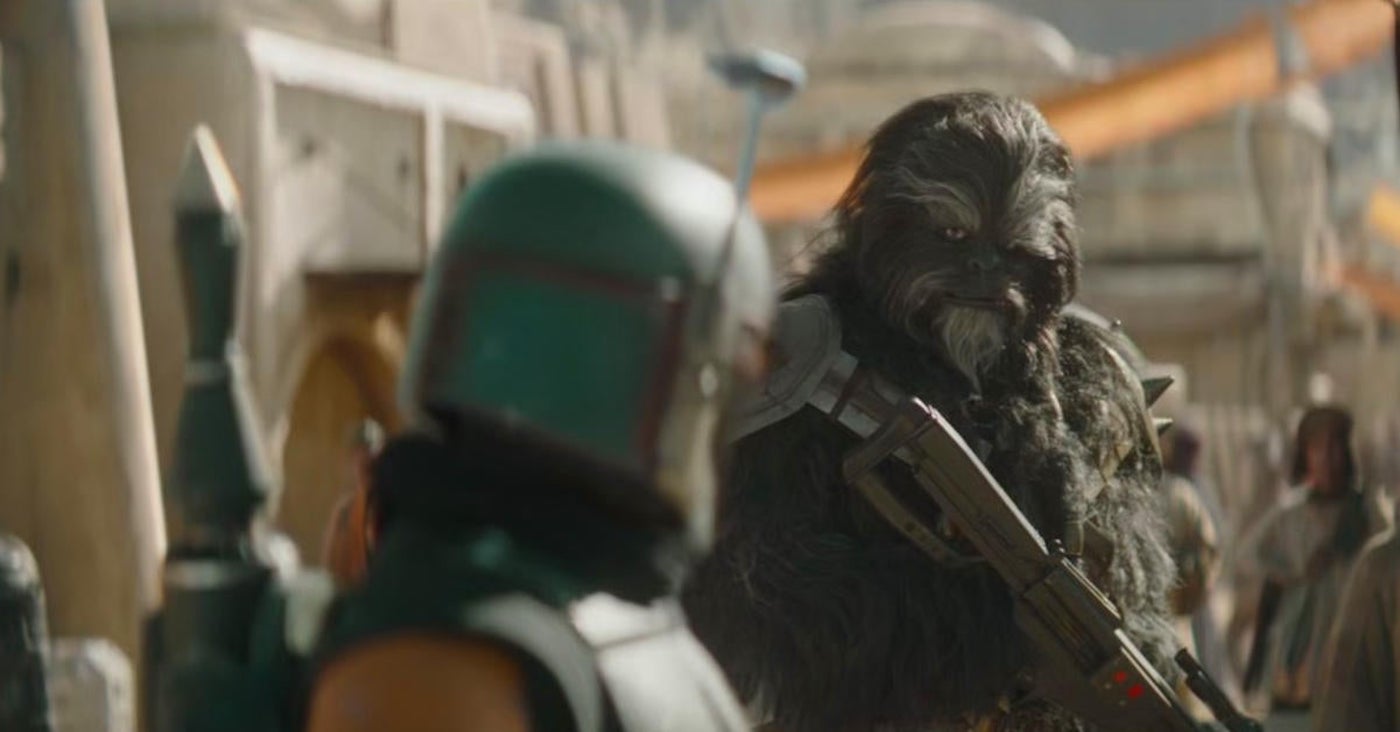 Okay, by "friend" we mean prior business associate Black Krrsantan. And by "help" we mean attempt to murder Boba Fett for the Hutt twins.
It's a jarring scene to watch as universally beloved anti-hero gets the absolute kriff beaten out of him. But it turns out that those loyal to him are loyal to him.
The gamorrean guards, his  newly hired cool teens, and Shand all manage to just barely get Black Krrsantan trapped in the now-empty rancor pit. Fennec is proud of the thwarted assassination attempt. But Boba has little time to be less than pleased. They soon have surprise guests in the Hutt twins.
The pair claims to be sorry for sending Black Krrsantan to kill Boba and offers him a rancor calf as a peace offering. They're heading back to Nal Hutta because the mayor had promised Jabba's territory to the Pykes. And that is way too much trouble for the Hutt twins to deal with.
They let Boba know that the can feel free to sell Krrsantan and then go. As soon as they're gone, and with Krrsantan's Hutt employment at an apparent end, Boba frees the Wookiee.
It's not likely we'll see much more of Black Krrsantan in The Book of Boba Fett going forward. He's not a character known for maintaining friendships or returning good turns. But who can say for sure?
Baby Rancor Joins Boba Fett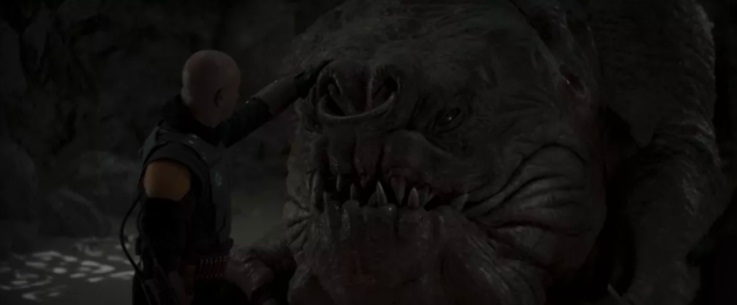 At this point, Boba turns all of his attention to the rancor in the room. Rancor trainer Danny Trejo runs through some fun facts about the creatures. Turns out they imprint on the first human they see and can suffer from depression.
Less surprising if you're familiar with Star Wars lore, they can be surprisingly affectionate as pets. They've even been trained and ridden as steeds.
Boba is immediately taken with the rancor and can't wait to begin training it and even riding it. Who needs a litter when you have a rancor? He comments that he's ridden creatures ten times its size.
If you've seen the Star Wars Holiday Special, I suppose that he has.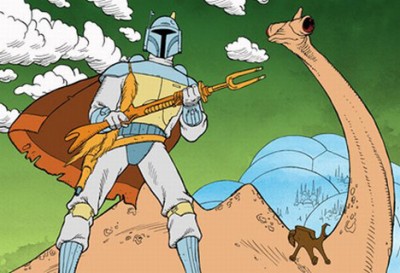 Cool Teen Car Chase
Unfortunately, pet bonding time is cut short by a trip to the Mayor's office to find out more about this Pyke issue. Once again the mayor's assistant is less than helpful. But in a new twist, he completely leaves the building and flees in his speeder.
Boba's new gang of cool teens and their colorful vespa-like vehicles chase him down in a chase that must have been embarrassing. He spills, nearly immediately, letting Boba know that the Mayor was meeting with the Pykes at that very moment.
Very shortly after that we see at least a dozen Pykes getting off of a ship on Tatooine. Boba Fett doesn't seem concerned despite everything that happened in the week, saying that they'll prepare and be ready.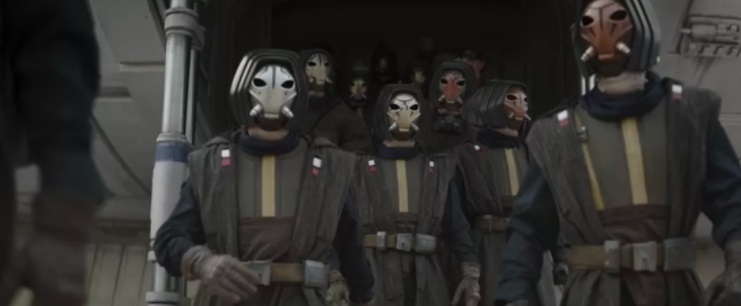 Going forward we're not sure if there will be any more Tuscan flashbacks, if anyone else is will lay claim to Jabba's territory, or if the rancor was a trap. But we sure hope not!
It's looking like the Pykes will be the main antagonist going forward. Which means that it's only taken three entire episodes to get through the prelude and to the main plot.
Do you think Boba Fett has done enough to earn Mos Espa's respect? What cameos do you want to see next? What should Boba name his new rancor? Let us know in the comments!
May The Force Be With You, Adventurers!