They're Creepy & They're Kooky – An Addams Family History Lesson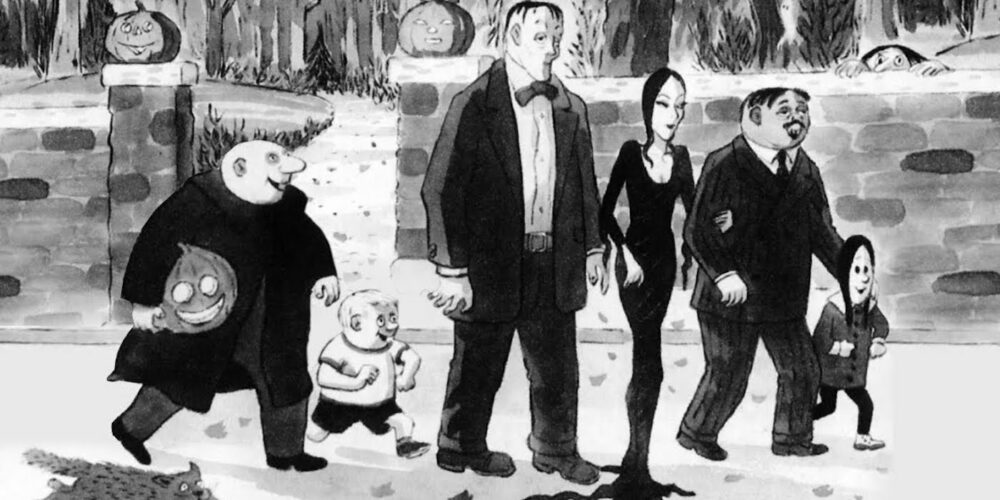 It's America's favorite family of misanthropes! From the 1940s to the 21st century, join us for this Addams Family history lesson.
This dark, spooky family has captured the cold, dead hearts of anyone who's ever felt a little weird. Through the generations, we've had several different iconic iterations of the spooky family next door. Thanks to Netflix and Tim Burton, now we've got a new version! Each member of the family has their own iconic vibe – let's take a look back at their long history.
Who are the Addams Family?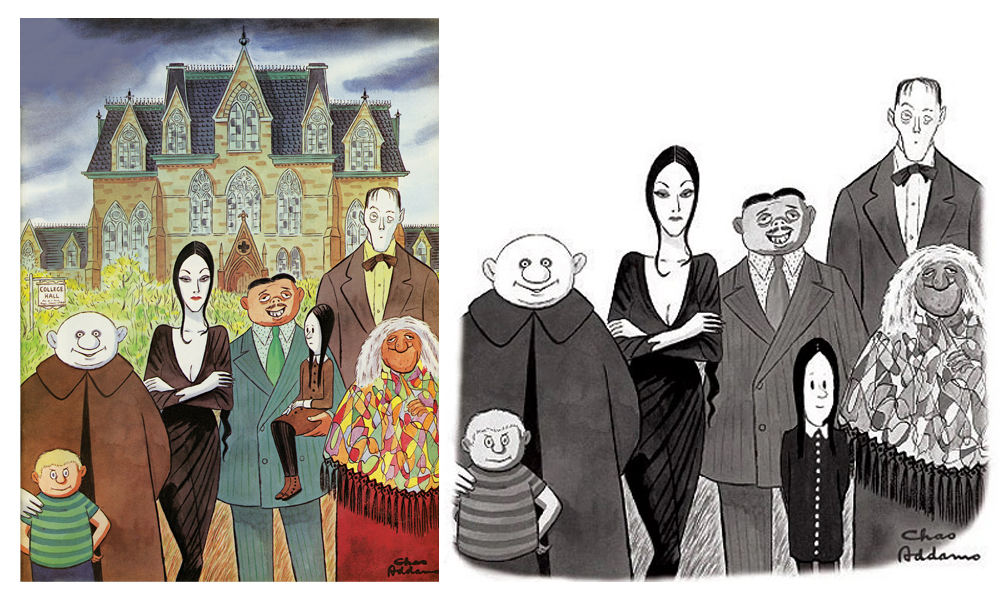 The Addams Family was created by cartoonist Charles Addams. Addams was fascinated with darkness, decay, and death. He spent a lot of his childhood exploring old cemeteries and deteriorating Victorian houses. As a kid, he also got into drawing, and after attending art school in New York, he took a few art jobs on his way up. One of those jobs was actually touching up images of corpses for a detective magazine.
In 1938, Addams introduced the world to the family of weirdos in The New Yorker. They were an inverted version of the idealized 20th-century American family. Though they're social outcasts who are also obsessed with death and all things macabre, the family has become known for a kind of gothic wholesomeness. The family members are devoutly loyal to each other and always encouraging. The parents, Gomez and Morticia Addams, are an iconic pop culture standard for romance and expressions of affection.
The family lived in a very-much haunted mansion at 001 Cemetary Lane. The street address was later changed to 1313. Their family crest, which was revealed in the infamous 1990s films, is Sic Gorgiamus Allos Subjectatos Nunc. It translates to "we gladly feast on those who would subdue us."
The family began with Gomez and Morticia, who weren't named until later on, and were soon joined in the comic by their children Wednesday and Pugsley Addams. They also lived with their explosive-obsessed Uncle Fester, the witchy Grandmama, their butler Lurch, and Pugsley's pet octopus Aristotle. In 1954, Thing, who would later become a disembodied hand, joined the family in 1954. In 1964, the family welcomed hairy Cousin Itt. The 1993 film Addams Family Values introduced the baby Pubert Addams to the family, although Pugsley supposedly ate him at some point.
Since their creation, the Addams family has been featured in TV shows, streaming series, films, a video game, a Broadway musical, a YouTube series, and more cosplays than one human could count.
1960s TV Show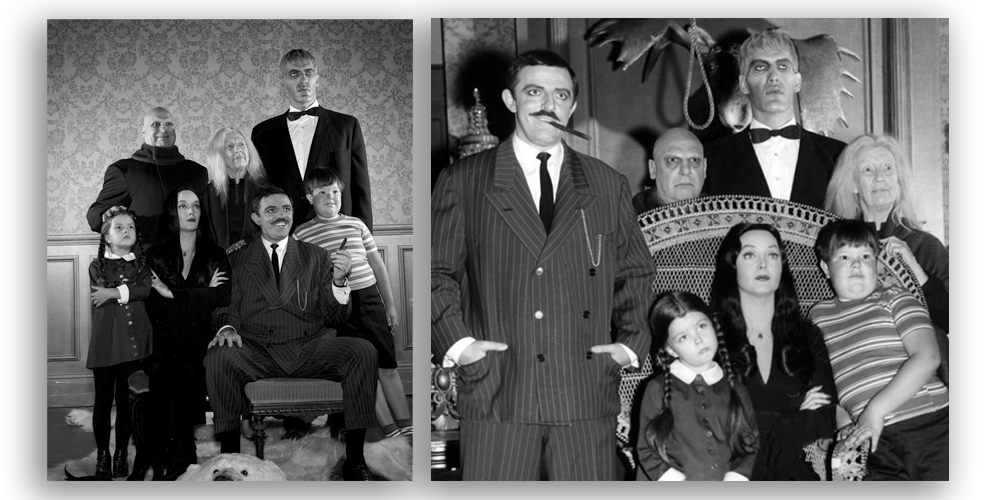 In 1964, a television adaptation brought the Addams Family into the mainstream. Producer Nat Perrin had been a writer for the Marx Brothers films, and used his screwball comedic sensibilities to explore this dark family's funny bones. Oddly enough, The Addams Family debuted at the same time as The Munsters, production teams of both shows were careful to distiguish each at any given opportunity.
The 1960s black-and-white television show gave us some of the most memorable Addams Family moments. But none have been as memorable as the show's theme song. The little diddy was written and arranged by Vic Mizzy. It featured the iconic snaps and lyrics we've all come to associate with this freaky family.
The initial cast will always be one of the most legendary. Carolyn Jones gave Morticia a real goth queen glamour energy, while John Astin's Gomez was impulsive, daring, and romantic. Ted Cassidy's Lurch, Lisa Loring's portrayal of Wednesday, and Ken Weatherwax as Pugsly are unforgettable. The perfectly perverse family rounded out with Blossom Rock as Grandmama and Felix Silla as Cousin Itt.
Subscribe to our newsletter!
Get Tabletop, RPG & Pop Culture news delivered directly to your inbox.
This cast reunited for a couple of events after the show ran its two seasons. A portion of the cast members reunited for a special guest episode of Scooby Doo featuring the Addams family with an 11-year-old Jodie Foster voicing Pugsly.
The Return of the Addams Family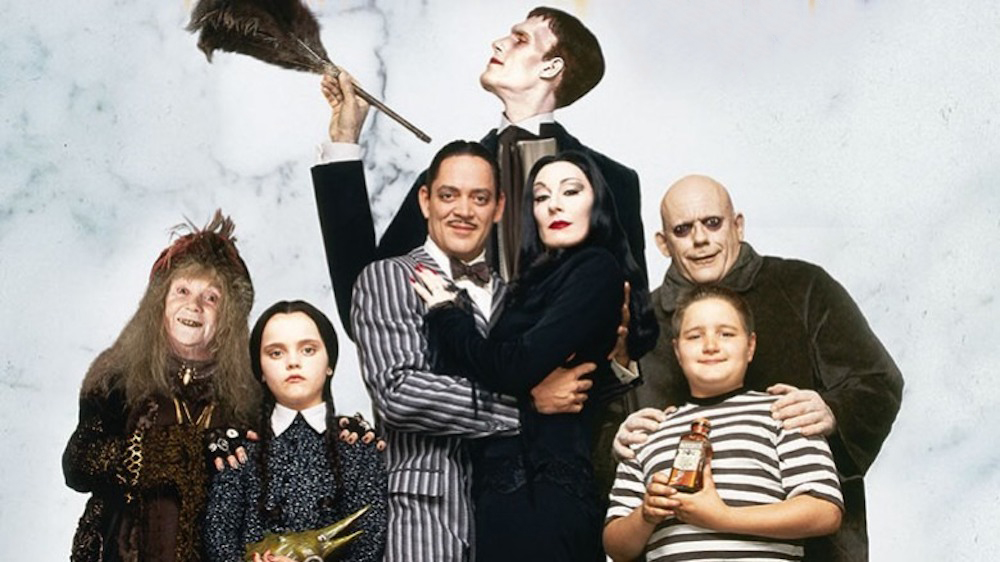 After the 60s, you were unlikely to see much of the Addams family save for reruns. Until the 1990s, when Barry Sonnenfeld directed two live-action films that quickly became cult classics.
The two films built out the Addams Family world even further, introducing a wide extended family. It also runs with the 70s cartoon reintroduction of Uncle Fester as Gomez's older brother (he was previously Morticia's uncle and Grandmama's brother.) Anjelica Huston's performance as Morticia was nominated for two Golden Globe Awards. Raul Julia was also lauded for his role as Gomez. Christopher Lloyd stepped in to play Fester. But it's Christina Ricci's portrayal of Wednesday that elaborated the most on her character's personality.
After the success of the first film, a 1992 animated series was also produced. This will also probably start slamming on your brain's "nostalgia" button once you watch the opening theme.
The Legacy of the Addams Family
Even in their early years, members of the Addams Family were influencing pop culture in massively important ways. According to actress Maila Nurmi, she based her groundbreaking television personality Vampira on the comic book panel images of Morticia Addams. Vampira would go on to inspire Elvira, another late-night B-horror show host.
Most recently, Netflix and Tim Burton gave us a new Addams Family in Wednesday. It's a story about "Wednesday's child, full of woe" as she attends a school for other outcasts. The series features Jenna Ortega as Wednesday Addams, who is the ultimate sulking teenager (though a tad more homicidal).
Cathrine Zeta-Jones steps into the long, black dress of Morticia Addams, and the show explores her own past as both a seer and a student of Nevermore Academy. Luis Guzman is a version of Gomez that strays away from the debonaire daredevil portrayals of Astin and Julia. Instead, he is goofy and a bit of a creeper – in other words, a dead-ringer for the original comic. Pugsly Addams is played by Isaac Ordoñez, who is both soft and a deviant in good measure. Fred Armisen plays Uncle Fester, who is electrifying, as always.