Swing into Action with Four New Donkey Kong LEGO Sets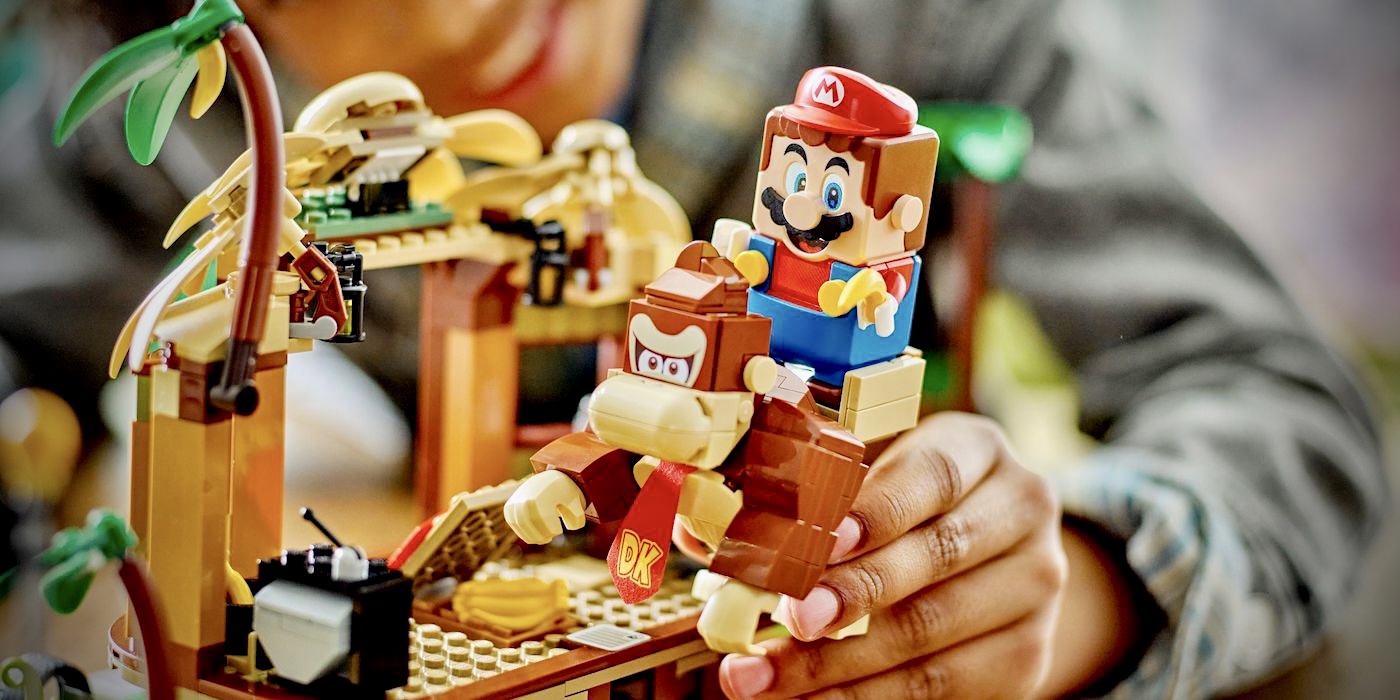 Donkey Kong leaps into the world of LEGO Mario with four new interactive jungle-themed sets.
Venture into the jungle with these new Donkey Kong LEGO sets. The latest additions include a tree house hang out, mine cart adventure, musical fun, and a new rhino friend. These sets can be combined with other Mario sets, as well as interact with LEGO Mario, LEGO Luigi. and LEGO Peach. All of these hit shelves on August 1st – pre-orders are open now for everyone.
"The excitement continues to grow for the LEGO Super Mario franchise with yet another playful update. We're welcoming the iconic Donkey Kong into the LEGO Super Mario product line! We can't wait to see how the four Expansion Sets inspire kids to discover the new wild and colourful jungle from the Donkey Kong universe, whether that's hanging out in the tree house, riding a mine cart, jamming out with Dixie Kong or exploring with Rambi."

Simon Kent, Designer at the LEGO Group
Donkey Kong's Tree House
555 pieces
Donkey Kong and Cranky Kong figures
19cm high, 46cm wide, and 17cm deep
Team up with Donkey Kong in the jungle for banana-gifting, conga drum-playing fun with this colorful LEGO Super Mario Expansion Set. Explore the tree house with its buildable TV, radio, and secret compartment, nap in the hammock, knock a banana off the palm tree, 'play' the conga drums, and more.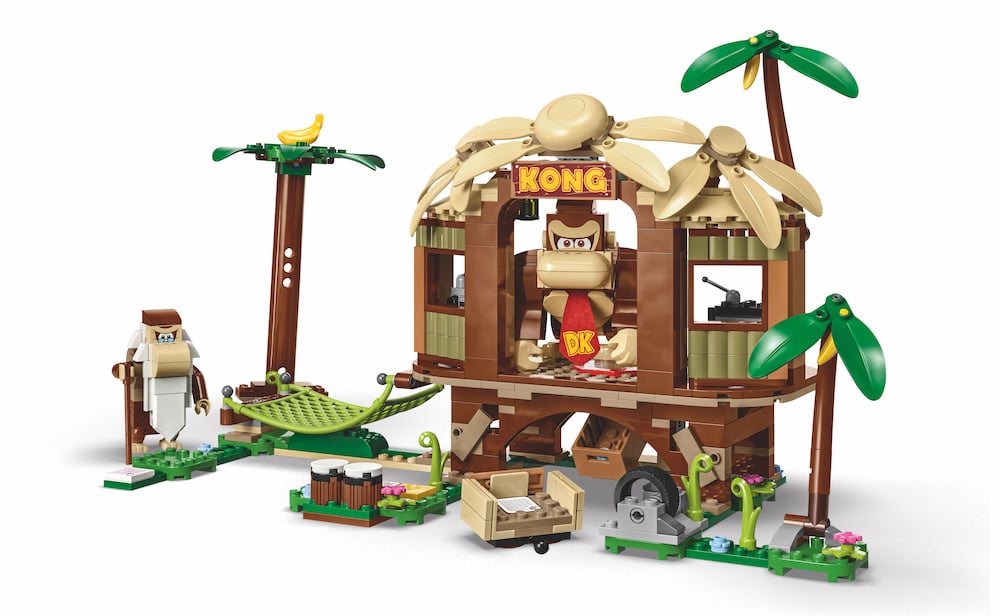 Diddy Kong's Mine Cart Ride
1,157 pieces
4 LEGO Super Mario figures
12cm high, 51cm wide, and 50cm deep
Recreate mine cart-riding, airplane-flying, rock-exploding Donkey Kong mine cart challenges with this LEGO Super Mario set. Flip the Snaggles out of the way, fix the broken section of track, defeat the Mole Miner, and 'explode' the rock to reveal a bunch of bananas to 'eat' or gift to Funky Kong or Diddy Kong. Buy balloons from the airplane shop and 'fly' the plane to earn more digital coins.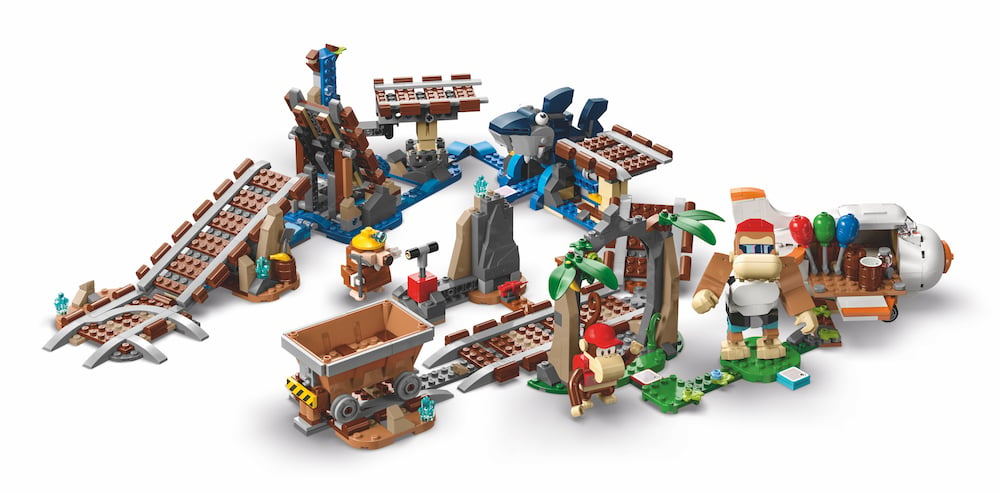 Dixie Kong's Jungle Jam
174 pieces
Dixie Kong and Squawks the parrot figures
12cm high, 24cm wide, and 10cm deep
Set the stage for musical fun – this set features a buildable stage, jungle scenery, and musical instruments and equipment. Place LEGO Mario, Luigi, or Peach on center stage and turn them to make the connected stage platforms rotate, activating musical sounds.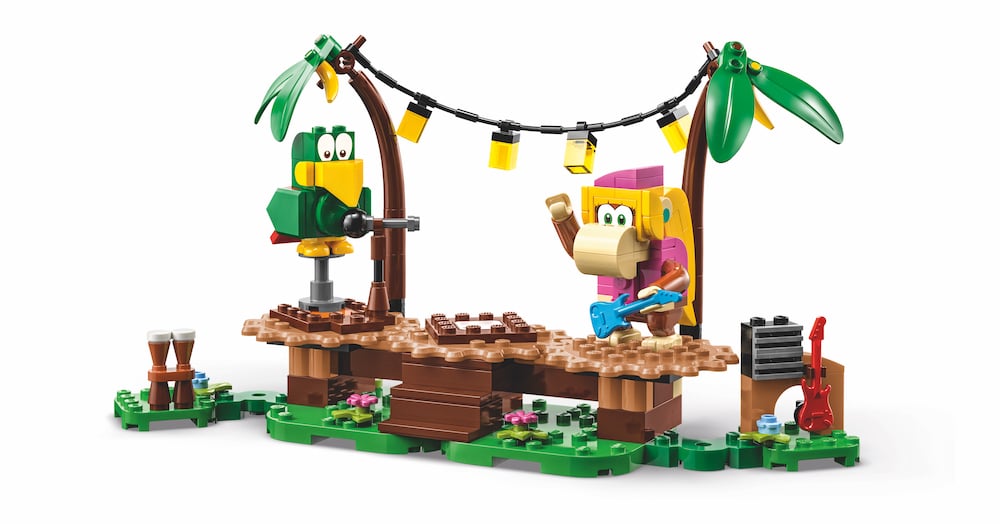 Rambi the Rhino Expansion Set
106 pieces
Rambi figure
6cm high, 11cm long, and 5cm wide
Available August 1st
This brick-built LEGO toy figure of Rambi can be ridden by interactive LEGO Mario, Luigi, or LEGO Peach figures. When Rambi walks, charges into the included stackable rock elements, and makes other movements, sound effects are activated in the interactive figure.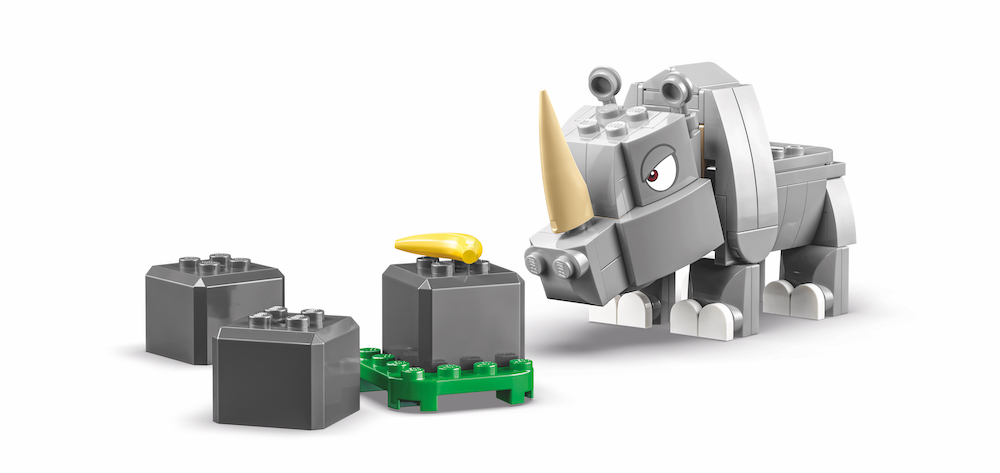 Just so you know BoLS may collect a share of sales from the links on this page if you decide to shop from them.