I mentioned a few weeks back that I built an ork flyer. I figured today was as good a day as any to show some pics of it.
I started off with a MIG 15 model kit. It matched what I pictured for an ork flyer pretty well, and only needed a few frame modifications. The wings were too rounded at the end. I took about ¼" off the outside and filled it in with putty. This gave it a nice square edge.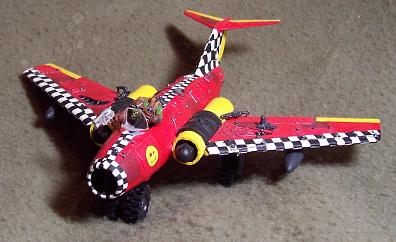 No ork, especially a speed freak, could live with just a single engine, so I built 2 more out of things laying around the house (lego, screw heads, a grommet, etc) and mounted them between the body and the wings. The top of the wings looked too nice and factory made, but the bottoms, with the wheel wells and other fittings looked much more orky, so they wings got flipped upside down.
The landing gear and wheels were also much too small. They were replaced with large knobby tires with gear made out of old spru. I also cut squares out of thin cardboard and glued then around the airframe to look like patches with rivets.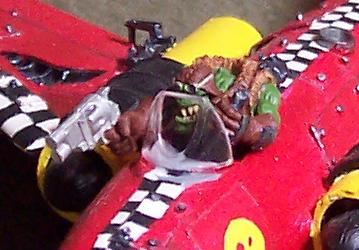 The pilot was taken from the ork deathcopta kit. The 'evil sun' was printed out and then glued to sides. I used it as a template and did a 'paint by numbers' on it.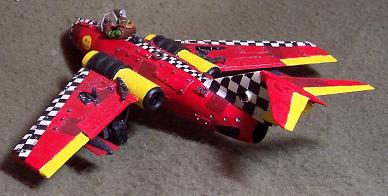 I undercoated the whole thing in a light grey, then painted some of the panels in darker shades of grey and brown. When I went back over it with the red, it made the panels stand out and look very mismatched.
Overall, it turned out well. Too bad the rules for fighta bombers arn't that great.