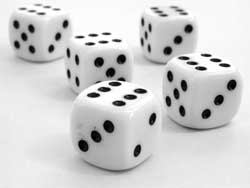 So a boatload of rumours broke today on Warseer. Courtesy of a moderator (Brimstone), we have this list of tasty rumor nuggets:
Warseer: CSM Rumor Roundup

Rumors
This is a collection of Chaos Marine rumours, these are rumours NOT facts, if you want facts wait for the codex.
I'll be adding to it as more information becomes available and is not a complete list of codex contents.
HQ
Daemon Prince (can be winged but no daemonic speed) cannot be instakilled.
Chaos Lord (highly impressive new multipart plastic kit to be released)
Chaos Sorcerer (force weapon as standard).
N.B. No restricted units i.e. the Ancient enemies rule is gone.
These are all individual entries.
Elites
Possessed Chaos Space Marines (New models on the way which are a vast improvement on the more recent ones)
Dreadnoughts (still frenzy)
Veterans (only unit that can infiltrate)
Terminators – Can be marked (new plastic kit, reasonably impressive but not that different from Imperial versions), points brought into line with Imperial Terminators.
Troops – All troops come with bolter, bolt pistol CCW weapon and grenades as standard.
Chaos Marines – Can be marked
Cult Marines
Khorne Bezerkers (lose their Khornate Chain axes).
Plague Marines (lose their plague weapons but keep blight grenades)
Noise Marines (retain their options for sonic weaponry but may be more restricted, Doom caster is AP3).
Thousand Sons (Power armour save / 4+ Invul save) and bolters with inferno bolts (AP3)
Fast Attack
Raptors – Can be marked (new champion model on the way) no 0-1 restriction.
Bikes – Can be marked
Heavy Support
Obliterators – Can be marked, S and T reduced to 4, no 0-1 restriction.
Defiler – Loses indirect fire option but can be given a CCW upgrade.
Vindicator (New plastic model for release).
Havocs
Predators
Misc Rumours
Codex follows the DA/Eldar format.
No books of Chaos in the codex.
Daemons (greater/lesser) are have generic stat lines (will be expanded upon in a Daemon/LatD codex).
New unit – Chaos Spawn (1-3 cannot be split)
No basilisk option in the codex.
Wargear highly restricted – Daemonic gifts are gone, options are all given in unit entries.
Daemon weapons standardised – power weapon 1D6 attacks (if you roll a one you take a wound), can be upgraded with power specific options i.e. Khorne gives 2D6 attacks.
Any unit can be marked to the Chaos gods in the form of a Icon, marks are as follows – Khorne (+1A), Nurgle (+1T), Slaanesh (+1I), Tzeentch (+1 to invul save (max 2+) if already present or gives a basic 5+ invul save).
Recut CSM sprue.
Special characters – All survive and now include Huron Blackheart (model due for release) Ahriman has all chaos psychic powers and a force weapon as standard.
Thoughts
Well as a Death Guard player I am actually pretty happy. Nurgle was a bit underpowered in the current CSM codex and was in need of an update.
It would seem that Jervis Johnson has held true to his philosophy professed at Adepticon this year, and the Dark Angel codex is the way of the future. The big thing i'm seeing in this list is a LOT of pruning. Jervis has just gone to town on the current codex, and removed about 2/3 of the (useless never taken) wargear options, and is attempting to make every choice in the codex valid (the same methodology as we have seen for the Eldar and Dark Angels).
What I have noticed over the years is that there is a subset of about 1/5 of the CSM wargear that is good and always taken by veteran players (when was the last time you saw a chaos lord without Daemonic Strength/Mutation), and the rest taken by rubes (Deamonic Fire, etc…). So, I don't have any issue with the massive armoury being reduced to a set of correctly costed upgrade options listed per army entry.
I'm also a huge fan of the emerging seperation between Marks of the Gods and the actual Cult Troops. It's nice to see that dedicating yourself to Tzeentch does not make you a Rubric Marine. It serves to make the cult troops unique.
As Nurgle was severely restricted, i'm all giddy over the possibility of adding Havocs or Raptors to my army with the MoN on them (T:5). Alpha Legion and Word Bearers seem hit the hardest with the loss of cultists, differentiated daemons, and mass infiltration. World Eaters may be stronger if they gain some control over their currently "electric football" berzerkers. Thousand Sons look to just clean up, and Iron Warriors will be tolerable now, although I expect a pile of converted IW basilisks to set afire in front of GW HQs in protest. Who knows whats up with the Black Legion, and Night Lords seem relatively unaffected.
What I am upset about is the crazy decision to genericize the Major Daemons. The minor ones, who cares…. they are indeed "roughly" similar and who knows, they may automatically get their patron's mark to differentiate them. But the Major's is inexcusable. A Bloodthirster is a very different beast than a Great Unclean One, and has been in every edition since Rogue Trader. The only thing that brings me some solace, is that the Eldar Phoenix Lords also share a consistant statline and set of common rules, but are very different thanks to their individual equipment and skills. If they do that with the Majors it "might" be OK….
As a final note, Vindicators…. YEAH!!!!
How is this going to effect your CSM army?