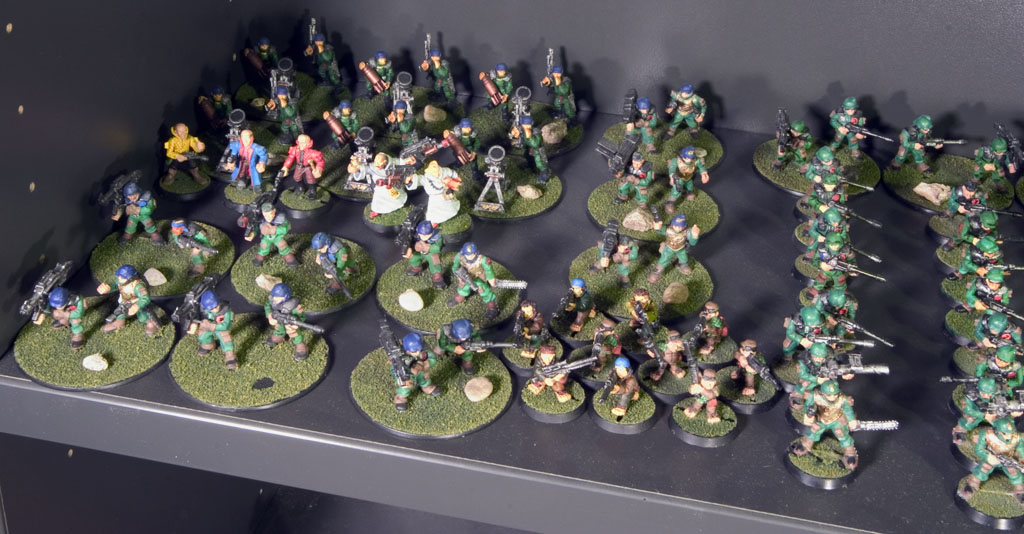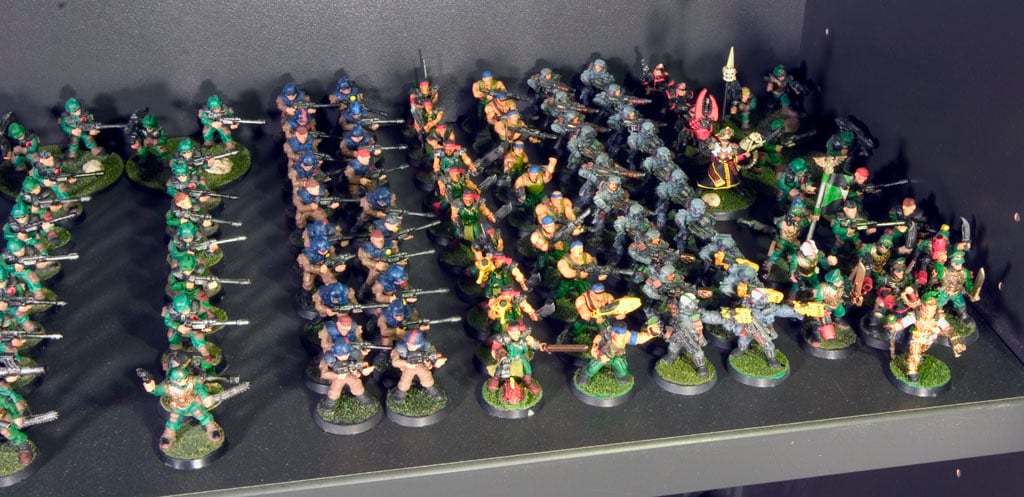 Here is an introduction to my Imperial Guard army.
This thing is ancient. Clocking in at over 200 minis, the core of this army is a large force of Rogue Trader plastic guardsmen. Back then (1989), these guys came 36 to a box for $30!!! I painted them in a standard "army green" scheme, mainly to contrast on the tabletop with my only existing army at the time, the Blood Angels.
The force has slowly been modernized over the years to keep up with the ever changing Imperial Guard Codex. While I had to retire my Imperial beastmen and remove my officers from their jetbikes many moons ago, the army still can lay down the smack stick. They are getting a little long in the tooth, and folks often see them and wonder if they are actual GW models, but when the las-cannons start flying, folks know to keep their heads down.
The army breaks down as follows:
HQ
Commissar Yarrick
Lord Solar Macharius
Command Squad (5 man)
Command Squad (5 man)
Command Squad (5 man)
Sanctioned Psychers (3)
Commissars (4)
Priests (2)
Mortar Support Squad (3 Mortar teams)
Mortar Support Squad (3 Mortar teams)
Anti-Tank Squad (3 Las-cannon teams)
Anti-Tank Squad (3 Las-cannon teams)
Fire Support Squad (3 Heavy Bolter teams)
Elites
Hardened Veterans (10)
Ogryns (10)
Storm Troopers (20)
Ratlings (10)
Techpriest Enginseer (1 + 1 Servitor)
Troops
Infantry (50 men, 5 Las-cannon teams)
Conscript Infantry (20)
Armoured Fist Squad (10)
Fast Attack
Hellhound
Rough Riders (10)
Sentinels (2)
Salamander Scout Tank (Forgeworld)
Heavy Support
Leman Russ (3)
Leman Russ Demolisher
Leman Russ Exterminator
Basilisk
Other Support
Chimera APC (3)
Shadowsword Superheavy Tank (Armorcast)