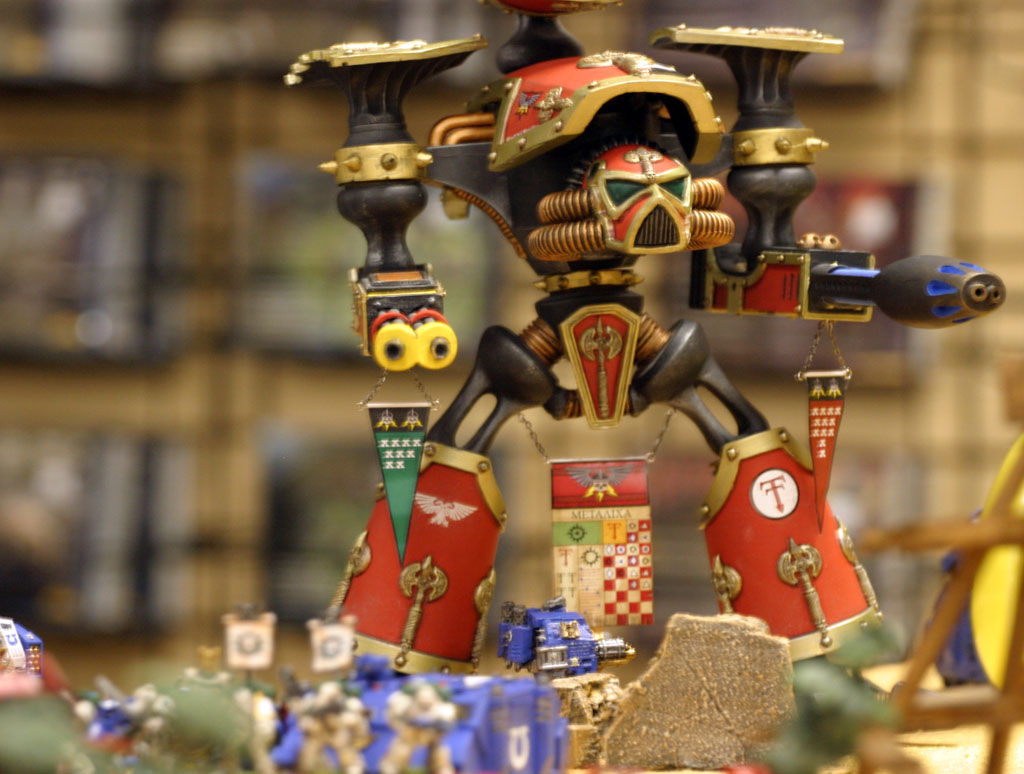 I told you guys that I meant to get the
Reaver
into battle as soon as possible, and I have accomplished my goal. I got in 2 games last night at
Battleforge Games
, and they were both great.
Game 1:
Secure and Control; 2000pts, My Reaver and 3 Death Guard tactical squads on foot face Mkerr's new Blood Angel 45-man all jump pack army.
Turn 1: The Reaver punishes the advancing army slaying over a dozen.
Turn 2: Blood Angel forward squads have engaged my infantry cordon and are threatening to over-run them.
Turn 3: My infantry is completely overrun and Death Company are swarming at the titan's feet, (inside of the void shields), and are slowly ripping it to pieces. In vain, the Princeps destroys some of the more distant 2nd wave squads that are outside of it's 12″ minimum distance.
Turn 4:
Its all over but the crying… With all weapons destroyed, immobilized, the Death Company breach the Reaver's Plasma Reactor and destroy it setting off a
25″ RADIUS explosion
, which takes several Blood Angels with it.
Mkerr Blood Angel Victory!
Game 2:
4000 pts, My existing Army and Mkerrs are joined by
Bulwark's Doctrine Marine Force
and I am joined by the "Mighty Tim" and his glorious 2000k point mixed marine force.
Turn 1: Both armies advance and inflict about a dozen casualties apiece on each other. Mostly its our Devastator squads trying to kill each other.
Turn 2: The Reaver reserves in, and begins to inflict serious damage to one flank of advancing Blood Angels, in particular butchering the rending Death Company (I'm not letting them do their nasty thing again). Bulwark drop-pods 2 venerable dreadnoughts into our home quarter, and Tim swings into action to keep enemies off of the Reaver.
Turn 3: The Reaver again punishes a Blood Angel assault squad that is getting dangerously close, and the Death Guard infantry line hunkers down in cover to await the impending charge. Tim's assault squad sets up in front of the titan and behind the Death Guard to countercharge into the surviving Blood Angel assaulters.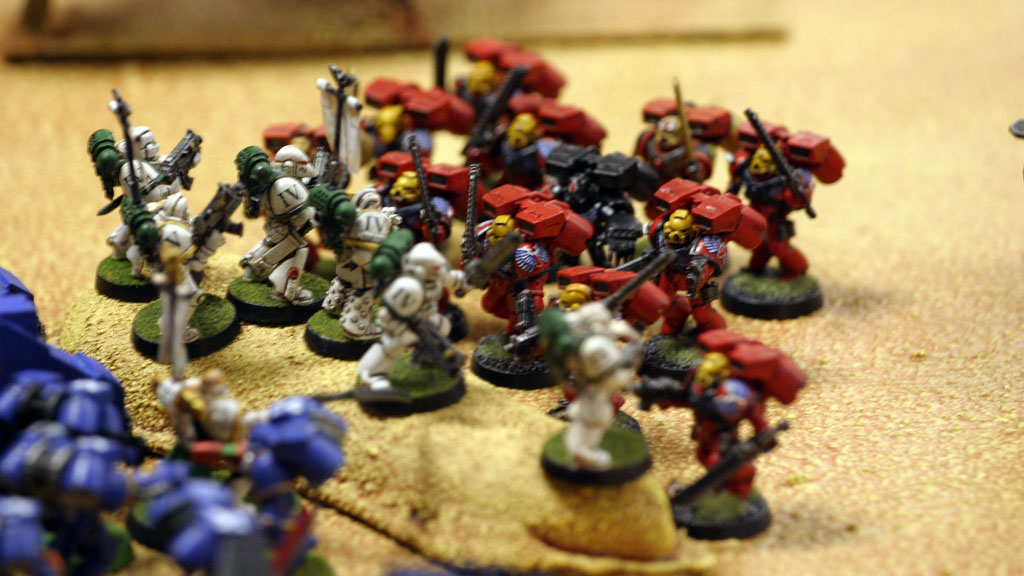 Turn 4: Firing again and again, the Reaver and Tim's support Whirlwind fire have effectively broken the back of the assaulters and there are only a handful of Blood Angels alive on the field, led by the "Unkillable Commander Dante", and a particularly irritating Apothacary who is tending to him.
Turn 5: Mkerrs army is in ruined tatters, but the defensive effort to hold back the Sons of Sanguinius has put our forces on a defensive footing. Despite The Mighty Tim's and my best efforts, that dastardly Bulwark has survived the battle so far virtually intanct and is clustered out of LoS in every quarter. We make a valiant push to take territory, but it is to late.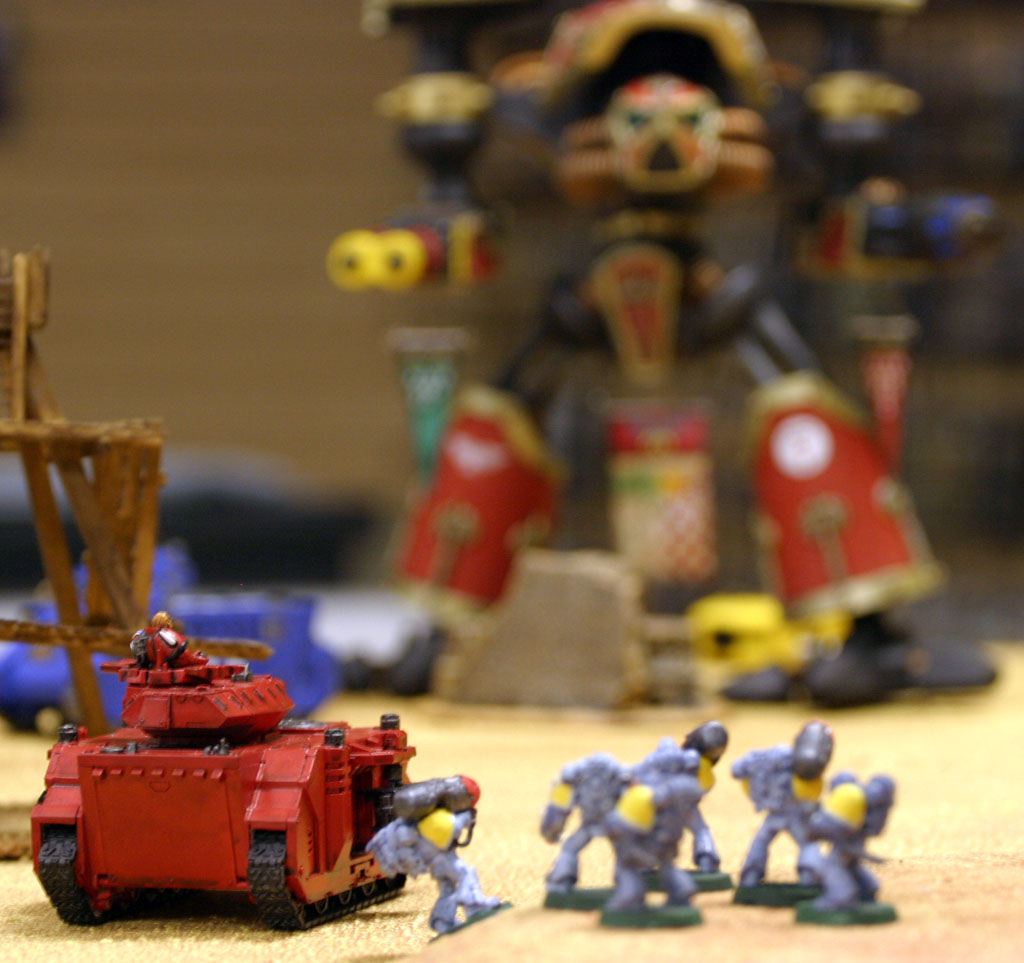 Mkerr/Bulwark VICTORY!!!
They lost by straight victory points, but they gained a +2000 point advantage due to 2 uncontested quarters. What an Awesome Game!!!!
Being a Princeps is HARD WORK. The primary hindering aspects of the Reaver are:
a) 12″ minimum distance for all its weapons.
b) Lumbering Vehicle makes it very slow and telegraphs its intentions to the enemy a turn in advance.
Titan are absolutely lethal, but represent the strongest example of combined arms in the game. Used alone without infantry support, they are very vulverable to fast infantry who can get "under the guns", and blaze away. You MUST have elements of your army dedicated to the role of keeping that 12″ zone around the titan clear of enemies.
Secondly, the titan is very slow and has to effectively plan out its moves well in advance. There is an art to knowing when to hold position, when to advance unexpectedly, and when to pivot and redirect your fire onto a new flank. I think I will need at least 4-6 more games to really get a feel for using the Reaver in games effectively.
We are taking an informal poll:
Which statline do you think most represents the massive top missile launcher on the Reaver. Our design goal is to make the weapon a large area infantry killer that is of medium strength value against vehicles. It should be a barrage weapon to provide the titan the ability to deal with "lurking" targets out of LoS.
Option A) Range G12-72″ S:7 AP:3 Ordinance/2 Massive Blast (the 7″ template), Barrage
Option B) Range G12-72″ S:6 AP:4 Ordinance/4 Large Blast (normal ordinance template), Barrage
Option A gives 2 very large chaining templates which deviate and are lethal to all but the most armoured infantry.
Option B gives 4 chaining odinance template which tend to cover a larger area, but are less lethal to elite infantry.
We haven't decided which better reflects the design goal we have set, so please tell what you think.