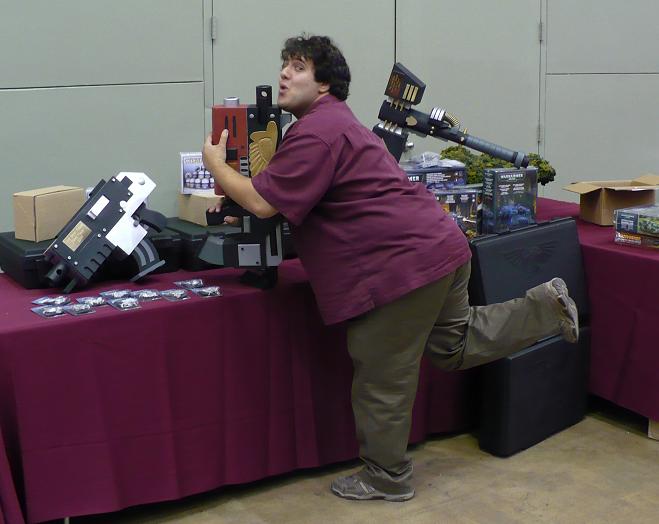 Baltimore GT, Day 0: Ard Boyz
The Ard Boyz tournament was a blast! Lots of people, lots of fun and, more importantly, lots of good prizes. Mkerr and I arrived a bit early (like an hour and a half early). The main entrance to the hall was closed, but a security guard let us in.
Lesson of the day: Always do what the security guard carrying 4 foot long bolt cutters tells you to do.
All the GW guys were hanging around getting stuff together. They were all very cool. Apparently their delivery truck had a bit of a problem on the way to Baltimore, one of the axels broke. But it got there in time and they were able to get all the boards set up.
The Ard Boyz tourney was cool. There are lots of "famous" 40k people there. I got to play the first round against the original owner of BattleWagon bits, multi GT winner Shaun Kemp in the 2nd and the guy I played in the 3rd round won 2nd place over all.
Round 1:
The missions were typical of the Ard Boyz missions in the past. The first one was called Private War. The back story is that space marine Brother Captain Spankalot's teddy bear, Mr. Hugsy, was stolen by Farseer Dedelf. It is played as a victory point mission with 12" deployment and no objectives. Just kill the other guy's army. The players roll off to pick if they want Spankalot or Dedelf on their side. Spankalot is a crazy tough (3 wounds, 5 toughness, 4+invulnerable and can't be instakilled, and feel no pain). Dedelf is all offence; he knows all farseer and warlock powers and can cast 2 a turn without having to make psychic tests. However, he is only toughness 3 and can be instakilled. So the choice is either crazy defense or crazy offence. Also, these are worth 1000 victory points each. Yup, that's right, 1000 victory points.
The guys that ran the Ard Boyz had a large table full of prizes with some crazy rules to win them. In this first round, the first person in the building to kill Spankalot and the first person to kill Dedelf each got a baneblade. Yours truly got a luck shot on Dedelf on the first turn with a basilisk and instakilled him. Now I have a nice new baneblade to paint. The tourney organizers were also nice enough to provide each player with a model for dedelf or Spankalot. They were the limited edition marine captain and bonesinger (I think). The players got to keep these.
Round 2:
This mission was called Lost in the Warp. Again we had 12" deployment on the long board edge, but with a twist. Your army had to be divided into 2 equal groups. Half of your army is deployed in the deployment zone, and the other half is held in reserve. All units are in one of these categories, regardless of infiltrating, drop-podding or summoning. They all either start on the table, or are held in reserve. Next, each player is given a warp gate. This has to be placed along the center of the board (22" from a long board edge) and 24" away from the other warpgate. This is where the other half of your army comes in from. It is treated as a board edge for all intents and purposes; you even fall back towards it. Again, infiltrators, teleporters and summoned critters come in through the warp gate just like everyone else. When you reserve on (starting on turn 1) you can be placed anywhere within 12" from your warpgate. You can then move as normal, but cannot shoot or assault. Each warpgate also counted as a 1250 point objective. It made for a lot of interesting tactical decisions, and really threw some guys off. For this mission, the fist person to have a squad completely killed gets a baneblade.
Round 3:
This mission was called Hitting the Fan, and it was the only mission I lost. You deploy in opposing corners, but can only deploy 10" from the board edge. It was played as a cleanse , except the center of the board counted as a 5th quadrant to contest. It was also an alpha with no victory points. The only truly unique thing about it was the wandering vortex. A vortex grenade template was placed in the center of the table. At the beginning of each player's turn, you rolled a d6 with a scatter die to see where it moves. If it touched a model, it died; no exceptions. It was fun seeing people dance around the vortex, but still try to get to the center of the table.
On the prize table, they had 10 to 20 random squad boxes. Every time a player killed an HQ, he was given something off the table, until they ran out of boxes to give away.
Overall, it was a lot of fun and the prize support was amazing. Everybody walked out of the game with at least the limited edition marine or elder character. Five bane blades, tones of random boxes and all the prizes for the top finishers were given away. For the last place finisher they had a special prize, The Warhammer Fantasy starter box set. In addition to the normal prizes, the top 3 placers got lifesized bolters or a thunderhammer. They looked very sharp.
I had a blast and am looking forward to next year's Ard Boyz.
We have tones of pictures. I'll sort though them and post them as soon as I get a chance.