The Heresy League continues, and the Warmaster is headed towards Terra!
We had about 20 folks show up at Battleforge Games, and the Warhammer 30,000 League is nearing its climax. This 6th week featured larger 2000pt Legion forces against a variety of their brother Legions, and several hallmark games: In several deep space fleet actions, loyalists have been attacked by traitor legions in an attempt to keep them from reinforcing Terra. Lets do a quick recap so everyone can see how the Legions held up.
Flight of the Eisenstien
Death Guard vs Death Guard
Battle Captain Garro has been picked up in deep space on board the blasted wreck of the frigate Eisenstein. Rogal Dorn has personally brought him to the Terran system to plead his case for the treachery of the Warmaster to the Imperial Palace. He and his forces are currently being held in an undisclosed location for a full debriefing.
Status: Imperial escape successful
Treachery at PhallImperial Fists vs Iron Warriors
Reports are sketchy at best, but it is reported that the Imperial Fists are caught up in a bloody fleet action on the Phall system. Their nemesis legion, the Iron Warriors have destroyed many of their vessels, and left them drifting in space. Rather than finish off the loyalists, the Iron Warriors have broken off and headed to Terra, leaving the Imperial Fist palace garrison dangerously low on manpower.
Fleet Status: Traitor attack successful

Battle of Thranx
Emperor's Children vs Salamanders, Thranx techno-defence cohort (Necrons)
The Warmaster's brutality is a terrible thing. Fresh from their defeat at Istvaan V, a company of Salamanders was limping back to their home system of Nocturne when they were ambushed by an Emperor's Children force. Even with the support of the world's defense forces, the attack proved to much for the bloodied and exhausted Salamanders. With their officers slain, there has been no further communications from the loyalists, and Terra fears the worst.
World Status: Traitor control
Lion and the Night – part 1
Dark Angels vs the Night Lords
The Dark Angels have inflicted a sound defeat on the forces of Night-captain Wolf. For the first time in his career, Wolf's tactics have been turned aside. His fleet ambushed a Dark Angel fleet far on the Eastern Fringe, and send boarding parties to disable their drive sections. While a portion of the Dark Angel fleet is dead in space, the Sons of Caliban have turned to their Legio Cybernetica Robot Maniples to push back the Traitors in the tightly packed confines of their vessels. Combat is both brutal and bloody, but as of now, the Night Lords have been pushed back and only hold a handful of Dark Angel vessels. It is to be seen what tactics Wolf devises to deal with this latest Loyalist gambit.
Fleet Status: Imperial Control
Ambush at Chondax
White Scars, Space Wolves vs Alpha Legion
There has been no world of this fleet action as of this time. It is known that a large Alpha Legion fleet has attacked a force of Space Wolves and White Scars vessels in the Chondax system, where they were mustering for the journey to Terra.
Fleet Status: Unknown
Battle of El'Phanor
Ultramarines vs Sons of Horus
The Ultramarines have beaten back a Sons of Horus ambush. Captain Tyranus along with a small contingent of Custodes Guard responded to a false distress call, and were met with battle from an unexpected quarter led by First Captain Abaddon. Several of the Custodes gave their lives to buy time for the Ultramarines to stabilize their position and beat back their traitorous brothers. With the Sons of Horus pulling back, the Ultramarines have carefully interred the fallen Custodes in their fleet catacombs, and are making best speed for Terra
World Status: Imperial Control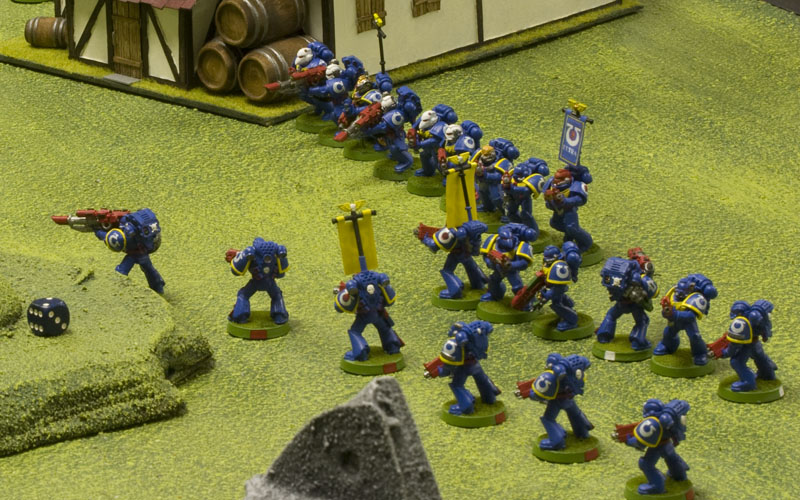 Week 6 Summary:
The Loyalists have fought with some success. While some Legions have been waylaid by the Warmaster's forces, others have fought off their attackers and are making their way to Terra. Captain Garro has brought detailed information on the treachery of Horus to the Emperor, and all Imperial forces are rapidly reinforcing the Imperial Palace. When the Warmaster arrives, he will get quite an unfriendly welcome…
Further Week 6 news and updates as they come in…

Next Week: The Terran Landings begin…