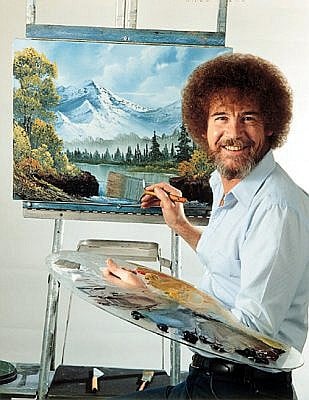 Ok
, so I know what everyone is thinking: "DUH!". Before you get too insulted, let me say, that I honestly thought a lot about whether this article would be a waste of time to write, but I think it will contain information you might find useful and informative, and I know I'll be referring back to it a lot in future posts. Plus I wanted to write something completely different from anything you might read in a White Dwarf or in Black Gobbo. This should help fill the space before I get
WIP
shots of an entire project from start to finish.
I'll only cover acrylics and sprays in this article, because oil based paints are the realm of the scale modeler. I always use
GW
acrylics to paint my minis because they have good vibrant colors, and I know exactly what to expect from them after years of use. This is why I'll be referring to them a lot. Keep in mind the examples I give of the way I work are just that: the way
I
work. My tips may be helpful, but if you've got a better way, by all means keep at it. And maybe post a comment about it. So here we go. What follows are the basics of the basics. I'll try to keep it as short and sweet as possible.
Paint generally consists of 3 primary components. Lets begin with the least vital.
The
Binder
is the hard surface that will be left when the paint dries.

GW

, Vallejo, P3, Delta

Ceramcoat

, etc. are all acrylic paints, meaning their binder is an acrylic polymer which solidifies as they dry, becoming water impermeable. The binder will affect the finish of the dried paint making it more or less glossy. I think (but can't be sure) that in

GW

paints the exact chemical makeup of the binder may vary from color to color. Some of their colors dry glossier than others. In your spray paint, the binder is likely to be a list of things as long as your arm.
The
Vehicle/Solvent
is the liquid in which the other 2 components are suspended. The vehicle can affect viscosity, opacity, and drying time. In all acrylic paints the vehicle is water. Adding more water will therefore alter any of these 3 properties for better or worse. I usually add a little water to my paint, putting several drops directly into a new pot as soon as I open it. I will repeat this process throughout its lifespan, depending on how much it may dry out. This thins the paint, helping preserve your

mini's

detail and allowing for a smoother more even application. It also adds to the drying time, meaning you are less likely to end up pushing semi-dried paint around your mini, which will clump and detract from its quality. I once heard someone remark "that guy's army looks like he melted crayons onto it". Well, "that guy"was using paint that was way too thick.
One drawback is this added water will make the paint more transparent. You might have to put 2 or more coats of a color like white or yellow to cover a surface properly, but the alternative is paint that looks uneven and caked on. I'm happy to make the sacrifice. If you are doing progressive highlight layers, the translucency will actually help a little, as the color underneath will show through enough to help the two layers appear somewhat blended. More watery paint will also be more likely to seep into crevasses where it's not welcome, so you have to be a little more careful with it. Be very careful when you add water to paint as it's very easy to go overboard. It took me a while to figure out a consistency that works right for me. It's up to you to find out what's best for you.
Clearly, spray primers are something you can't add more vehicle to. Most of the primers I've tried dry too quickly for my taste. I think the other problem is they don't have enough vehicle to begin with. The
GW
spray primers are no good for Texas. If you spray them too close they glop on and ruin detail. If you spray them too far away the particles dry in mid-air, and your minis end up looking caught in a blizzard. I understand that in colder climes, this isn't so much of a problem and you can use
GW
spray from an adequate distance without the snow effect. I think down here we only get maybe 5 days out of the year where this can be said to be true. For the record, I do know lots of people around here that claim to use it with no problems. I haven't ruled out the possibilty yet that my skill at painting doesn't extend to spraying. Maybe I'm just too damn picky. That being said, I use
Tamiya
sprays to
base coat
most of my minis. It sprays on thin, so you will need to use more coats, and spend more time, but
IMO
, what's the point of trying to paint a mini with no detail left. Kudos to bigred for introducing us.
Pigment
is the ground up solid substance that gives the paint its color. Pigments will affect not only the color, but also the opacity, consistency and finish of the paint. These days, they are made of various synthetic compounds created in labs, but throughout the ages they were made of whatever worked best. I'd be doing you folks a disservice if I didn't mention some of history's finest pigments here and now. Blues once came from ground

lapis

lazuli, a semi-precious stone. Reds came from the stewed then ground bodies of insects called cochineal bugs. Indian Yellow was made from the evaporated urine of cows fed exclusively mango leaves. Far and away, the most disturbing of all however, is a shade of brown made from the flesh of

Egyptian

mummies worked with a mortar and pestle. Stop and think about how far we've come the next time you pick up a little plastic paint pot.
Pigments are substances that only reflect light on certain wavelengths, giving you the colors you want. What you need to remember about pigments is that most of them do not reflect "pure color". For example a red pigment also might reflect a little into the yellow or blue spectrum. This means that if you mix a red with a yellow to get orange, it might end up looking a little brown. This would be a consequence of that little bit of blue inherent in the red you used. By contrast a paint that comes orange in the pot is most likely a single orange pigment rather than two pigments mixed together. If you want to mix a color keep this in mind.
The problems people have with colors often aren't so much in the wavelength but in how much overall light they reflect. Many colors, but in particular yellows, whites, reds, oranges, and some purples reflect less light overall than with other pigments, meaning light passes through them to either reflect the color beneath, or be absorbed by it in the case of a darker color. Darker pigments are usually more opaque because it would seem it's easier to absorb light than reflect it. Black therefore, which as a pigment only absorbs light, is usually the most opaque color of paint.
So what then do you do if you are an Imperial Fists player fed up with yellow or you want to do a PH Emperor's Children army but but can't deal with Warlock purple? You do what a house painter would do when faced with a similar dilemma. You undercoat with a base color similar to the main one, but more opaque. For the Fists, try Bleached Bone mixed with a little bit of yellow. For the Children, I'd say go with Tentacle Pink. This isn't a perfect solution but its the best I've got.
Metallic paints simply have ground bits of reflective material in them. Some of them might appear as, for example, gold in pigment form. Others may be silver in appearance and get their color from translucent pigment in the vehicle or binder. In order to appear iridescent, the pigment particles in metallic paints have to be much larger. This means that these paints will always be thick and difficult to use. At normal strength they eliminate detail and diluted they just won't cover properly.
My solution for them is the same as for other difficult colors. If I want to paint silver, I start with Fortress Gray. For gold, Desert Yellow or Vomit/Bubonic Brown. For brass, try Snakebite Leather or Vermin Brown. The somewhat diluted
metallics
then go on top, thinned enough to not screw up the detail. Clearly, the color underneath will affect the hue of the metal, so think carefully about which base color to use. If you want to get fancy, you could always try putting a bluish color underneath your silvers, or something reddish underneath your golds.
And that's all I can think of right now. So much for short and sweet. If everything works out right this post should help you make sense of some of the stuff in the ones I hope to post in the future. For now, I hope you shall return to your latest painting project empowered and informed by whatever useful information you may have gotten from this post. At some point in the future, I hope to post "What the Hell Paint Isn't," where I will cover things like spray
clear coat
, matte medium, and *snicker* retarder.