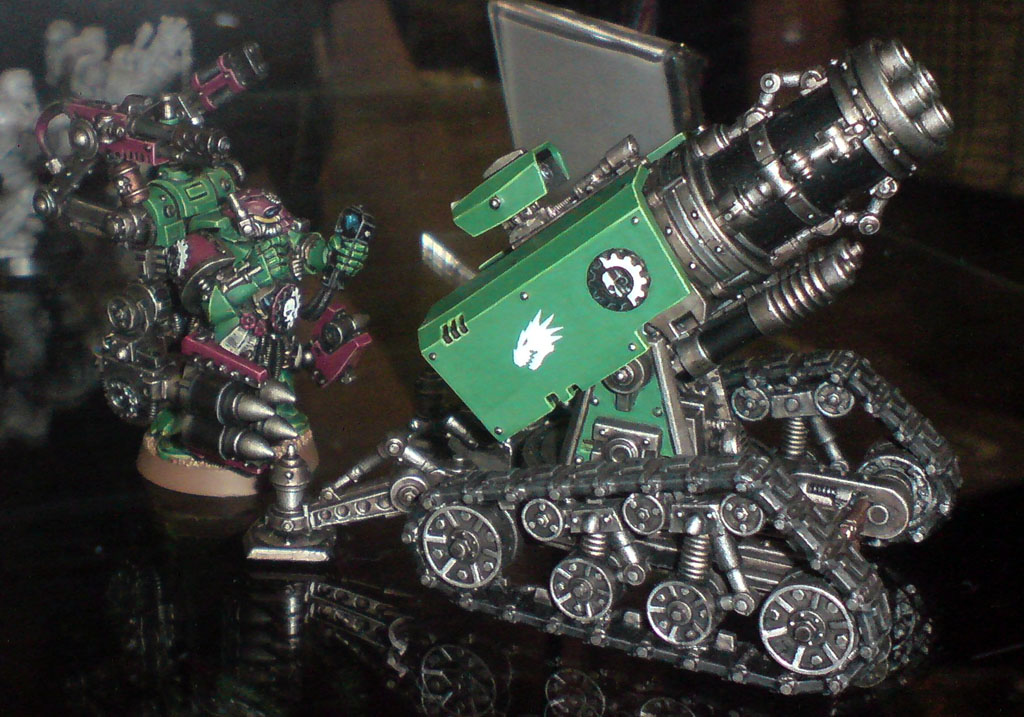 News and pics brought tothe community by warseer's: Philbrad and Art is Resistance
Hi guys,
It likes like things are hopping in Nottingham. the Design Studio Open Day is opening our eyes to several upcoming releases. Tim Deakin, Rick Priestley, Andy Hoare, and Alessio gave the presentation. Here is what we know
40K "Mighty Empires"
Confirmed by Rick Priestly for 2009. There are resin casts of the 40K tiles such as defence lines, spaceports, bunkers and a multipart hive city. Priestly was forthcoming about the Mighty Empires 40k. It won't be seen until next year, but will be fully compatible with WFB Mighty Empires.
Army Policy Change
Instead of an army's entire miniature range being done all at one time with the codex release, additional releases for armies will be coming out over a period of time. This is happening with Orks and there is a plan to release Plaguebearers and Horrors into plastic "at some stage".
White Dwarf
All White Dwarf production is now centrally controlled from Lenton to prevent as Rick put it "anarchy!" GW are quite aware of the lack of hobby content in the magazine and are working to address it. Rick Priestly was apparently quite vocal regarding White Dwarf policy – he seemed very concerned at the direction White Dwarf had taken. Now that the design studio had more control over the magazine he'd like to see more rules based stuff in there.
Combat Patrol/Kill Team
These are NOT in the 5th Edition rulebook. Rick Priestley mentioned that there are several supplements being worked on that will cover Kill Team etc… by Jervis and his team that would be released in the future. Rick's opinion was that as the rules are written now, it's easier to take 40k down to 500pts with the rules as they stand, unlike WFB. No details were forthcoming about Planetstrike or any other named supplement
Dark Eldar
Priestly also mentioned Dark Eldar. He's got the miniatures and the codex. He was quite keen to point out that they would be seeing 'some love' soon.
Apocalypse Reload
This book does have the website Datafaxes in there, but the pictures for the likes of the Khorne Tower of Skulls, Plaguetowers, etc.. are new conversions. The book is nicely presented in softback format.
Odds and Ends
There will be no new races for the forseeable future. It was said that to support the races they already have is hard enough.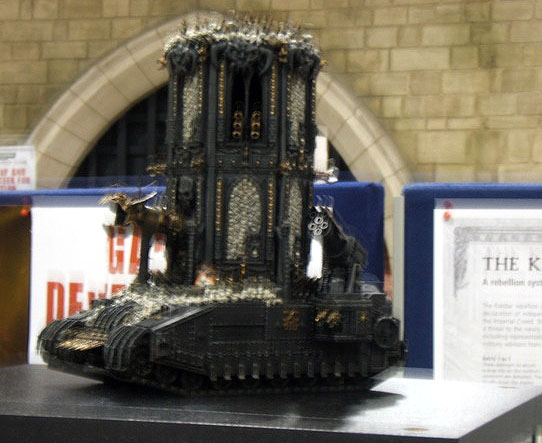 Tower of Skulls Conversion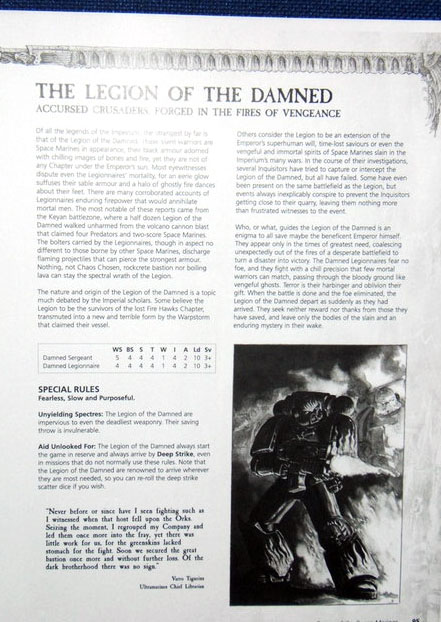 Legion of the Damned Display Page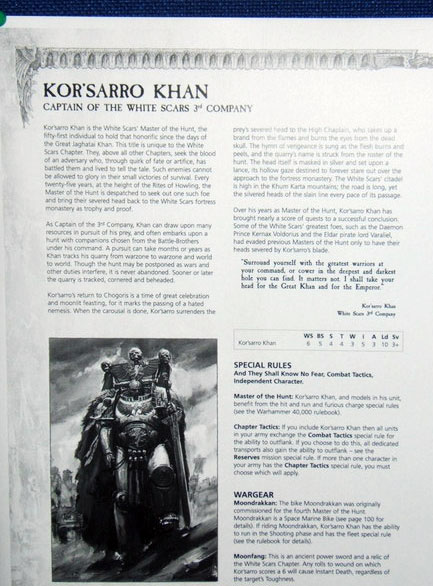 White Scar IC Display Page
Stern Veteran Display Pages
~Thats an interesting take on the Tower of Skulls. Legion of the Damned are back, and those Sternguard Veterans seem really cool with all their extra ammo rules. White Scars players can rejoice with their own very first IC. Beyond the individual rumors its VERY interesting to see the re-emergence of Rick Priestly as 40k frontman and see him talking about releases beyond the "3-month window". Perhaps all that inside-baseball talk we've heard of GW shakeups is actually occuring.