For me, Warhammer is all about the models and few models have inspired the collecting instinct in me more than Terminators. Let's face it, they are really cool looking models, so much so that even if they had little impact in games I'd still collect them. Original one-part plastic, lead, pewter, and now plastic again, I've collected hordes of them and painted them in a variety of schemes. Jes Goodwin created the look of Tactical Dreadnought Armor years ago during the Rogue Trader era and to me, the man's an artistic genius and I have a soft spot for nearly anything he has designed or sculpted. Anything he touches looks great. I have a bunch of the new Chaos Terminator plastics in boxes not even assembled yet thanks to the roughly 47% discount on the Chaos Doombringer Annihilation force bundle deal. My Chaos Marine army is an ongoing hobby project that never ends. Now without further delay here's a sampling of my Chaos Terminator collection. Each picture has a description. You can see larger versions of the pictures by clicking on the small versions shown with the text below.
This first picture shows my Khorne and Slaanesh themed Terminators. The Khorne models are the original lead Chaos Terminators, the first produced by GW. Note the look of the original Heavy Flamer and what was then an Assault Cannon. I recently upgraded their bases and added the Khorne icon to make them fit better with my newer models. The Slaanesh Terminators are heavily converted using the 2nd generation pewter models. I've used a lot of heads, tails and tentacles plus a few sonic weapon conversions. With the removal of Terminator sonic weapons from the current Chaos Marine Codex, the double-barrelled sonic weapons make good Slaanesh looking Reaper Autocannons.


This next picture shows my Nurlge and Tzeentch conversions, both done from the 2nd generation pewter Chaos models. The Nurgle squad has a lot of putty, head swaps, and other conversions added while the Tzeentch squad, not quite done being painted yet, has tabard, head and some weapon conversions. The Tzeentch squad has ten models in it, but I've only shown once since painting is not done yet.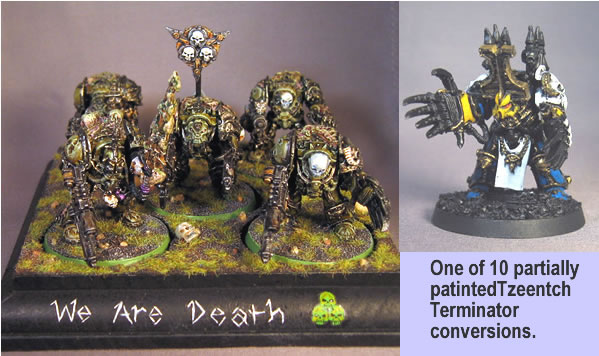 Here are some Terminators I built using the Forge World upgrades and lots of bits from the Chaos Possessed, Chaos Terminator Lord and Chaos Spawn sprues. I can't wait to see these painted and I hope to get to them soon. Note that I've built the icons on poles to be removeable for ease of transport.


Finally, here's about half of my Chaos Terminators in my personal renegade legion colors. These are pewter with occasional head swaps from other models. I didn't want to paint my legion black, but I wanted it really dark, so I used GW's Deadly Nightshade which was an extremely dark blue color they used to make. I now use Necron Abyss when adding models to the army.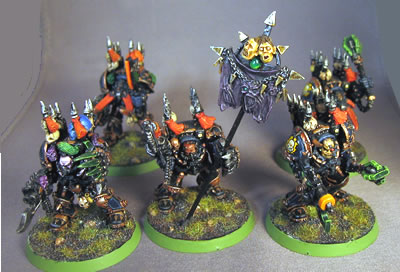 After reading this article to this point it won't surprise you to know that I also have seven squads of Deathwing Terminators in my Dark Angels army and they also comprise the lead, pewter and plastic model ranges. I'll endeavor to photograph those soon.
So how many of you out there also love Terminators? Who else out there collects them madly? Do you love them for their looks, for their in-game punch, or both? What kind of Terminators do you collect and for what armies? Will you be more likely to build Space Marine Terminator Assault Squads now that they get a 3+ save from Storm Shields? Let's hear from the community and remember, if you think I can help, questions asking for quick hobby tips are always welcome. Let's grow the hobby together!