The latest GW catalogue of specialty items and splash releases is now on its way to customers via US White Dwarf issue 346. The details of the Modular Game Board* bundle deals are thoroughly covered as well as some new starter bundle deals and upcoming splash releases like the new Mega-paint set. There is also a hint of some new "bitz packs" to come in White Dwarf itself in the form of halberds and great weapons for plastic Chaos Warriors. GW Customer Service tells me that large round beveled 60mm bases and the new "scout biker" bases will also be available as bitz packs starting in November. Pictures below link to larger photos. I usually avoid posting pictures so large that side scrolling is required to see the entire photo, but it seemed justified in this case so that all the details could be seen and the text easily read. Enjoy!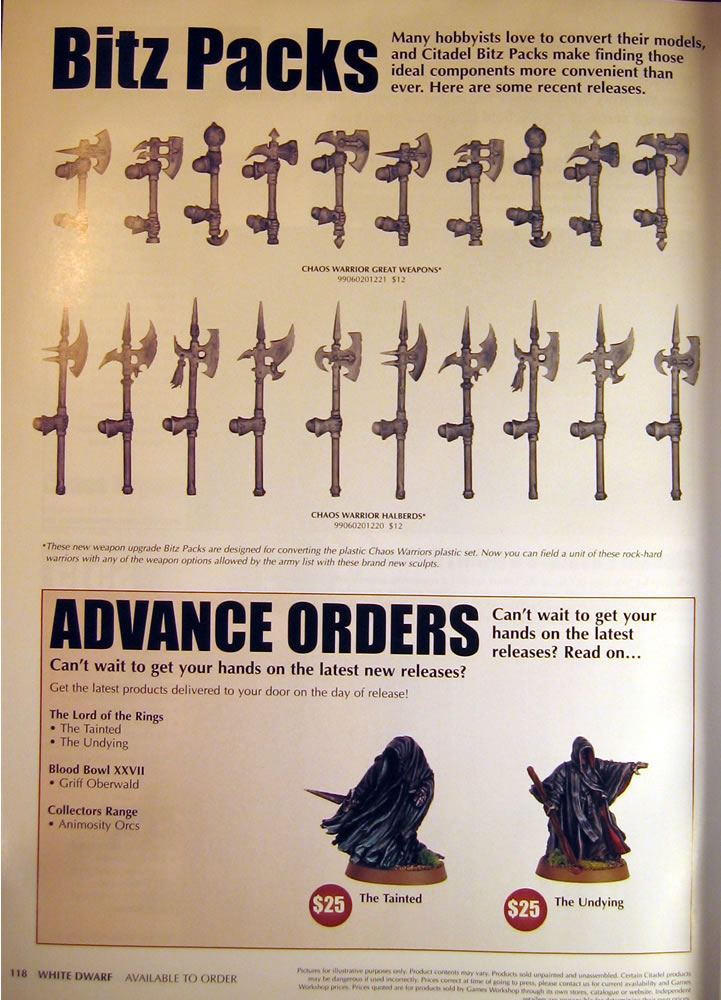 Also announced this month, subscription rates for US White Dwarf are increasing to $80 for new subscriptions and $75 for renewals.
Finally, the improved Citadel Spray Gun ($30) reappears in stores this weekend. This device makes it possible to base coat your miniatures with Citadel paints by spraying them. You can even spray them with Citadel wash afterwards to save time on shading. It's a real time-saver over hand base coating and washing for sure. I've seen a couple armies done this way and it's quite impressive. It yields quick, clean results in a fraction of the time it would take to do the same work by hand.
*Note that the price pictured in the catalogue for the Modular Game Board alone shows as $175 as was originally planned, but the price has since been changed to $200. This change is already showing on the "new release" boards in US GW retail stores. Note that GW has stated that the price of all bundle deals pictured with the Modular Game Board actually cost $25 more than shown in the catalogue.