Anyone who pays attention to the metagame of 40k and the results of the GT's must be wondering, how the hell do you deal with orks? When you look at the top players in most of the GT's this year, you see a creeping sensation of green all over the upper tables. So if you are thinking of throwing some dice in any type of event, you better be prepared to face some green and hope that the waagh roll comes up a 1. So today, I want to go through some thoughts that might help out your armies versus the oncoming wave of smelly jerks that run out of some kind of cobbled together monstrosity.
In order to beat orks, you need to first look at their strengths.
1. Cheap as hell!! One ork boy with 2 to 3 attacks based, with WS 4 and Toughness 4 for 6 points a piece is just about insane. Mix that with a really good gun (18″ Assault 2) and you have a mean threat that can put a lot of hurt out on a unit if they hit.
2. Fearless without being fully fearless. The mob rule is a pretty sweet ability that allows to ignore a lot of methods that are normally used for large squads of guys. Plus, once you get down to under 10 in assault, you still can have a high leadership due to having 9 or so boyz.
3. Orks Power Klaws are still effective, due to having a larger amount of attacks (3) for the model that can take a Power Fists. Most of the time, you are looking at 2 attacks with a fist for any other army, but with nobz you get 3 base, 4 on the charge. That is more then enough to put a squishin' on something.
4. Large units means you can cover more then one objective, if you placed them close together.
5. Did I saw cheap?
The big issue with most tournaments is that people are not changing their lists for 5th edition. The influx of objective marker games has created the whole, look for the goodies instead of just killing the opponent. Mix that with a large push for everything getting cover, and you have a game that no longer is as dominated by shooting the hell out of your opponent. These things are why the new ork codex has put an iron grip on the tournament scene. You have an army that can throw down large units, that are constantly getting cover saves, as well as being extremely efficient in combat. Since people are playing the goodies game, orks can cover a ton of ground, and thus grab a lot of the goodies. So how do you combat this?
1. Take lots and lots of templates that can cover a ton of models. Yeah they get cover saves, but if you are wounding 10+ models, you will still be killing 5+ at a time. And once you get the unit under 15, it becomes less scary and easier to manager.
2. Flamers are great. Orks have crap for armor, so basically you are hitting 4+ models per template and wounding half of them. If you have a flamer with a higher strength, then just watch as you roast a ton of the green off those bastards.
3. Use dedicated assault units. Khorne Bezerkers are great at tearing apart 30 man orks squads. Hell marine assaults squads also can put a hurting on orks and cause them to take fearless wounds at the end of combat. Thunder hammer terminator squads are death squads to just about any unit they touch, especially orks.  If you win by 10, and they are still fearless, they are taking 10 more wounds.  If that doesn't kill them off, the next round of combat should and you will get a free d6 movement to get closer and put some hurting on the boyz.
4. Castle up, don't spread out. If you take a corner and make them come at you, you will force them to funnel their units. Once they start funneling, your templates will start eating large chunks of their army out.
5. Don't be afraid to sacrifice a unit in order to get the orks to assault the way you want them too. Remember, if they kill out the squad, they are left there to sit around and you can easily take out lots with template weapons. Flamers lover models after an assault.
6. 14 armor is a pain in the butt for orks to deal with. The only thing with str 10 is the warboss, and you can easily take him out with what is in your Land Raider.
These are some things that people need to think about when putting together their armies. The ork armies you are seeing right now, can be easily handled with just a little bit of thought. Of course there are ways for the orks to change to help combat this, but the games should not be as one sided as it looks in the tournament.
Armies to look at, if orks are becoming a problem in your area.
1. Chaos: Lash is great versus orks. Mix that with most of your units being good in assault, means you have a great way to deal with the green skins. You also have access to templates as well as some solid units to help dish out some hurt.
2. Marines: Thunder hammer terminators are death squads for any army. Why weren't we seeing more of them at the GT? I am not sure, but if any one of those squads hit a nob biker unit, don't expect your 800+ pt unit to survive the hammer beatings. Why wasn't Shrike out there making your terminators fleet. Or why wasn't there 3 Land Raiders with 3 squads of hammer men hanging out and putting the smack down on people?
3. Sisters: Constantly Leadership 9, mixed with auto killing weapons (Exorcists for nobz) and lots and lots of flamers gives you a great chance versus just about anything orks throw at you. Mix that with a great anti horde weapon (bolter) and troop transports with flaming death on it, and you have a good army that can combat the ork monstrosity.
4. IG: Templates, templates and more templates. Lots and lots of orks die if you get hit by tank templates. And hell, the scatter doesn't matter as much, as the unit is 30+ big.
5. Nurgle Daemons: Not the best army, but they sure do a great job killing orks. High toughness mixed with taking off attacks can put a hurt on anything orky. Mix that with a unit that can throw out a big template and is pretty impervious to most ork weapons (Soul grinder) and you have a mixture that is pretty scary for orks.
So there you go, some things to think about if you are playing lots and lots of greenskins in your local store. Now how do orks deal with this new threat of pain from other armies? Welp that is another article as I go into how orks need to evolve to deal with the changes in the tournament scene.
Some new art here. Look for an article about my building a chaos mortals army and painting it up for paint challenge from my local store owner. But enough of that, here is a pic.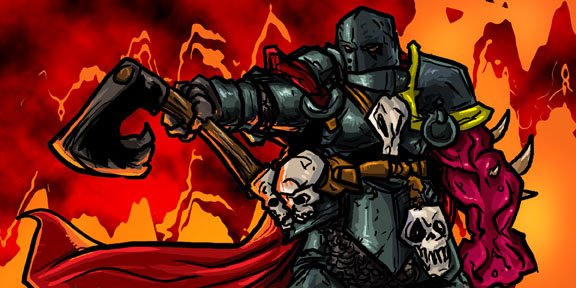 If you have any questions about the list or want to know more, shoot me an email. And again, the link below takes you to my art and miniature commission site.