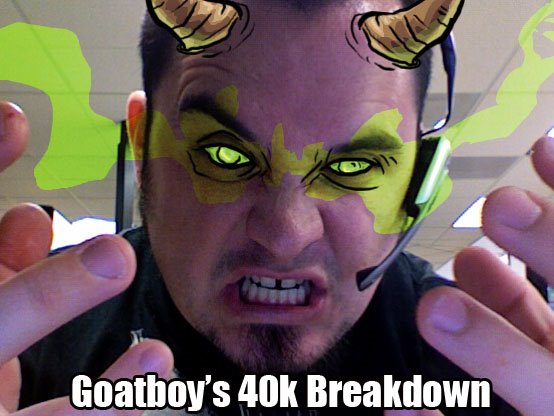 The game of 40k has multiple facets of strategy. All revolve around the idea of creating an advantage for your army. We all know that if you have a better weapon/ballistic skill/strength, etc you will end up doing better in that form of combat when it comes about on the game board. Higher numbers mean a better chance to create an advantage when you roll those dice.
Today's topic, instead of just trying to get a numerical advantage via stats, is going to look at the advantage of creating a situation that isn't always just relying on your stats.
When you bait something, you are trying to entice it towards something. You bait a hook to get the fish to bite so you can catch it. You say inflammatory things to try and get people to argue with you. You purposely say something funny to get your friend to shoot milk/beer out their nose so you look superior. All of those things are ways we try to bait to create a situation you desire. You can use this in 40k too.
The way you would bait in 40k, is to use a unit to try and entice your opponent to do what you want them to do. This works in two ways when it comes to war gaming. One is especially evident in 5th edition is the loss of the ability to sweeping advance into another assault after killing a foe. The other is the advent of "uber units" that takes the entire attention of the opponent, so much so that you can easily get your other units into position to show them their "mistake".
Lets look at the first way to bait your opponent. A new strategy from the changes of 5th edition, is to create these little pockets of throw-away units to either mire your opponent down to allow you to counter assault as the unit is stuck, or you have a weak unit they can completely blow through and are left sitting out in the open, ready to get shot up by the rest of your army who are looking to get a bit of revenge after they killed your meat shield. Here are a few units and methods to use them as basically cannon fodder.
Please kill me units.
1. Rhinos. Once they have dropped your guys off, rhinos make for some of the best "meat" shields when facing an assault style army. Since they are vehicles, once blown up in assault, the unit cannot make a consolidation move after finishing them off. This allows you to get some really great template action as they "victorious" unit celebrates by getting blasted into pulp.
2. Combat squads. Nothing says cannon fodder like 5 random dudes with bolters. Yeah you really killed those 5 marines dead; but what about the guys behind them with the multi melta and/or power fist that is charging you. Well Poop!
3. Small IG squads. Nothing goes splat better then 5 random guardsmen.
4. New Chaos Marine daemons. Throw them out in front and watch them take a lot of fire that might have hurt your more important cult troops.
5. Small ork Trukk squad. They go fast, get in the way, and can really help set up a insane amount of shooting if someone comes up to whip them out.
The other form of baiting is to take a unit that is so obviously dangerous, that the opponent has to concentrate everything on that unit or units. This allows the rest of the army, to do more work then they would normally have a chance to do. This could mean, getting a good counter assault, having more than 2 rounds of shooting, or just being able to get where you need to go in safety. This "uber" unit just rushes forward, and normally doesn't last the entire game, but they create a sense of tension as well as nervousness from your opponent. They have to deal with this, because if they don't, their game is over since the "uber" unit is going to just destroy everything. Little does your opponent know, that you really are just setting things up to take the win out from under them.
Uber Units of Doom!
1. Nob bikerz. I know I talk about them a lot, but until you have played versus a well built list (ie wound allocation cheesed out) you don't know the pain of shooting your entire army into it, and watching one nob eat it.
2. Thunder Hammer Terminators. 3+ inv saves are hard to deal with. Mix that with a unit you can run forward and just go for the throat, or put them in an LR and rush forward, waiting to put the hammer on your foes.
3. Great Unclean ones (Nurgle things in general). They are a pain in the butt and can ignore so much fire it is stupid.
4. Plague Marines. Not so much game breaking, but annoying enough you can move them forward and try to ignore your opponent.
5. Land Raiders in general. The changes to the pen/glance tables makes these tanks a heck of a lot more annoying to deal with.
Now of course, all of this is moot if your opponent catches on to what you are doing. Most of the time you can ignore stuff and just go for what will win/lose you the game. If you know your opponent is trying to bait you away from something, then don't let them. Look for how they can best profit from your turn and your actions. I know this is a pretty obvious thought, but a lot of the time we all can get caught up in the blood lust and frenzy of the moment and "go for the throat" of whatever is closest or offered.
40k is a game of constantly evolving strategy. You can start off with an idea, but be prepared to change it halfway through. With 360 degrees arc of fire units, vision, guns that shoot across the board, and things that can move beyond the max of 12 inches (base move + max run) you have a game that can just turn extremely quickly. Baiting your opponent is a valuable bit of strategy that can help change the tide and give you that super turn that completely knocks the fight out of your opponent. Your entire army is your strength, and using units to just bait your opponent into a false move, doesn't devalue the unit if they just die an "honorable" death.
Now onto a list thought. I built the following ork list for a local "heavy" tournament. It is one of those, I hate you lists and something I don't really personally like to play. It isn't very fun, and most games you can tell who won by turn two. But here it is for those to look at. If someone shows up with this, and you are looking for a fun game, don't play them. It isn't worth the time to put some dice on the table verse something like this when you are not expecting it.
HQ: Warboss, Bike, Attack Squig, Cybork Body, Kombi Skorcha, Bosspole, Power Klaw X 2
Troops: Nobz (7) X 2 – (Listed this way to show how you will wound allocate your way to annoyance)
Nob 1 – Power Klaw, Waagh Banner, Cybork Body, Bike
Nob 2 – Power Klaw, Bike, Cybork Body
Nob 3 – Power Klaw, Bike, Kombi Skorcha, Cybork Body
Nob 4 – Painboy, Bike, Cybork Body
Nob 5 – Slugga/Choppa, Bosspole, Bike, Cybork Body
Nob 6 – Slugga/Choppa, Bike, Cybork Body, Kombi Skorcha
Nob 7 – Slugga/Choppa, Bike, Cybork Body
Troops: Shoota Squad (29), Big Shootas (3), Nob, PK, Bosspole
Elites: Lootas (15)
Heavy: Looted Wagon, Boomgun, Ard Case X 2
Pts: 2000 Scoring: 3 KP 8
For those interested in a 1750 list, drop the wagons. For 1500 I might drop the shoota squad and just go with two super units and lootas to deal with tanks that you might see (IE defilers etc).
The thoughts on the looted wagons, is that most people will concentrate on the nob bikerz, and let you have at least 2 to 3 shots from each. Just enough to be annoying and really put a pain on those clumps of marines trying to just sit and wait for the incoming death.
I didn't play the list, because I just wanted to have fun and threw down with a Daemon list. As usual, it choked and left me annoyed just from the sheer amount of none playing involved with it. (No fun shooting). Also my soul grinders are not really doing their job anymore with the change in the environment to more melta in general. Oh well, time for the army to be put up for awhile and onto other armies, namely the plague marine force I talked about last week.
Currently, I have yet to test out. I dropped one defiler and the rhino less squad for 2 obliterators and some summoned daemons. The Daemon princes are going to be my converted nurgle dreads/Daemon army princes. I just need to add some kind of propulsion for one of them. The theme thought behind the army is a sort of mad doctor called the Father, who infects those with a virus that takes over the body. You will see this in the techno organic design I want to go with the Defilers as well as the obliterators being robotic looking (converted from terminators, greenstuff, and random bits). Each unit will look a bit different, as the father has found other units to convert to the faith. Thus the super nurgle ones are the elders of the family. I will update as I get into more testing with the list.
I do have a commission site for those interested. I do artwork as well as painted commissions. Shoot me an email at [email protected] This is also the email you can use to send me any army lists or other thoughts you might want me to address. The link below will take you to my commissioned site for more info too.