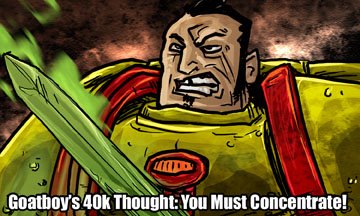 The biggest thing I see with most army lists, is a lack of concentration and overall focus. Units are placed within the list, without any kind of backup, or redundancy to ensure that they get their job done. An example is playing one dreadnought, with your only real heavy weapon, and hoping that he just gets the job done versus the 3 Land Raiders you see across the table. If you need something to work reliably for you, and the rest of your army depends on it, take more then one if you can.
A good example of this is the chaos power "Lash of Submission". There are so many factors that the power relies on to work. Dice roll to see if it goes off, a dice roll to see how far you move it. Those two factors can really hurt you, especially when you need at least one a turn to go off to help push your army into the win. When you are running a lash list, you need to run two to guarantee one going off per turn, in order to make sure the odds roll in your favor.
There are other examples from different armies too. Let's say you need to at least get three shots off of your Defiler versus that Ork nobz army you always see at the top table. If you are just bringing one to the game, then you are just waiting for that to get shot up to pieces by the lootas sitting in the back. If you are bringing 3, then you know you can most likely survive enough to get 3 shots in the game, plus if you go first, you can concentrate one on the lootas to get rid of their annoying shooting. This is also the same with vindicators, melta guns (only taking 1 in an army is just a disaster versus all the mechanized lists you see running around), and other units that need to create a distinct advantage for your army quickly, in order to be effective.
This is especially evident when you are dealing with a unit that can be very fragile (IE vehicles). Any unit that can be destroyed with one shot needs to have more backup to be effective. Yes I know one shot from the battle cannon can turn the game, but you need to make sure you get a chance to make that shot. Vehicles are the greatest example of this, but other multiple model units can also have the same effect. Anything that has a high damage potential, will get a ton of attention from your opponent. The only way to counter this attention is to either have more then he can shoot out in a turn, or have an army built of things that pull his attention away.
There are only a few units in the game, that are ok to use singly. Nob bikerz are an extremely survivable unit that can also generate a large advantage, as well as get its points back pretty quickly. It is also the same with Thunder Hammer Terminators. They have a low invulnerable save, mixed in with large damage potential really help make up the extra points they cost over other units. These units can survive multiple turns of opponent attention and thus can be a great addition to one's army lists.
So enough theory-hammer, what about some lists to look at? I have a gmail account set up that anyone can send army lists too and I can review them and give my own thoughts on it. (Put in email here) I had one reader ask me to create a Death Guard lists that would be competitive in the current environment. Here is the list I came up with. I tried to stay all Nurgle,
with the options for some cool conversions with the plastic miniatures out there.
Death Guard A Go GO!!!
HQ: DP, Wings, Nurgle, Warptime PTS: 175
HQ: DP, Wings, Nurgle, Warptime PTS: 175
Troops: Plague Marines (9), Meltagun (2), Asp Champ, Pwr Fst, Rhino PTS: 302
Troops: Plague Marines (9), Meltagun (2), Asp Champ, Pwr Fst, Rhino PTS: 302
Troops: Plague Marines (9), Meltagun (2), Asp Champ, Pwr Fst, Rhino PTS: 302
Troops: Plague Marines (10), Meltagun (2), Asp Champ, Pwr Fst, PTS: 290
Heavy: Defiler, extra Combat PTS: 150
Heavy: Defiler, extra Combat PTS: 150
Heavy: Defiler, extra Combat PTS: 150
PTS: 1996 KP: 12 Scoring: 4
I know, 4 troop squads but with Chaos Cult Troops being better then a normal troop (More attacks, more saves, better weapons, etc) they are pretty strong to take. I have 8 melta guns to help deal with any heavy vehicles that might punch in and get close. I also have multiple power fists to deal with MC in close combat. The 3 defilers are there to put a scare in orks as you throw down templates on them. If you are playing versus Nob bikerz, throw it on them, if it's just an Ork horde, kill the lootas.
You use the Rhinos to build walls to make your opponent have to go through them to get to you, thus denying them a round of shooting. If they are an assault army, you will make the assault units get piled up, since they can't make a consolidation move after blowing up the rhino. After that, you can rapid fire into them. The great thing about plague marines is that you can get charged, and they don't get an extra attack, thus making the option of rapid firing into them not nearly as bad.
The two DP are just wound tarpits that you can use to help put a concentrated MC creature beatdown. Toughness 6 is a pain in the butt to deal with. I would normally run them together.
The other great thing with this list, is that it can be completely plastic with lots of options for conversions. The new DP model coming out will also be a great benefit for this, as well as give the modeler a nice way to create a cool and cohesive force.
The plan for future articles is to always have a list that helps represent the strategy or concepts I am trying to get across for the week. The marine lists I will be working on, are still in the works. I need to put together some models to start testing, and as I'm currently painting up a commissioned Daemon army, my time is a bit limited. I am also testing some fantasy stuff to prepare for LoneWolf GT in Dallas in March. I plan on bringing Chaos Mortals and have the army pretty much painted up. The next thing is a Hellcannon. Will see if they work out alright.
I changed up my commissioned work site. I have a better breakdown on painted miniature prices on there, so if you are interested shoot me an email at[email protected]
If you have any questions about the list or want to know more, shoot me an email. And again, the link below takes you to my art and miniature commission site.