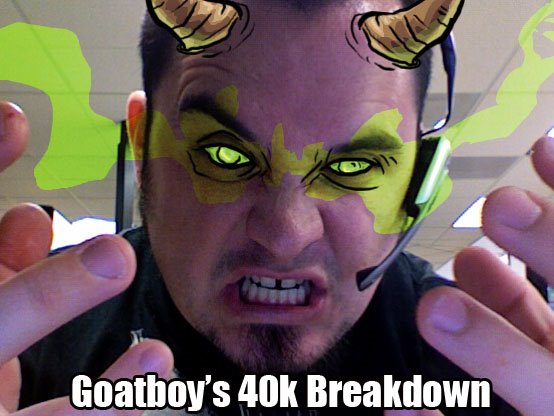 Today's thought goes into the idea that each of your units has a particular mission in your game. Whether it's getting the objective, killing the bad guy's uber killing unit, or just making sure you have a really awesome speed bump, each unit needs to help out to add up to a win.
In 5th edition, troops have become a much different asset. With the advent of two missions needing troops to survive till the end to create a "win", troops have become a unit that goes beyond just their ability to kill. Armies in a lot of ways, have to depend on their troops to win them the game. I know I stated you don't need as many troops as people are shoving into their lists, but you still need some.
Before 5th edition, troop squads were for the most part, min/maxed to death. You saw the squad either become as basic as you can get in either size or damage potential (las/plas anyone?). Troop choices were also seen as a throwaway unit in a lot of armies. Some units could deal a lot of damage, but their role in 4th was to just take up a minimum army choice as well as become a nice tarpit to hold enemy units so your more dangerous choices could bushwhack the guys stuck in the pit.
This change in the troop dynamic has also changed how you play with troops and their role in the game in general. You have to keep thinking about where your troop units are, and where the "objectives" are. Fast-moving troops have become a nice bonus, with the ability to get where you need them to get, when you need them there. This push for troops have opened up a new style of play, that has created a new tactical goal to the game; keeping your dudes alive.
You can see this change affecting a once top tier army with Tyranid Big Bugs. Once the bane of tournaments, they have now become a less effective choice. Tyranid troop squads, are not as survivable as many other armies, thus the game ends up playing towards the draw. This makes it hard to compete in the late game and keep up with the Marine combat squad nonsense you might see across the table from you. The troop change has also swung other armies around to the forefront with Orks having a very powerful unit available as a troop choice, thus allowing you to score as well as be a killing unit.
So yes, troops are a choice that can have multiple abilities and missions within a battle. Some troop choices fit the role of a killing unit, while others are meant as fodder. It all really depends on what they need to do for your army at that time.
Lets look at some of the other choices. Obviously your army needs a HQ unit. What does that bring to the table, besides a normally above average assault unit. The new changes to codexes have brought about the idea that HQ's change up how your army is built. You saw this in the new Ork codex and by the looks of all the rumors it is something that will be occurring in the future. Personally, I like this as it allows you to create lots of mini lists within a codex.
With Orks, your HQ defines what kind of army you plan on throwing down with. In the Marine codex, who you pick allows you to have different options that create an army that is a different threat then the normal vanilla marine. I personally like to use HQ's as a form of insurance in most of my armies. They are there as a great threat that creates uncertainty for my opponent. He may wonder "What is my uber chaos lord going to attack? Ah crap if he moves his Great Unclean One here, it will just be a pain to get through." The other great thing about an HQ, is that they can join a troop squad and create a scoring/killing unit. This allows the troop to become a threat, as well as create another form of tension as the combo can take defended objectives and retain scoring status.
Elites are an interesting choice, in that in many of the codexes they become the home for strange units. A lot of the time, you find units that are not taken coming from this section. These units are designed as shock and awe units, meant to put the opponent on their toes with their extremely heavy hitting power. These units are there to help give your army some fists to punch out your enemies. Your troop choices are you body, but your elites will be doing all the heavy lifting most of the time.
Fast attack choices are pretty obvious. Most of the time, their punch is fairly light. Sometimes they can have really great weapons to cause problems (for example land speeders with multi-meltas). Other times they are just used as another type of tarpit that can stick to a enemy unit and lock then down until your elites come and mop up. I've seen many a heavy tournament list not have any form of Fast Attack. Usually they are left till the end of the army list building, and most of the time they are pricy. In the right type of army build their far-reaching abilities become an asset as they set your opponent up for devastating charges or cutting the legs out of their army.
Finally we reach the heavy choices. I have become less and less enamored with having to take heavy choices. Most of my ork builds don't have one (the Battle Wagons are taken with nobz and used for transport, and truthfully lootas should have been a heavy choice). The new codexes seem to overload the elites choices, with most heavy choices not needed to create an effective list. You can see this in how 5th edition just has a ton more movement with run added to the mix. No longer are you guaranteed to get 3 rounds of shooting with your las-cannon devastators. I do agree that some of the tanks are pretty good right now (Marine Predators with heavy bolter sponsons, autocannon, and a storm bolter is 90 pts), but most of the time you can take them as the units "transport". The heavy slot is not nearly as mandatory now as it used to be.
Each unit has its own purpose that can help create a win for you. Each part has a mission. The troops are the meat of your army and now control the aspect of winning in two missions. The issue is that they normally don't pack the punch of other units, so if you just take all troops, you end up with an army that can't complete the other aspects of the mission, killing the other models. Your elites and HQ choices are your fists that do all the punching most of the time. They are there to push an advantage towards the troops and help create standstills in order to allow you to get into position. Your fast attacks are often used as one shots (ie multi-melta land speeders, fast bikes, storm boyz, etc). They are a quick slap to the face, and allow your other units to set up for a game ending charge/shoot out. Finally we have the heavy choices, who seem to fall farther away from a competitive list. If you can only get a few shots off, then is it really worth it to have all these super killie weapons? It really depends on your build and how you create tension in your opponent and control the battlefield with your own units.
Alright, now onto an army list. I've slowly started building the Death Guard list I posted 2 weeks ago. I've changed it up a bit. I added some things to test out (I have lots of nurgle stuff from my Daemon's army), and want to try some different weapon load outs. I played a quick game versus a new Daemon player with a Tzeentch army, but that game ended really quick due to me knowing how daemons play, as well as taking the knees out by shooting Fateweaver a ton :). Onto the list.
HQ: DP, Wings, Nurgle, Warptime
HQ: DP, Wings, Nurgle, Warptime
Troops: Plague Marines (10), Plasma Gun (2), Asp Champ, Plasma Pistol, Power Fist, Personal Icon, Rhino
Troops: Plague Marines (10), Melta Gun (2), Asp Champ, Power Fist, Personal Icon, Rhino
Troops: Plague Marines (10), Melta Gun (2), Asp Champ, Power Fist, Personal Icon, Rhino
Heavy: Defiler, Close Combat Weapons (2)
Heavy: Defiler, Close Combat Weapons (2)
Heavy: Obliterators (2)
Troops: Summoned Daemons (7)
Troops: Summoned Daemons (7)
Pts: 1997 KP: 13 Scoring: 5
The Daemons are there to tarpit and give Plaguemarines time to get a good charge on if need be, or get into their Rhino to get away. I might drop the oblits in favor of another Defiler or maybe a Greater Daemon. Most likely the one plasma gun squad of Plaguemarines might get changed to melta. Will see how it goes as I test the list out.
Next week I plan on looking at the marine codex and throwing up some lists I felt might have some bite to them.
I do have a commission site for those interested. I do artwork as well as painted commissions. Shoot me an email at http://www.blogger.com/[email protected] This is also the email you can use to send me any army lists or other thoughts you might want me to address. The link below will take you to my commissioned site for more info too.