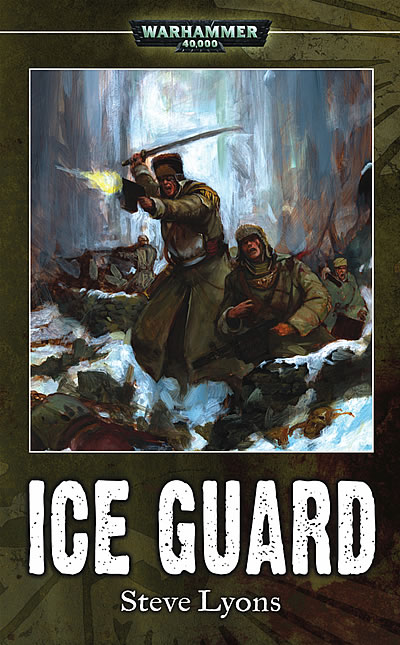 Timo is back with our latest Black Library review

Ice Guard – Steve Lyons
Ice Guard is Steve Lions' second novel within the Imperial Guard Novel series, the first being Death World. The latter was kind of like a poorly produced action film (I'm tempted to say "b-movie") so I was curious as to whether or not he would be able to up the ante. I figured the Valhallans would raise the level, since the first book involved the 80s Rambo-esque Catachans. Let's have a look.
There are 48 hours left until the death of the world Cressida by the hands of an Exterminatus when Colonel Stanislav Steele receives a special order.
A plane with a confessor on board has crashed in the middle of enemy territory and the confessor's death must either be confirmed or he must be rescued by all means necessary, since he may not fall into the hands of Chaos alive. This world has been taken over by Chaos, so Colonel Steele needs to jump right into a kamikaze type mission. Given the premise that this world will be dead in 48 hours and a panicky evacuation is to take place, this is like a double feature of "24".
Colonel Steele puts together a team of specialists and makes his way to the crash site in a drill tank. Why the need for a drill tank, you ask? Well, the invasion of Chaos has somehow caused massive amounts of ice to develop, which doesn't seem to be of natural origin. There are several odd changes taking place on this planet in general, but the clock is ticking away relentlessly.
The novel's main idea sounds interesting and it keeps you checking out the remaining time in each chapter but still it is impossible to cleanse your palate of that bitter taste of b-movie action. During the entire book it seems like you've seen this plot before, and you can basically visualize each and every scene. However, this does not mean that the book has such a great, pictographic style. The images are just trite and overused.
First, the individual characters in the war zone are introduced. They are acting individually and intelligently, not like any given soldier, since they are the select special warriors.
Then the mission is established, the individuals are slowly mingling and becoming a team. This is nothing new for us old 40k veterans; it's how a story involving such a dangerous mission goes, no surprises here.
In conclusion I have to deduce that the strange b-movie feeling of Death World is not connected to Sly Marbo after all. It relates to Steve Lyons' stereotypical writing style. Ice Guard could just as well have been a direct sequel to Death World, just set in a different climate. This book is a solid diversion for newbies and fans of the Imperial Guard, kind of like watching the movie "Mutant Chronicles" or other Sci-Fi b-productions on a rainy day just to pass the time. You get a bit of action, a couple of cool lines and hardly surprising ending, yet it is still entertaining somehow.
3 Stars (out of 5)

~Bigred here. As usual comments are welcome and expect to see more novel reviews from Timo in the days ahead.