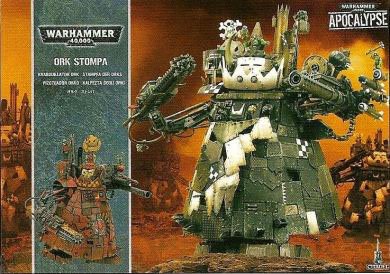 This coming weekend March 7-8 is "Go Big Weekend!" at US GW Hobby Centers. The Stompa and Stormlord/Shadowsword kits are released on March 7. Store events include "Storm the Stompa" on 3/7 and "Sink the Shadowsword" on 3/8. Bring 500 points from a 40K Codex (no super-heavies) to each of these events and try and take down the store Stompa or Shadowsword. There are also conversion clinics and bitz swapping events this weekend. Visit the GW events web page for more info and call your local hobby center for full details. Note that there is also a conversion contest that ends on March 28. You may want to start on your custom creations now, perhaps seeking just the right bitz for it at the bitz swap this weekend.
I'll be building and converting the Maryland Battle Bunker's Shadowsword and conducting a conversion clinic there on Saturday, talking about turning this new super-heavy to a Chaos theme. Many methods I'll be discussing will also be applicable for converting to other themes, such as Orks and of course, questions and "brainstorming" on conversion ideas will be part of the clinic. The clinic will also look at ways to keep the gun barrel modular so it can be easily switched from one variant to another.
For those who missed it in an earlier post either because they didn't see that post or because I had a bit of a copy and paste error with the link, here's a link to some amazing Imperial Guard truck conversions done by a friend of mine. While there, you might want to explore some of the other amazing projects on his website. I had a chance to see one of the trucks with paint on it earlier this evening and it's looking great.