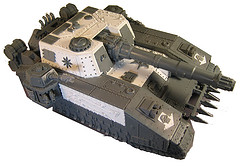 One of the fun things about the new Stormlord/Shadowsword kit is that if you build a Stormlord you're left with an entire Shadowsword gun (and vice versa) to feed your conversion machine as well as some additional armor plates and other bitz. I'd been planning to convert one of my existing Baneblade kits to a Chaos Shadowsword for months using plastic tubing to construct the gun. After building the new Stormlord kit I proceeded with this conversion straight away, but with the GW produced Shadowsword gun barrel instead of a scratch converted one. The fixed turret is scratch converted and I took the opportunity of doing so to build Chaos decorations directly into it. I also built Chaos themed decorations right into the scratch built side armor plates in front of the sponsons. By request, here's a picture of the custom cut side armor: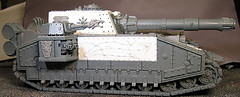 Whatever model you build from the new Stormlord kit, you'll have plenty of cool bitz left over for some other fun projects!
I'll bet some of you out there build a Shadowsword and then use the left over Vulcan Mega-bolter muzzles to build one of the new Leman Russ variants. As for myself, ever since GW released the original Baneblade kit in October 2007 I've really developed a special fondness for larger models and the Baneblade in particular. It's a great palette that allows for a lot of creative fun. I hope more large kits are on their way from the GW studio in the near future.
Also note that for anyone interested in a ready-made Brass Scorpion conversion for tearing apart all those new Stompas and Shadowswords now appearing on game tables, I have just listed one on eBay at this link.