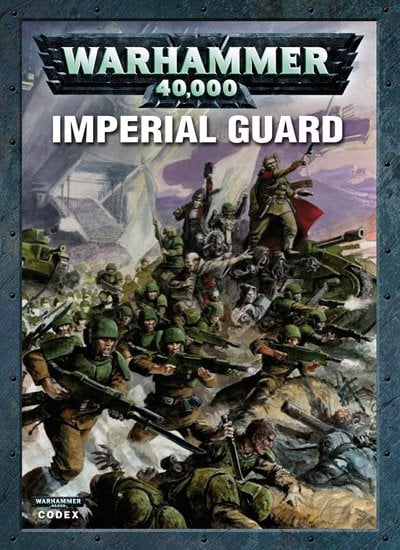 ~Hi guys, boy has the tipline (upper right column) been buzzing of late. Here is a basic rundown of the upcoming IG codex sent to retailers to help explain the upcoming Warhammer 40k release. There are some more nice confirmations in there, after all these months of rumors and speculation.

Release Summary:
The new Codex is designed around the Imperial Guard Infantry Company – a rank upon rank of soldiers supported by a huge array of armoured vehicles and battle tanks. The range is well supported with plastic box sets for two famous Imperial Guard regiments – the Catachan Jungle Fighters and Cadian Shock Troops – as well as a number of vehicles including battle tanks, troop transports and scout walkers.
The key themes of the Imperial Guard army – lots of men, lots of tanks – are highlighted in this Codex. Infantry Platoon squads can be deployed together as a single scoring unit of up to fifty men can (sic), and tanks can be chosen in squadrons of up to three vehicles: this brutal mass of bodies and armour is what the Imperial Guard is all about.
The Codex includes a number of special characters, including famous officers such as Captain Al'Rahem of the Tallarn Desert Raiders, Commander Chenkov of Valhalla and Colonel 'Iron Hand' Straken of Catachan. Each of these characters has a unique rule or set of orders that conveys the character of his home regiment. In addition, legends such as Commissar Yarrick and Ursarkar Creed are brought up to date, and new characters such as Knight Commander Pask of Cadia and the Catachan Devil Gunnery Sergeant Harker are presented.
Features & Benefits of Codex: Imperial Guard:
– Reduced points costs and Infantry Platoon special rules allow Imperial Guard armies to rival even Ork and Tyranid hordes for huge units. Plastic box sets and the two Battleforce sets allow customers to build such an army quickly and conveniently.
– Chimera fighting vehicles are now the standard Transport upgrade for Imperial Guard squads, and can be chosen without need for special rules or variant army organisation: any Imperial Guard army can be fielded as Mechanised Infantry.
– Command Squads can now influence nearby Infantry Squads through the use of the orders rules. These range from allowing nearby Guardsmen an extra shot with their lasguns, benefiting from improved cover saves, or receiving a bonus to their anti-tank shooting. These rules make the Command Squads more important than ever before, and introduce a new dynamic into the Imperial Guard army.
– Tanks can be fielded in squadrons of up to three vehicles as a single choice on the Force Organisation chart, allowing players to include more than ever in their armies.
– The expanded army list includes several tank designs available from Forge World, such as the Medusa, Hydra Flak Tank and Leman Russ Vanquisher.
– This book revisits many of the Imperial themes of the Guard army, including new character types like Astropaths, Primaris Psykers and Lord Commissars. Touches like these firmly place these human soldiers in the grim darkness of the 41st Millennium."
– Leman Russ special rule: "Lumbering Behemoth" – a Leman Russ that remained stationary or moved up to 6″ can fire its turret weapon in addition to any other weapons it may fire – even if the turret weapon is ordnance.
Models
May 2nd
-Cadian Shock Troops (box of 10 plastic guardsmen). "Can be used to build Infantry Squads and Conscript Squads, and more exotic squads such as Veteran Squads and Penal Legion squads. Repackaged box set offers an Infantry Squad in a single purchase, and includes options for flamers, grenade launchers, vox-caster and Sergeant. Vox-casters are more useful than ever before as they allow officers to re-roll the Leadership test to determine whether their orders are issued successfully or not.
-Catachan Jungle Fighters (box of 10 plastic guardsmen). Same info as above.
-Imperial Guard Command Squad (5 figure plastic box set). "79 components on sprue, including plasma gun, meltagun sniper rifle, heavy flamer, respirators, power weapon and power fist."
-Catachan Command Squad (5 figure plastic box set). "81 components on sprue, including plasma gun, meltagun, sniper rifle, heavy flamer, power weapon and power fist."
-Primaris Psyker (1 figure blister). HQ choice Psyker Lord. Lightning Arc: Assault 2D6 Strength 6 psychic attack. Nightshroud: enemy units must pass a Leadership test to shoot the Psyker or his squad.
-Imperial Guard Sentinel (1 figure box set). Can build a single Armoured Sentinel or Scout Sentinel from the Imperial Guard Codex. Armoured Sentinels have Front Armour 12, Scout Sentinels are open-topped but have the Scouts and Move Through Cover special rules. Weapon options include multi-laser, autocannon, lascannon, heavy flamer, plasma cannon, and missile launcher. Replaces all existing Sentinel box sets in range. Can be upgraded with hunter-killer missiles, searchlights, camo netting and smoke launchers.
-Imperial Guard Ratlings (5 figure blister). Abhuman snipers with Stealth and Infiltrate special rules. Characteristic snacks modelled onto bases. Sculpted by Dave Thomas.
-Imperial Guard Valkyrie (1 plastic model kit). Includes multi-laser and lascannon weapon options, multiple rocket pods and Hellstrike missiles, plus optional heavy bolter sponsons. Includes new clear plastic flying stand for Warhammer 40,000 vehicles. Can be fielded in squadrons of 1-3 Valkyrie Assault Carriers per Fast Attack choice. Transport capacity of 12 models. Grav Chute Insertion: embarked squads can deep strike over any point the Valkyrie moves over in its Movement phase, taking dangerous terrain tests as they land.
May 16
-Imperial Guard Cadian Battleforce. – Imperial Guard Cadian Command Squad, 20 Imperial Guard Cadian Shock Troops, 3 Imperial Guard Cadian Heavy Weapons Teams, 1 Imperial Guard Sentinel.
-Imperial Guard Catachan Battleforce. -Imperial Guard Catachan Command Squad, 20 Imperial Guard Catachan Jungle Fighters, 3 Imperial Guard Catachan Heavy Weapons Teams, 1 Imperial Guard Sentinel.
-Imperial Guard Regimental Advisors (3 figure blister). Includes Officer of the Fleet, Astropath and Master of Ordnance. Can be added to Imperial Guard Command Company HQ Squad. Whilst the Officer of the Fleet is alive, your opponent must subtract 1 from all his reserves rolls. Add +1 to all reserves rolls whilst the Astropath is alive. Master of Ordnance can unleash a Strength 9, AP3 Ordnance Barrage with unlimited range if he does not move.
-Imperial Guard Lord Commissar (1 figure blister). HQ choice: leader-commissar who inspires his troops by leading from the front.
~Now we know the contents of the Battleforces, and the detailed wording of the Leman Russ' Lumbering Behemoth rule; boy is it sick. And is it just me, or the description of the Valkyrie's flying base worded to make it seem that others flyers could be coming in the future? GUARDSMEN, READY, AIM, COMMENT!!!