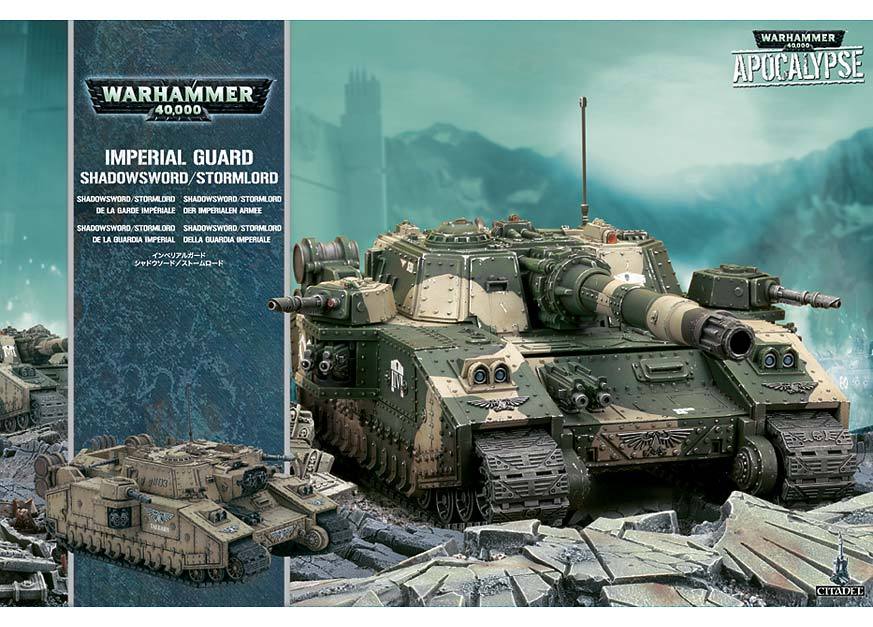 Hi guys,
Games Workshop has kicked out 2 new 40k Apocalypse formations for the new plastic Shadowsword in the latest White Dwarf. They should be making thier way to the website in due time:
Shadowsword Domination Force
1 Shadowsword, 3-6 Leman Russ, optional other vehicles like Sentinels. In a nutshell, if the Shadowsword loses a structure point it can pass it off as a destroyed result on a Leman Russ. If a Sentinel is available in the formation, it can take the destroyed for the Russ.
Iron Saint
It has 5 special crewmen and costs 850 points! Basically, each crewman gives the vehicle a special ability or strategic asset which is lost when he is killed. Each time the tank would lose a structure point, roll a D6, on a 6 one of the special crew is killed instead of losing the structure point.
~These two are just what the doctor ordered. In Apoc now, the dominant force on the table are often dual turbo-laser warhounds which offer a nasty punch-to cost ratio and eat the baneblade family for breakfast. The titan-killer family (shadowswords, cobras, etc…) needed some way to survive a few turns to be able to get some shots in to bring down the big guys, and both of these formations do exactly that.