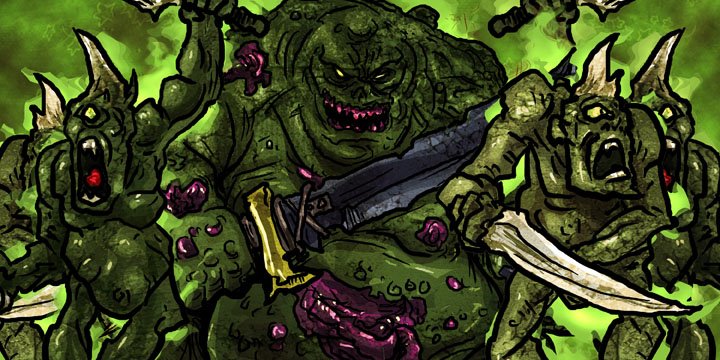 Hi, Goatboy here. Between Jwolf, and myself, we have a lot of 40k tournament experience with lots of different armies. I prefer the go to your throat style list, while Jwolf likes a much more, shootie army. We might have two different play styles, but we plan our armies in the same way. We look at what we commonly see and try to create ways for our armies to either exploit a common tactic or generate some kind of advantage that most opponents find hard to deal with. So today, I've decided to go into an army build of mine I plan on taking to the invitational at Adepticon 2009.
I have decided to take a Death Guard list that is built upon using rhinos and superior short range fire power to hopefully deal with Orks and any other type of list I might see out there. So let's take a look at the basic list. Total points is 1850.
HQ: DP, Wings, Warptime, Mark of Nurgle
HQ: DP, Wings, Warptime, Mark of Nurgle
Elites: Dreadnought, Multi-Melta
Elites: Dreadnought, Multi-Melta
Troops: Plague Marines (8), Plasma Gun (2), Plague Champion, Plasma Pistol, Power Fist, Rhino
Troops: Plague Marines (8), Plasma Gun (2), Plague Champion, Plasma Pistol, Power Fist, Rhino
Troops: Plague Marines (7), Melta Gun (2), Plague Champion, Combi-Melta, Personal Icon, Power Fist, Rhino
Troops: Plague Marines (7), Melta Gun (2), Plague Champion, Combi-Melta, Personal Icon, Power Fist, Rhino
Heavy: Obliterators (2)
Now let's get into why I took each part of the army, and what I hope they will do for me during any general game. I plan on going into what I think the common armies will be, and hopefully how I can deal with them.
HQs
First off are the HQ's. So first of all, this is a chaos army that doesn't have lash princes/lash sorcerers/lash spam. The reason I decided to go away from this is that most enemies see a lash-whatever and decide it should die right away. Whatever the HQ is, it will receive a ton of fire in hopes to killing it off immediately. I know in most games I play against any type of lash, I usually just shoot them to pieces. They are not all that tough mixed in with either a large size or in a unit that isn't the most effective. A Nurgle DP won't get nearly the amount of firepower thrown at it due to not being nearly as game breaking as a well-timed lash. What it will do for me is give my army two extremely tough assault opponents that are normally guaranteed to throw down 4+ wounds in any given combat. This can give them the ability to cause a massive swing in any assault I might face. Warptime is easily the second best psychic power chaos has access too, and if it wasn't for the game breaking ability of lash, you would see a lot more Warptime princes/sorcerers. Now if you could only have a lord with access to it, Daemon weapon would be so much more fun. 10 wounds on Nob Bikerz, is still a ton of stuff to try and deal with for them. You have a good chance to kill out 3 or so guys and cause enough wounds to win combat and cause them to run away. You have wings too so there is a good chance you can catch them and make a nice green paste out of em. Also two DP's versus TH/SS termies is another nice win for them. Normally you see 5, termys and 10 wounds should take them down to 2 or so models. That isn't enough attacks to ensure a won combat and most likely will give the DP's the win.
ELITES
Next we have two dreadnoughts at elites. I know what everyone is thinking chaos dreads are terrible. I've started playing with them lately and have found them to be a great way to get a multi-melta on the table. Mix that with the randomness and you have a fun unit that can be extremely effective if deployed in an isolated position on the table. The big thing to remember is how the fire frenzy works. If you place your dreadnoughts facing outward, and not facing any of your models, you can mitigate the damage from fire frenzy. If you roll it, and they are facing outwards, they don't see anything to shoot. A dreadnought only has a 45 degree angle from its weapon to fire, and it only sees 180 degrees do to how its "head" is locked. Of course if it is the second or third turn, most likely it will get a shot at some vehicle butt, but hey its chaos and I am sure the rhino deserved to get shot. I use them as front runners to scare the enemy. I have 4 large targets that will hopefully create some nasty situations and difficult decisions for your opponent.
TROOPS
Now we head to my troop section and my change to half the troops having plasma. I still think melta is better, but at this time I have a large amount of anti tank in the army. I think a nice round of plasma should do enough damage to combat squads and other smaller, high armored opponents. Versus other chaos marines who are using plague marines as their troops, 5 plasma shots have a good chance of crippling the squad and allowing your bolters to finish the job. It is a bit expensive, but I think they are worth it for two squads. I will also have an easier time versus any Nid player and their larger MC's. The ability to cause 5, no armor save wounds on a big bug is a great way to quickly turn a game in your favor. The two squads of melta are there to rush forward and try to take out any LR's that might be running forward to drop off some annoyances. Plus they can help kill off a dreadnought or other vehicle that might be getting to close for comfort. I added power fists to all the squads because I just like to have them there just in case. They all have rhinos to help mitigate enemy lash issues, as well as give me the ability to create movable terrain. It can also help get me where I need to go and capture an objective. Plague marines are also great at dealing with hordes as they are normally too tough to effectively wound. Orks wounding on a 6+ is a really good way to help deal with all their extra cheap attacks.
HEAVY SUPPORT
Finally we head to my heavy choice, 2 Obliterators. I added personal icons to the two melta plague marine squads due to the squads usually rushing forward. Nothing helps them out like a pair of heavily armored backup that can pop out with all sorts of energy weapons to bring the game to a Goatboy win.
I hope this helps see how I think about my armies and what I want them to do for me. The list is based on 2's. I want each unit to do a mission, and if I have two of them I know I can have a great chance to have that unit complete its mission.
Now onto a list that was floating around in my head. I am sure everyone has thought of a Fateweaver build and here is the one I would play at Adepticon if I felt like taking the chance on daemons (they are still in the doghouse with me).
HQ: Fateweaver
HQ: Bloodthirster, Unholy Might
Elites: Bloodcrushers (6)
Elites: Bloodcrushers (6)
Troops: Plaguebearers (10), Icon
Troops: Plaguebearers (10), Icon
Heavy: DP, Wings, Mark of Nurgle, Iron Hide, Unholy Might
Heavy: DP, Wings, Mark of Nurgle, Iron Hide, Unholy Might
There are lots of MC's that can give Orks hell. The Thirster can auto kill Nob Bikerz and everything else can float around Fateweaver and hopefully survive the shooting of anything the bad guys are bringing. I don't think it would win a whole lot, but I do think it might be fun. The cost of it is a pain, with so many metal models, but it would look neat on the table. The best thing is that rounds shouldn't take too long, thus leaving you with enough time to get food, and catch up with your friend mid-round… the most important part of tournaments!
Again if you have any questions email me. And yes, there is a speed painting article coming, I was slammed all week with work and crap weather (no spray painting for me). I am hoping to have it ready for next week.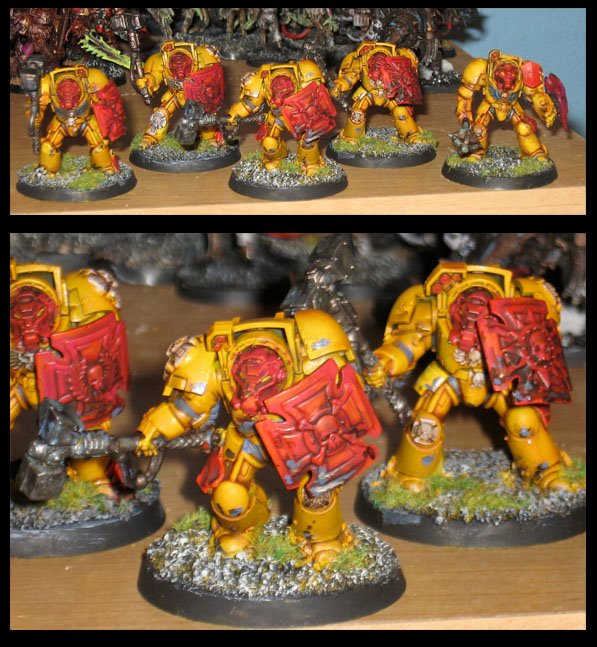 All I had time to do, since these were already primed. I found a way to do yellow that I like, so hopefully this marine army can get done and I can start writing about them.