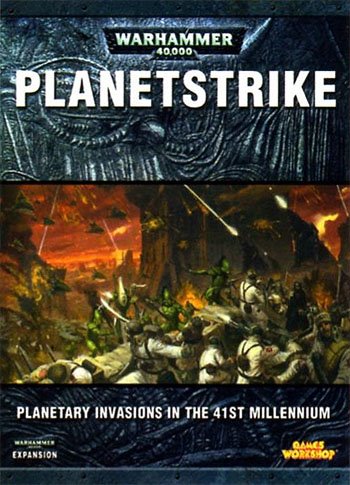 Some additional Planetstrike rumors brought to us by Warseer's tireless: The Dude.
Hre we have a basic rundown of the game setup procedure for Planetstrike missions, along with some sample Strategems.
PLANETSTRIKE LAUNCH PROCEDURE
1. Determine attacker and defender
2. Choose forces
3. Select a Planetstrike mission
4. Prepare the battlefield
5. Determine objectives
6. Attacker prepares invasion
7. Determine stratagems
8. Defender deploys forces
9. Attacker launches firestorm
10. Launch the Planetstrike!
SAMPLE STRATAGEMS (Apparently a bit more powerful than the Cities of Death ones)
-IG: a mass deep-strike ability; a single reserve dice is rolled for the whole army, but each squad that deep strikes must make a dangerous terrain test when it lands.
-Dark Eldar: a penalty to enemy leadership equal to the number of turns passed since the beginning of the game (an interesting bit of background: it mentions Khaine-worshipping Dark Eldar).
-Imperium: Power of the Machine Spirit. BS 3, unshakable turrets.
-Adeptus Mechanicus: a teleporter beam that kills any model in a building on a successful armour save, as its flesh melts with the walls.
-Space Marines: when a Drop Pod deep strikes, all enemy units surrounding the landing zone must make a morale test.
-Tau: a massive EMP blast that disables all targeting systems on the battlefield; all vehicles are now BS 1, but all infantry units gain +1 BS,
-(possibly Ork) basically throwing an asteroid at the enemy
~This book is going to be awesome for narrative gamers. It would seem that a lot of these structures and strategems could be usable withinthe context of Apocalypse games, opening up the possibilities of great scripted games with all kinds of special events. That little Dark Eldar blurb is also a heart-warming sign that some type of movement is taking place.