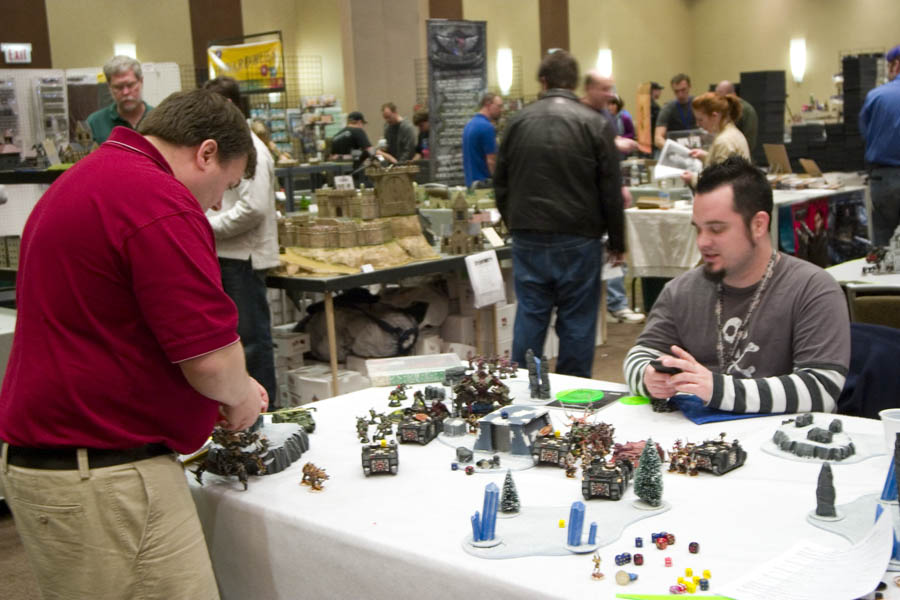 As everyone should know, the Flylords went up to cold Chicago to fight it out at Adepticon 2009. Fun was had by all, and as BigRed has posted, we came back with some goodies. I want to give a big shout out to everyone I met. I always enjoy chatting it up and seeing how each area of the world has different takes on the game.
I saw some amazing armies and fought some great games. I had a blast in each of my games (even the ones with implant attack nids and D weapons) and I am planning on coming back again and again. I strive to make this game of ours as exciting as possible, and it was great meeting a bunch of other players that also want the same things from our endless war of the 40th Millennia: Fun, fun, and more fun. If we can't have fun throwing dice and making the laser gun sound, why are we wasting our time? I might be "hard" player of the group (though JWolf now has designs on the throne), but I still just want to have fun. I came to this tournament to have a blast and I left having a blast and feeling it afterwards with my sore throat and empty wallet.
The Flylords should be on 40k radio at some point in the future. We had an awesome interview and I can't wait to get the feedback on it. Also if you watch the Titan fight, you can hear me and BigRed heckle Spencer a bit, as well as "help" him as best as we can.
For any player that wants to try and play with the best out there, I advise coming and playing in these tournaments. The organizers did an awesome job (great job Hank!), the venue was perfect, and the overall vibe of the event was cool. Like I said before, I plan on going back again and I hope to be a bigger part of this community as well as game.
Next week it is back to dissecting 40k a bit more, as well as discussing some new tournament thoughts and opinions. I still need to finish up this Arbite squad for a customer as well as paint up some more Daemons for my upcoming Daemon army. I have this itch to get some art done as well as experiment with some humor stuff that might see the light of day. We will see what my brain cooks up. Again if you have any questions, shoot me an email me.
Off to sleep…