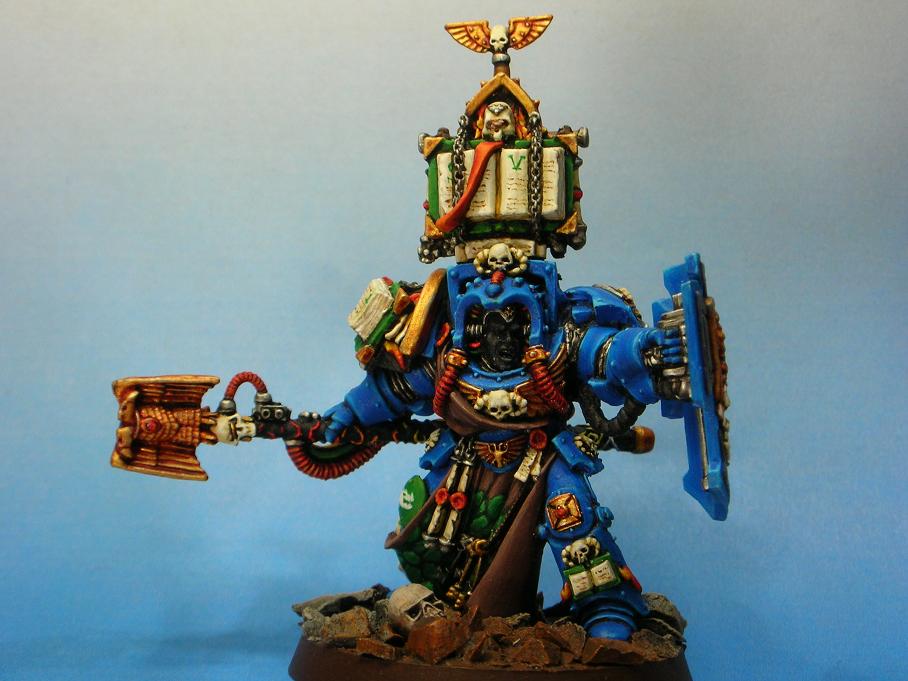 Hi guys,
Demosthenes here, for my first official painting article. You might remember me from my recent article on "The Dreaded Triple Hodgson," or the not so recent article on my Mordian Imperial Guard army.
To help get into the spirit of the Badab War, I thought I'd write about my recently painted Salamander Terminator Librarian.
Although I really prefer the green of the Salamanders, I decided to stick with tradition and paint him in standard issue blue Librarian armor. I kept his right knee painted in the normal green scheme, and hand painted the chapter insignia on it. I generally like to give the faces I paint a more flush, life-like look, but sticking true to Salamander gene-seed, I made it charred black, with dark red eyes.
Rather than paint his sash the typical cream white color of most librarians, I thought it would be a little more interesting to make it look like a mantle from one the salamanders from his home planet, and hand painted a set of scales on the bottom of it.
The shield conversion was very simple, as this particular model comes with the hand itself separated (as though they WANT you to put something cool on the end of his arm). To paint it, I used highlighted streaks of black ink on the shield to mimic the battle-worn look of those carried by the terminators on GW's assault terminator box.
The toughest part, by far was painting all the tiny scribbles on his numerous scrolls and books (I wish librarians didn't read so much). I've found, though, that if you make the first letter really big, and then fill in scribbles with brown ink around it, it makes it look like the illuminated text you see in really old books.
Below you'll find some up close pics to get a better look at some of the small detail work. Enjoy!
~ I've found that using brown ink on the scroll writing creates the best results, as far as the inks go. If any of you have experience with this painting technique, what do you use to achieve your results? Those 'old' GW inks are getting pretty scarce!