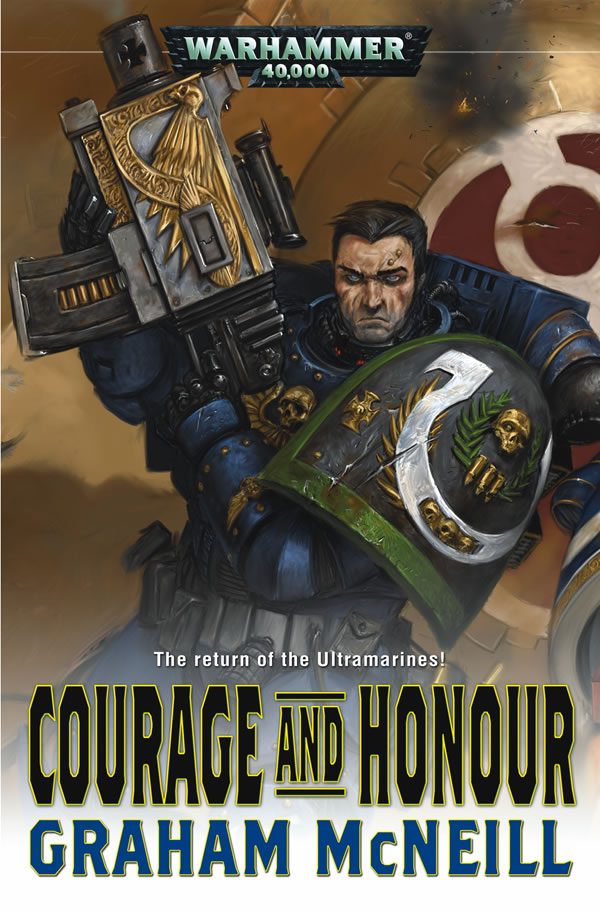 A review by Timo

Courage and Honour – Graham McNeill

If you thought Uriel Ventris would be able to enjoy his "retirement" after Killing Ground, you will be surprised to find out about the release of a fifth novel in this popular series. Graham McNeill's short stories in the last couple of Black Library collections kind of hinted that there would be a grand finale with Honsou, and so I was chockful of great expectations regarding Courage and Honor. Isn't that a bold title for a finale? As it turns out, the book is devoted to an entirely different topic.
Pavonis, the planet from Nightbringer, is under occupation by Imperial troops and Ultramarines after a period of unrest. This state of tentative peace is disrupted when Pavonis encounters a new source of danger: the Tau. What initially seems like a handful of scouts turns out to be more than just a few lost Xenos. An invasion is planned by means of treachery.
Besides the constant battle scenes, Courage and Honor focuses on other issues such as Uriel dealing with his return and his commandership, since his troops fought alone for so long and gained a good amount of competence without him. Pasanius' whereabouts are discussed, and the novel also poses the question of how prisoners should be treated when trying to attain information.
At this point it becomes evident that there is no avoiding the events of the past few years, as they have influenced even 40k novels. While reading Killing Ground I was already under the impression that McNeill refers to well-known images from the Iraq conflict in several paragraphs. I figured I was probably just over-interpreting. Reading about the pyramids of naked Tau proves my first impression right: McNeill is definitely alluding to the 2004 images from Abu Ghraib. It goes to show once again how our everyday lives and the images we are confronted with are mirrored even in popular fiction.
Unfortunately, just as we start in on these thorny realworld issues the novel starts to drag. Neither depth nor suspense are really build up fom this point on. A handful of skirmishes with the Tau don't live up to McNeill's previous Ultramarines novels, not to mention his stellar contributions to the Horus Heresy. Perhaps the novel might be better if one wouldn't approach it with such great expectations, but I doubt that this should be the new standard following so many great Black Library novels.
It feels as if this book is supposed to fill a gap before finally reaching a big denouement, similar to how second parts are sometimes handled in trilogies. Let's hope that McNeills returns in top form for that conclusion!
2.5 stars (out of 5)