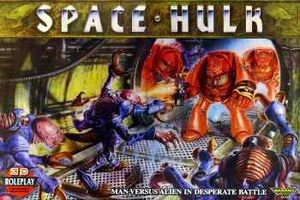 Hi guys,
You know what we haven't heard from in a while… those Space Hulk rumors.
Well by now we can kind of lay out the Warhammer 40k and Fantasy schedule for a lot of the rest of the year and find the holes where it may be:
July: Planetstrike
August: IG Wave 2
Sept:
October: Space Wolves
November:Skaven
December:
Now Planetary Empires is said to be somwhere in the vicinity of Planetstrike, and that leaves us with Space Hulk. There are only a few places it could go. We hear its the in the holiday release slot at the very back end of the year.
Further info says the game plays very fast, and has lots of cool extra bitz for use as objectives such as wounded terminators (Man Down!)
~As usual, caveats apply to most of these and I would easily expect several of these to slide a month here or there. Its going to be a fun back half of the year.