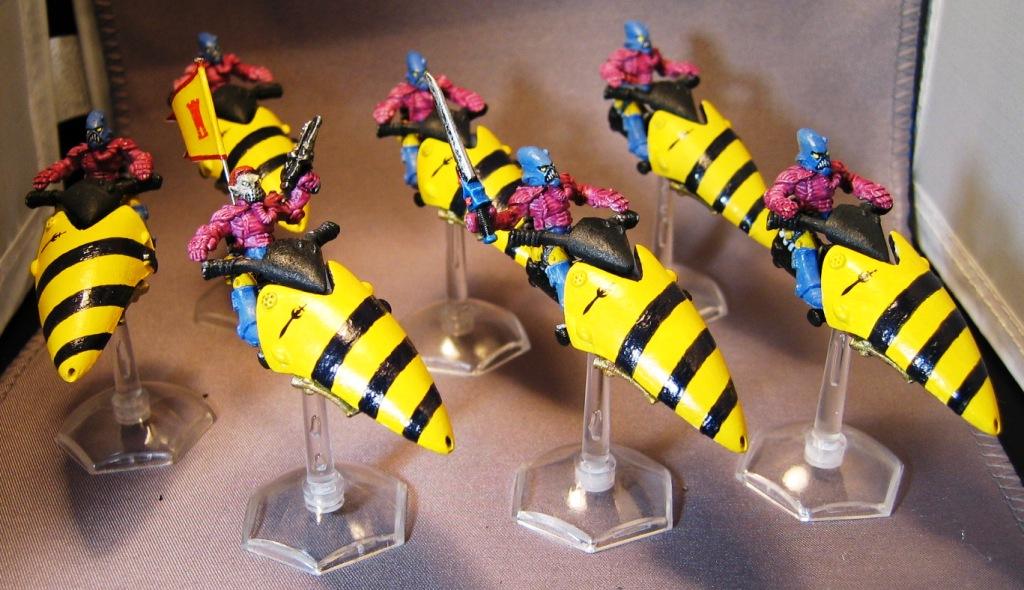 Here's a little trip down memory lane for fellow Rogue Traders and an historical visit for newer 40K enthusiasts. The picture above is of the seven lead alloy Rogue Trader era Eldar Jetbikes I used to use when I played my Eldar army back in first and second edition 40K. Notice there is even a minor conversion to one, the sword wielding Guardian.
I no longer use these ancient warriors on their first version hexagonal GW flying stands. I began updating my Eldar army (finally!) last year and have already painted more than a dozen plastic Jetbikes in a totally different paint scheme. These Rogue Trader models are now retired.
So, what's the oldest model in your collection? Did you acquire it after it was already a classic or did you buy it when it was current in days of yore?
Warning, what follows is a shameless plug, so stop now if you might be offended! I've been shopping these lead Jetbikes around at Bizarre Bazaar but so far no takers as the last few Bazaars have taken a bit of a downturn since the economy did so, so I've currently got them up on eBay for a starting bid that is much less than seven new plastic Jetbikes along with a few other items. More than the money, I need the space. Seriously, with all the bundle deals for Apocalypse a couple years ago, including the Eldar Windrider Host box, I really need to make room for newer models so a few classics just have to go. It's always tough to part with models that have so much personal history and fond memories attached. The models I still miss most that I sold at Bizarre Bazaar a couple years ago are my two peanut-shaped Rogue Trader era Space Marine Dreadnoughts.