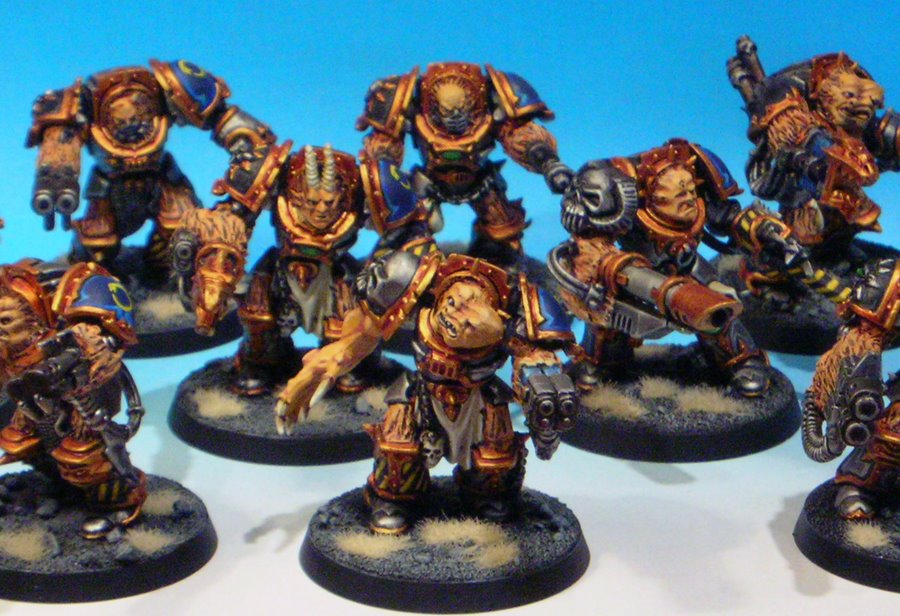 Lets face it Warhammer 40k fans, the economy is kinda dicey right now, and Games Workshop isn't giving away Obliterators (arguably the best heavy support choice for a Chaos Marine army), on the cheap! In this article I'll present you with some tips on how to get your Obliterators built and on the table for a fraction of the normal cost, and in my opinion, with cool, individualized models.
For my oblits, I bought a box of Chaos Space Marine Terminators and combined them with some of the old Chaos Marine mutation sprues (if you can't get your hands on these anymore, then try using some of the parts from the new Chaos Possessed Marine or Spawn sprue). You'll also need a wide array of different Imperial/Chaos heavy/special weapons.
I tried to give each obliterator his own "personality" with conversions and weapons. It's very easy to model the terminators to look like lumbering masses of flesh and steel. With green stuff and a hobby knife you can easily make mutated flesh. Just slap it on and drag your knife across it in a pattern.

You can have a lot of fun with the weapons. Obliterators are supposed to have dozens of crazy weapons that they've absorbed over thousands of years, so don't be afraid to mix in exotic stuff. I added a Chaos Marine Kai Gun on one of mine (from the old metal Terminator Lord) and have another obliterator with a Lascannon/Plasma combi-weapon. Although I was a little more conservative on my weapons, there isn't any reason why some wouldn't be bristling with Tau Burst Cannons or Tyranid bio-weapons.

As for painting, the options are equally limitless. I was tired of painting blue marines after doing an entire Thousand Sons army, so for my obliterators, I went with an iron warriors paint scheme, leaving just their left shoulders in my army's standard blue with gold trim. I painted the trademark black/yellow stripes on three of their power fists, three right legs, and three left legs, making it much easier to tell the squads apart in battle.
*Sorry for the small pics.  Not sure why no one is able to enlarge them.  For larger versions, take this link to photo bucket: 
Obliterator Pics
~ Do any of you have any good ideas for obliterator conversion? If you have any pics posted somewhere on the web, post a link so we can see them!