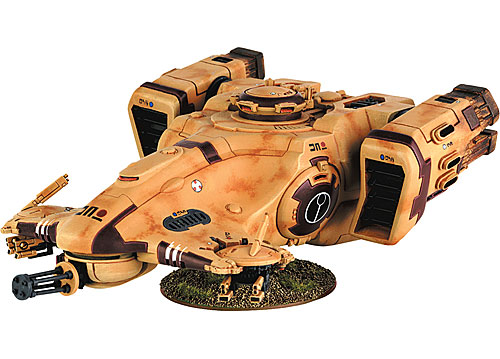 A guest tactica by: SLXIII
So, 5th edition has been out for a while, and Space Marines and IG seem to be getting a lot of love these days as far as taking advantage of the new rules. Other races such as the Necrons have been getting the short end of the stick. Tau are ont he weaker side of things but are graced with a nearly mandatory unit that has a very strong 5th edition trick.
The Pathfinder Team: Simple, effective, and very much a one-trick pony. Couple that with the massive overhead of a mandatory transport and the unit starts to lose a bit of its polish. However, with a tad bit of extra spending on this alleged point-sink, we can round out our purchase into a respectable package capable of earning its points back, or at the very least be a major distraction for your opponent(a valuable quality in a unit either way!)
At first glance, the Tau Devilfish pales in comparison to the insanely cheap Ork Trukks or powerfully equipped Eldar Wave Serpents. However, one rule may even the playing field against these transports: Outflanking. The Pathfinder's Devilfish is capable of outflanking easily on turn 2, if you're willing to spend a bit more to ensure that happens. You're already forced to spend 80 points on the transport, so why not make it useful for a handful of points more? Simply upgrade one of your commanders with a positional relay for a rather inexpensive way to virtually guarantee your transport's arrival as soon as possible.
From here, I would recommend equipping your 'fish with a seeker missile(or two, if you have the points) and a flechette discharger. If all goes well, your fish will enter the field turn 2(3 if something went wrong), blow open a hole in a transport, and be free to roam around mopping up the passengers. I find this especially effective against Orks, you can pull in your fish right at the front of their front line, blow up one or two of their rickety transports, and proceed to clean up the remaining passengers.
This is why I wholeheartedly recommend the flechette dischargers; they are both a defensive and offensive weapon. In the above scenario, lets say you get lucky(though not much luck will be required) and destroy the enemy transport. Assuming the transports cargo is ork boyz, 3 should die in the ensuing explosion, leaving your fish to mop up the remainder. Even with the poor offensive capabilities of the devilfish, you should be able to net another 2 or 3 boyz worth ok kills. Now 6 dead boyz is not that impressive in the grand scheme of things, but consider the following: The Orks are no longer fearless, and are now subject to pinning. With 6 dead boyz, your opponent is going to roll for pinning tests with an abysmal Ld 7. If only there was a pinning weapon your devilfish could carry…..
Even still, the humble devilfish is not quite complete in its mission. From here you can use it as mobile cover and area denial(no enemy model within 1" means a lot further run for all those nasty assault types), or my personal favorite: suicide assaults. Most players simply can't ignore a relatively fragile skimmer buzzing around their troops, especially not their assault troops. Move your devilfish to within firing range of one of your opponents assault-oriented squads and open fire. After you've fired your shots, you should have weakened your opponents squad by just enough to prompt a revenge attempt from him. He'll charge in with his squad of 50 point power weapon wielding terminators or a full mob of 30 boyz and attempt to blow your transport to kingdom come.
This is when you inform him that your vehicle is, in fact, armed with flechette dischargers. One out of two of every model assaulting you will take a wound, saves allowed. Against smaller, heavily armored squads you should inflict minor casualties, possibly none. But against the aforementioned 30 Ork strong mob, you will inflict about 12 casualties, nearly making up for the initial transport cost. The best thing about this little upgrade is that it's effects are resolved before the enemy makes his attacks, so it is entirely possible to escape from such a situation without any damage at all. Now just wait for the time when you get lucky with your rolls and wipe out a grey knight terminator squad with this little trick!
~Bigred here. Lets give it up for SLXIII, who is delving into the Tau Empire looking for way to expand the Empire for the Greater Good. If you've got any good tips and tricks for 5th edition Tau, lets hear them.