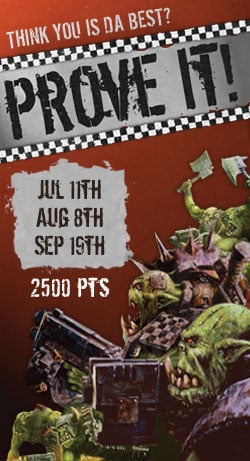 So you 40k hardcore fanatics, the 'Ard Boyz missions are out, and I've already committed myself to playing Dark Eldar. At first glance, the missions seem pretty bad for my army choice, but let's take a look at them in a little detail – note that I'm only interested in Massacres with full Battle Points; anything else isn't in the spirit of the event.
Mission 1: Land Grab
Massacre requires holding more objectives and having more kill points than your opponent. The Battle Points are to hold all 5 objectives, have all HQ alive, kill all enemy troops, and no opponents in your deployment zone.
Deployment is Pitched Battle
*** Note – Night Fight is in effect on Turn 1.
This is the easiest deployment choice for me.
If I go first I put everything down and rush the enemy. If the enemy holds everything in Reserve, I run around fast until they come into play.
If I go second, I do the exact same thing, only I know if they started on the board.
If the enemy is Daemons or Heavy Drop Pods, everything goes in Reserve and comes in to concentrate on what is nearby and then chase down the rest of the bad guys as I can.
There is no way I can hold 5 objectives if the enemy is alive, so I have to kill everything on the board. Which is what the Dark Eldar are all about anyway, so that works for me.
Mission 2: Head Hunter aka 43 Kill Point Dark Eldar
Massacre is 8 KP over the opponent.
Deployment is Dawn of War
With 43 KP to give, many armies can loose everything but one model and beat me easily. I have the choice of avoiding them and sniping (which means I certainly won't get all the Battle Points), or going all out to kill every model. Again, the choice seems simple. Kill 'em all, no sorting required.
Again, the worst draws for me will be Heavy Drop Pods or shooty Daemon lists, as they can get too close to me for my tastes.
Mission 3: Drawn and Quartered
Massacre is more objectives and more kill points. The Battle Points are control both objectives, have scoring units in 3 table quarters, destroy all enemy troops choices, and kill all enemy HQs but keep one of your own alive.
Deployment is Spearhead.
Spearhead means that I'll have an actual range advantage over some armies, and one that I can maintain during the game.
This is the only mission that I can play for the objectives in order to achieve my goals. Careful use of suicide squads to dash in and take out the enemy's long range weapons should allow me to pick them apart and win on objectives.
~I'll be testing my theories against several opponents on Thursday, and I'll let you know how it turns out. What are you bringing out for the 'Ard Boyz Preliminaries, and how do you plan to play the scenarios? Don't be shy now. It's spillin the beans time…