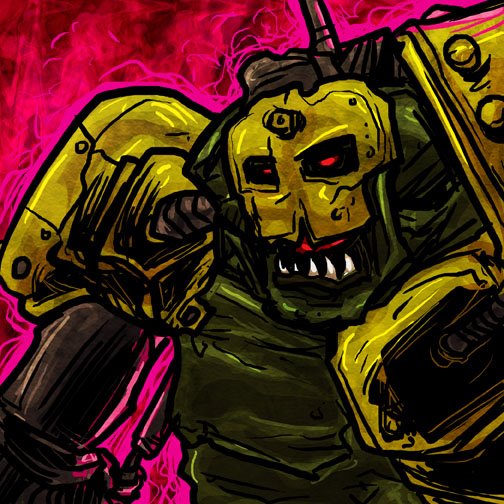 Lately I have been reading lots and lots of best of army articles. Everyone seems to know the ultimate list that just destroys everything else, leaving all opponents in a pile of broken machinery, dust, and pee as they are terrified to even play such a monstrous list. The question today is, is there an ultimate list for each army?
We all like to win, no matter how many times we strive to be a good loser. Now this win might not be winning the whole game, it could be just something small as getting off that cool army trick or having something do much better then it should ever do, we all like things to work out our way during the game. Its this push, that drives people to try and create the "best-of lists" that let you "win" more often due to their sheer awesome power.
The other thing with these best-of lists, is that if you know what is the best thing to play, it helps you limit your overall spending on an army. I know this hobby isn't cheap, and watching what you spend is all on our minds. So knowing a list that is the "ultimate" means you know exactly how much you have to spend. This can be helpful for those on limited budgets. Being a compulsive mini buyer, means that this sort of things doesn't fit my mold, but for many others, especially younger players, this is something to seriously keep in mind when designing and buying a new army.
So now the question is, is there a Best of Army? I don't think so at all. I think each army has a good core you can build off of, but there is never a best of. You can see this in the new army books that are coming out. Each codex has multiple avenues to create your list. I have seen so many different IG builds, that every game ends up being different. I know we all hate Nob Bikerz, but there are a ton more ork builds that can be just as effective as well as a hell of a lot more fun to play against. I know the CSM tournament builds have been boring lately, but I think that has more to do with the lack of change in the overall army environment then something to do with the army itself. I have 3 different CSM armies I like to bring out from time to time, and only one has Lash in it.
The big thing I find with all of these Best of Army articles, is that each army is different and is built towards the players own personal play style. I have seen some lists, that supposedly crush other players and I think to myself, I just don't see it. But then I am not that player. His army could be just perfect for their play style just like my lists revolve around similar elements that fit my style. I know we all play the same game, but each local group has a different play style that revolves around that areas strengths and army likes. I know locally we have a large amount of IG players. We don't see nearly as many Orks as some other areas and most of the time the heavy armor is split between CSM and Marines. It makes for an interesting tournament scene as well as creates a much different area then what I read about online.
So what do I think you should do with all these crazy lists you see out there? Well as players I think you should play the army you feel the most comfortable with. Nothing is worse then playing with a list, you don't understand, as you won't have faith in your army. I know when people feel defeated; they often just automatically drop the game. I've seen it locally a lot and I have fallen into that trap too (I hate magic…). It makes for a rather uncomfortable game as well as something you don't really want to finish out. I know a lot of games that if I had quit when I thought I "lost" I would have missed out on pulling a win. If you play with army YOU built and inderstand, you will have a bigger investment and understanding of it, than some thing you pulled off the internet.
In the end go with what YOU KNOW, and steadily expand out and grow your skillset with new exciting units and builds. As long as you are learning and having fun, whats a loss here and there?
~If you have any questions, you can shoot me an email at [email protected]. I'd like to hear your ideas on whether each codex has an "ultimate list" or whether its just a fevered pipe-dream of the mathhammer theorists.