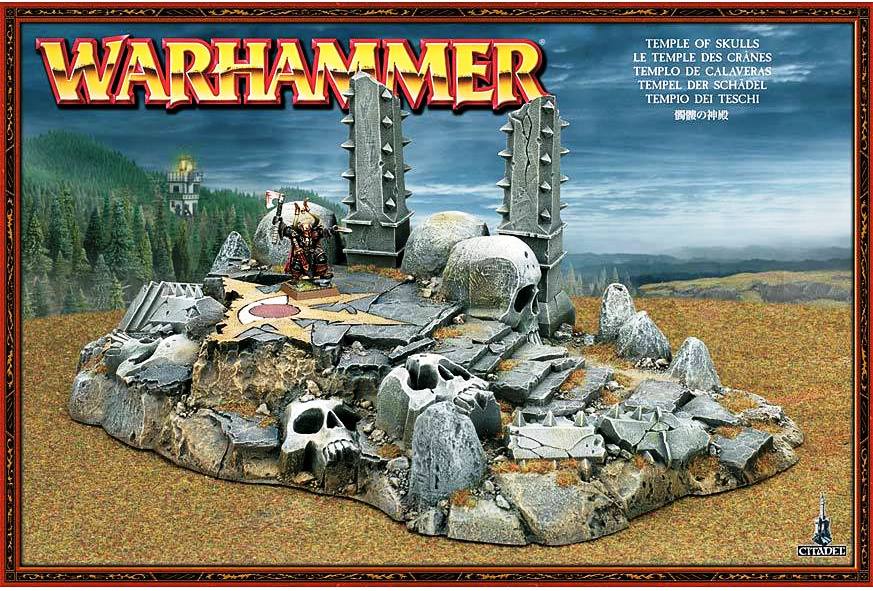 The Temple of Skulls scenery piece is released this coming Saturday, June 20, as are several Lord of the Rings sets, including the plastic Galadhrim Warriors and Galadhrim Knights.
UPDATE, June 18: My Advance Ordered Temple of Skulls is scheduled for delivery sometime on Thursday. Mmmm, giant plastic model stone skulls, I can't wait! Is anyone interested in pictures of the sprues? If so, comment below and I'll see if I can get some up here late tomorrow or Friday.
UPDATE #2, June 18: Well, my Temple of Skulls was delivered today and I was not disappointed. It's about 15″X9″ and roughly identical in size to the plastic hill also sold by GW. It's also mostly one large piece, with a sprue for the columns and the three large stone skull faces. I have to say, I hope GW will at some point sell the skull & column sprue separately. It would be great for all kinds of conversions. Check out these pictures of the raw model just out of the box. I hereby dub this the "Temple of Awesomeness"!
I Advance Ordered the Temple of Skulls back in May and I'm really looking forward to going over all the cool pieces of it this coming weekend. Chaos themed scenery is always appealing to me, especially new relatively affordable plastic sets like this one.
By the way, the two limited release items for Planetstrike are still available on Advance Order: Mines, Bombs and Booby Traps and Blastscape. If you were interested in those items, take note that they are limited quantity releases that will not be available for long.