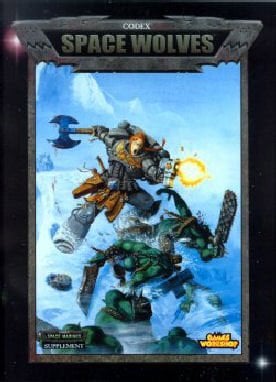 Rumors brought to the community via Warseer and Estalia-Cordoba.
OK, so we must be within the 3 month window, because all the canaries are singing. Latest Space Wolves skuttlebutt from all over the place around the tubes:
-Leman Russ is out, a Land Raider Variant with possible assault cannon armament is in.
-Space Wolves ICs are equipped in a method broadly similar to WFB Vampire Counts characters. You basically build a "Saga" for your hero, which fluff wise lists his heroic deeds, and grants various sets of package-deal special abilities. ~Very much Viking in nature. I Approve!

-Bjorn is said to have AV:14 front armor, with other details contradictory in nature.
-Jump-pack options will be changing in the new codex, and jump-pack marines are called "Skyriders".
From our fellow enthusiasts overseas there is also this:
– Todo el ejercito mantendrá la regla de contraataque y todos menos los los garras sangrientas, irán con la regla de disparar con una mano "pero algo mas especial":
En principo parece ser que le querian dar el equipo completo como hicieron con otros codex (bolter, pistola y Arma de CaC) pero al final parece que podrian haber optado porque "cualquier miniatura con esta regla y armada con un BOLTER (nada de rifles de plasma) pueda hacer fuego rápido y asaltar ese mismo turno". Ahi es na…
– Los garras van con HA 4 (al parecer mantienen la HP 3) y cambian su regla actual por asalto rabioso.
– Los colmillos largos al parecer van a ser muy muy buenos. Segun comentan, no venden muchos devastadores marines y menos aún de colmillos largos, por lo tanto podrian potenciarlos bastante. Por lo visto a parte de mantener su regla actual (dividir el fuego entre dos unidades), el lider de la jauria tambien daria a la unidad la regla de implacables. De todos los rumores este es el que mas que cuesta creerme.
– La guardia del lobo tambien será bastante potenciada, pero solo se ha a filtrado que tendran toda una pagina con configuraciones de equipo.
– Lo que se comento de un Bjorn de multiples blindajes 14 (aún no se sabe a ciencia cierta por cuantos lados pero frontal contad con ello).
– Ragnar por lo visto a a ser un energumeno de cuidao. Aparte de un buen perfil, su inclusion en ejercito daria a este ligeros y a la unidad a la que se una armas aceradas y +1 ataque.- En cuanto a fechas casi con seguridad serán el codex de octubre y se presentarán todas las novedades en el Games day inglés que cae por esas fechas.
~Standard Caveats on this this stuff. Have at it guys (especially you Spanish translators). I can almost hear the Wolf calls on the wind from here. Maybe its just me, but I have a feeling this codex is going to fall very, very far from the standard Space Marine Codex. Just as Russ would have wanted.