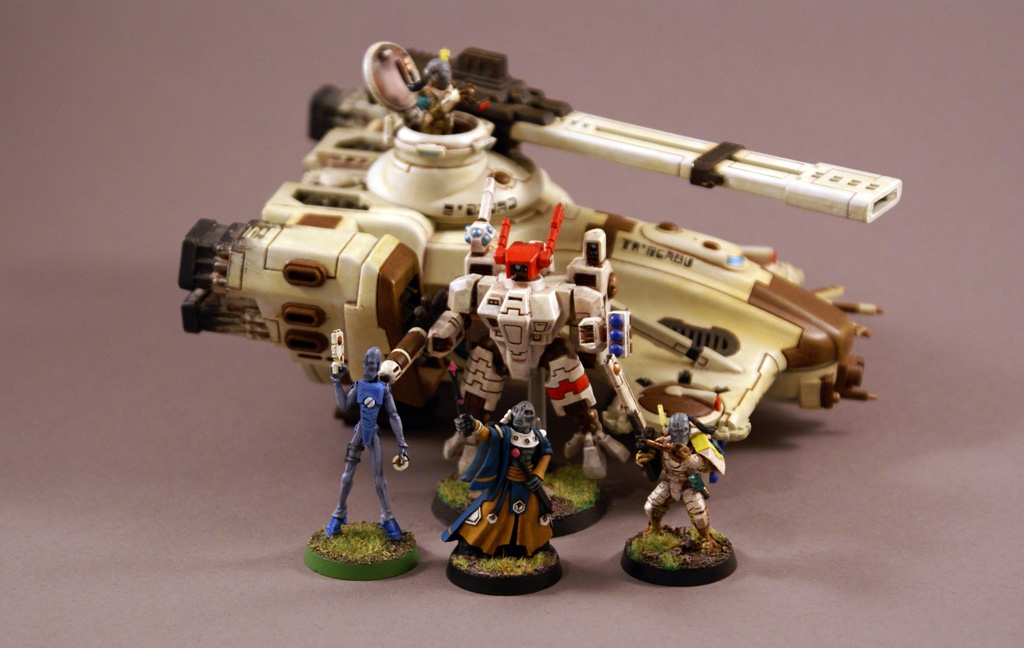 A guest post by Darkwynn
Tau tactics
A while back several of the Fly Lords were sitting in our FLGS talking about picking armies on the bottom end of the Warhamemr 40k popularity scale to learn, play and write about. JWolf got Dark Eldar, Bushidoredpanda picked Necrons, Bigred somehow escaped free and clear and I picked Tau. I started Tau back before 5th edition with the typical Fire-knife and Hammerhead combo which worked great but found out quickly that this didn't cut it any more in 5th edition.

What does work …?
Fire warriors in Devil Fish: I always thought of Fire warriors as one of the top basic troops in the game for mid to long range firepower. Strength 5 that could reach out and touch someone was great especially when used in synergy with Marker lights. Now against most armies that can deep strike, outflank and have the ability to close in a turn or two, the Firewarrior has lost a lot of its main benefits. The kicker is they are still a basic unit you need in your army to score. What I have been doing which works out great is putting 12 man Fire warrior units into Devilfish and just never getting out unless I have to or I can combo them up with two Firewarrior squads and rapid fire into a single target unit. Your Devilfish aren't equipped to tear through armies but they are good enough to whittle down units in combined firepower which is what you need.
Like a School of Fish….
I spend a lot of points on Firewarriors in vehicles and I usually have three hammerheads to support them. What has been working in 5th I keeping all my vehicles in a big clump. I play "move the block away from the enemy" and circle around the board. If you haven't noticed before with Tau, they are not going to wipe you off the board in any way but they can hit key targets around objectives and come in at the last moment to take control. It's the old motto of duck and weaves which plays to Tau's true strength's. If you get caught on the chin just once or the enemy gets close enough to engage in close combat you won't get away and the army is done.
Lone solider…
Before 5th edition people would run heavy on Fire-knife suits in my Tau armies (which were units with plasma rifles and missile pods). They were great taking out heavy infantry and light vehicles, quickly stripping enemies of mobility before jet-packing back into hiding. Right now, I think people wont find them effective anymore because of true line of sight. The Crisis Suit squads are too small to take a bunch of small arms fire and you are still going to lose pricy models when you get hit by strength 8 weapons.
Suits in general have lost a lot of their benefit because they can't protect themselves from the enemy like before with the jetpack rule. Now what has been working (and I have to give credit to Minus67 for this one) is running solo HQ's with melta gun or flamer combo's. They are going to die and you will have to accept it. But, if you deep strike them behind key targets such as Land Raiders or Lootas you have a pretty good chance of taking those lynchpin units out early game easily makeup those 70 points you spent on that HQ. This suicidal playstyle works even better when you have a Pathfinder's Devilfish on the board and you can reroll the deep strike result to make sure you land in range of your target. its not the most elgant solution out there, but it can cheaply buy a Tau army time as the enemy is waylaid early game and hey…Its for the greater good!
Pathfinders – the double edged blade
First of all I have to say I hate the Pathfinder unit. They are expensive and they have minimal damage output in exchange for their markerlight bonuses to other units and even then it's not that much of a boost. Now that I have said that, they are needed so you can give a boost to your Fire warriors or give a bonus to your Hammerheads to make your hits counts. The big thing though is they are static and have a hard time being a flexible unit. On top of that the Markerlight is heavy so you can't move or shoot and then you are only BS:3 – hitting half the time. Your army is going to be ineffective and brittle if you try to bring a large amount of markerlights to the table. If you do run Pathfinders just buy a small unit and use the bonus of their Devilfish to help get your battle suits into position.

~Its your turn fellow Shas'Os. Tell us how you have had success expanding the Tau Empire Tau in 5th edition. What units have worked for you? Any special tricks that you use that are successful on the tabletop? Easy opponents? Most dreaded foes? The floor is your's gentlemen (and ladies).