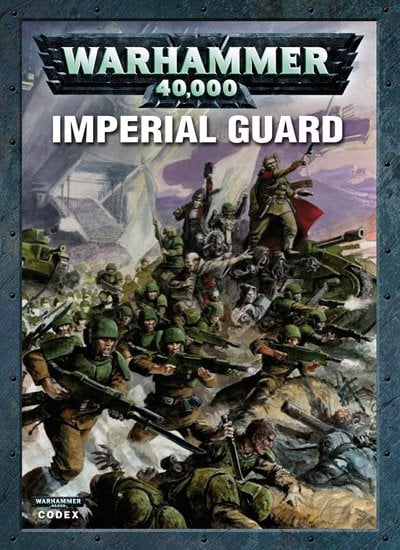 ATTENTION! Today we Imperial Guard officer candidates are going to talk about the unsung heroes of the Imperium. Not those legendary Astartes, not the glory boys of the Stormtrooper regiment. The Infantry Platoon! You master it, and victory is assured. At ease, lets get started!
Special Upgrade Characters
First, the special upgrades Al'Rahem and Chenkov. Al'Rahem requires an army built around him to be very useful, so I'll skip him for now.
Chenkov can be useful even without utilizing the Conscript Recycling System because of his Aura of Stubborn. Use Chenkov to avoid the cost of Commissars and he's a good deal, if you're planning a force that uses Stubborn. Of course, one must be careful in the use of Stubborn IG – the worst case close combat scenario for IG is having close combats last long enough to allow an assaulting enemy shelter from the guns. Chenkov also has Get Back Into The Fight, which is a very useful order, but loses First Rank Fire, Second Rank Fire (FRFSRF), the most common order given by Junior Officers.
PLATOON HQ
The Platoon HQ is required, so you have to take one. Other than giving the FRFSRF order, the Platoon HQ is a small scoring unit that is best given only light upgrades. Because every member of the squad can be upgraded, the Platoon HQ is best outfitted with Flamers and mounted in a Chimera, for burning enemies. I find that the Heavy Flamer isn't worth the cost in the unit. The other good way to use Platoon Commands is as sniper squads, but I find the flamers more useful time and again.
Platoon Level Orders – Platoon HQs have 3 basic orders to give. A Junior Officer only has a 6" range, so be sure to set yourself up carefully if you want to actually get any use out of these orders.
First Rank Fire, Second Rank Fire: is the bread and butter order of the Platoon HQ. After the first turn, your Platoon HQs should be giving this order most of the time.
Incoming: is a tricky order, best used to keep a unit holding an objective safely covered or to make your screening units hard to blow holes through. While it seems useless at first glance, I use this almost every game.
Move, Move, Move: is a great order for getting troops from one place to another, and should be part of your game plan for latter turn objective grabs and/or getting screening troops away from advancing enemy assault troops.
Infantry Squads
Infantry Squads – Something has to be used to screen your forces and advance on objectives. Infantry Squads are ideal for this purpose. I recommend arming Infantry squads with cheap weapons like Grenade Launchers and Flamers, and I don't put Heavy Weapons in line infantry. If you're committed to fighting in close combat (instead of just dying or running away), Commissars and Sergeants with Power Weapons add bite and staying power. Make sure to combine squads for close combat, so that one Commissar can hold 20-30 men in a screaming mass of slow-dying casualties, while the Commissar and Sergeants work at cutting the enemy down. The math isn't good for the Commissariat close combat technique, but being able to stay in close combat is attractive nonetheless.
Heavy Weapons Squads
I like Heavy Weapons Squads. Yes, one burst of Assault Cannon fire and the unit can die. Autocannon Teams project a great deal of anti-Rhino firepower and can use the Bring It Down order efficiently against any light-medium vehicles. Lascannons are expensive and more useful for the fire they receive than the fire they put out. Missiles are not as good as Autocannons and more expensive. Heavy Bolters are great antipersonnel weapons, but not strong enough for anti-vehicle or anti MC work. Mortars are weak, but barrage weapons are great – it's always a pleasure to pin those Assault Terminators. If you take infantry platoons, Heavy Weapons Squads placed in terrain are worth taking.
Special Weapons Squads
Two Demo Charges and a Flamer is my standard loadout for Special Weapons. I use them either as Valkyrie suicide bombers or in Reserve to jump out and kill later in the game. For 50 points the Tri-Flamer configuration is also worth considering. Giving Special Weapons Squads Plasma or Meltaguns is not as good a choice as giving the guns to Veteran Squads.
Conscript Platoon
One change in the new Codex is this unit, which was a stunningly effective roadblock previously, is essentially useless for general purposes now. There are tricks – giving them For Cadia from Creed, or using them to get an enemy assault force pulled into a ball before Chenkov sends them away, leaving the enemy massed for Hellhounds and Battle Cannons to annihilate them, for instance – but overall the same tricks can be accomplished nearly as well with units that are actually useful for other purposes as well.
~DISMISSED, Comments are welcome after class cadets. If you have any battlefield tales and words of wisdom from your time in the junior ranks lets hear them.