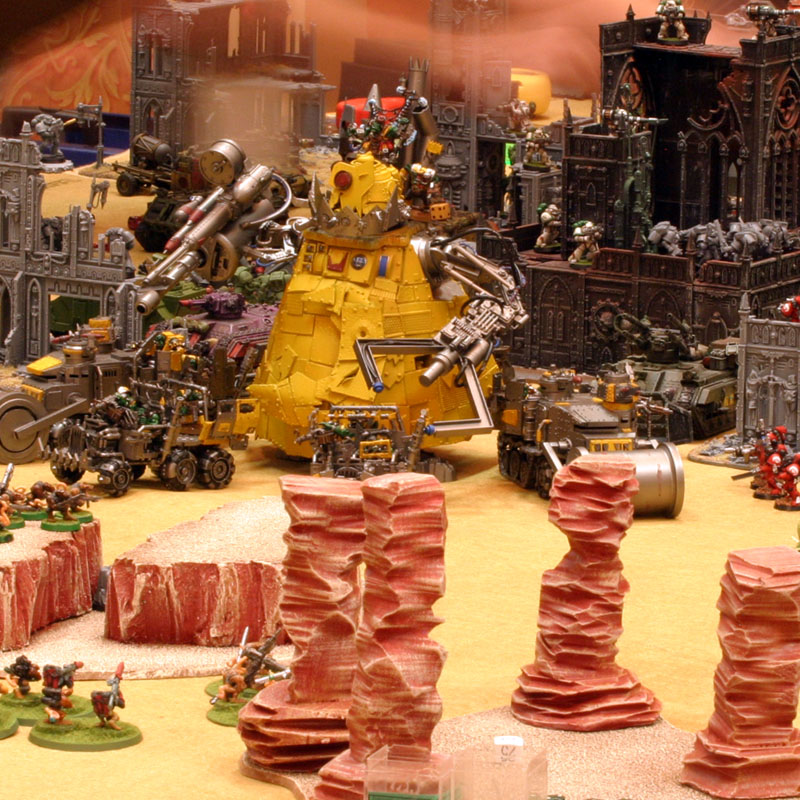 Today's topic is terrain. Not building and painting it (that's another article), but its use on the battlefield.
A Table Quarter-REALLY!
First things first. I dont know about you, but many, many, many tables don't have even close to the suggested 25% of the table filled with terrain. Everyone thinks they have enough, but here's a quick trick. When you are assembling your table, start in one corner, and keep going back to the terrain room and pulling out more until you have totally filled a table quarter. Then spread it out. You will be shocked with how little you were using before. Tables with light terrain give shooty armies a leg up.
Where to put it?
There are lots of schools of thought on this one. You can sprinkle your pieces out evenly, push them together in bunches or group them by theme.
Of equal importance to a pretty table is what your terrain plan is, based on your army. If I'm running gunline, all the big pieces are hugging the table edges. If I'm running assault, I start with the largest, tallest pieces first, and fill up the center.
What Type?
Most terrain breaks down in 5th into either 4+ area terrain (woods, etc), or tall stuff that fully blocks line of sight (Cities of Death ruins, etc). You should take these into consideration carefully pre-game. I've seen many a game lost before the forces even deployed due to poor placement of terrain.
~I want to hear from you. How much terrain do you usually stuff onto the tabletop and what type? Do you have any particular strategies or sneaky tricks for placing terrain. If you have specific unit-army/terrain combos you find especially effective, lets hear them. The floor is yours generals.