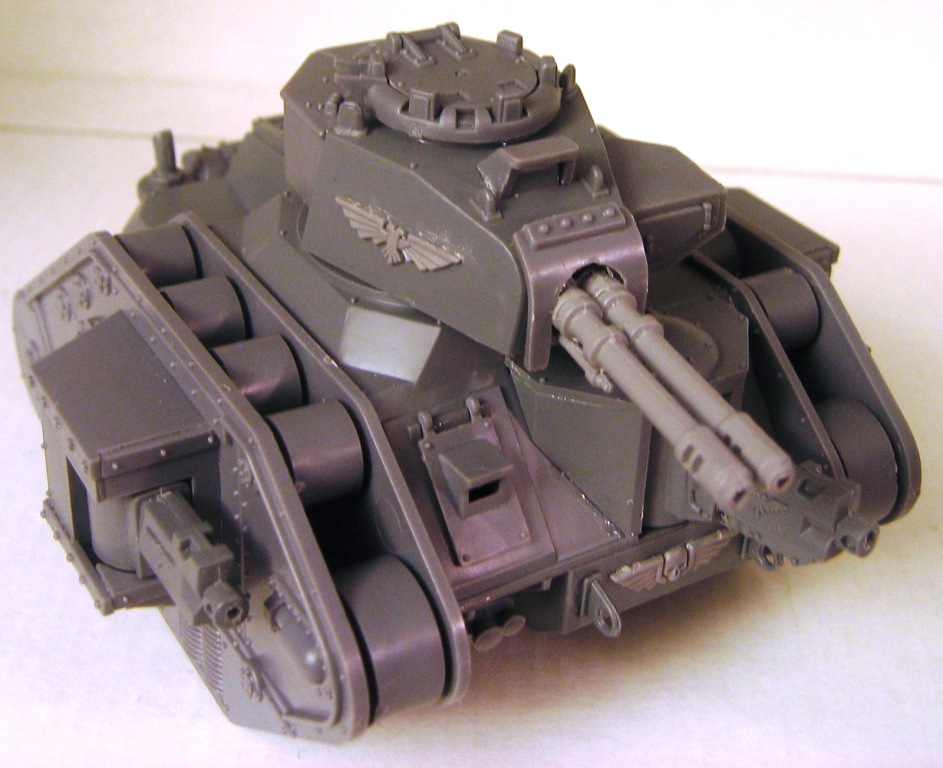 Following up on the Russ Tank Variant Workshop article I did here recently, I thought I'd provide an update with one more variant conversion and some painting ideas for getting large numbers of tanks painted quickly.
Having built at least one of every other variant of the Leman Russ and with three models left in my Apocalypse bundle box of ten models, I decided to go ahead with an Exterminator conversion. A picture of the completed conversion is shown at the top of this article. The turret gun was built from the nub of the battle cannon that comes with the kit and two autocannons from the Cadian Heavy Weapons Team sprue. This variant required slightly more complex and severe cutting of the battle cannon than any other Russ variant conversion I performed, although it was still not overly difficult. Polystyrene is easy to work with in this manner if you have a good, sharp hobby knife and hobby saw. Mind your safety when working with sharp tools!
The following model has been sprayed with khaki spray paint, then airbrushed with Catachan Green and Scorched Brown. I sprayed eleven vehicles all at once, then began highlighting and detailing a batch of five. When the first five are done, I'll move along to another batch of four, then work on the remaining two models which are much larger Baneblade variants including the Stormlord shown here.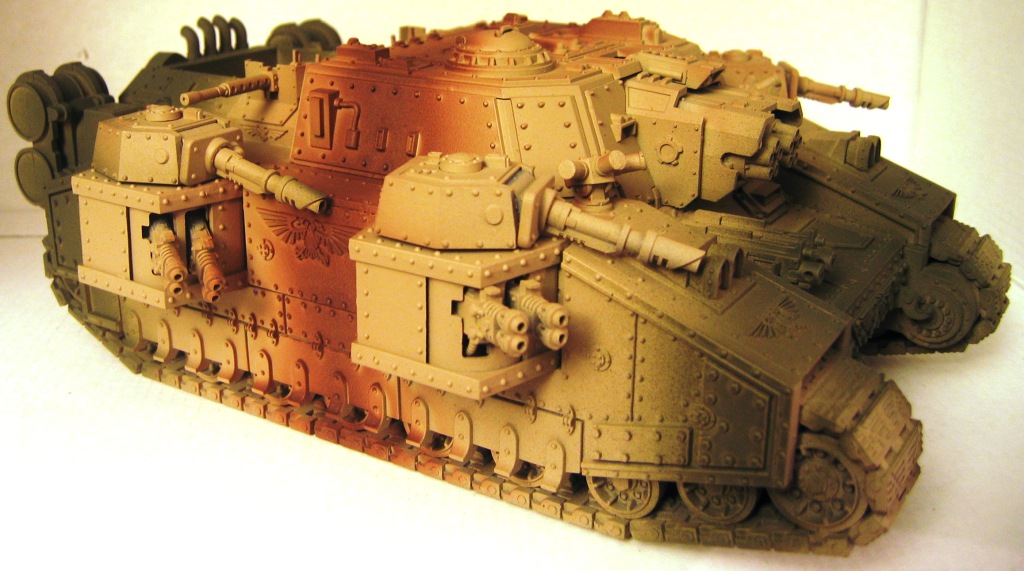 This model has a drybrushed highlight over the base coat. The khaki and brown parts are highlighted with Kommando Khaki mixed with Skull White, then a smaller amount of drybrushing with pure Skull White. The Catachan Green is highlighted with a drybrush of Camo Green. Some details are now base coated over the spray and drybrush work, like the fuel drum in the back, rolled camo net and the aquila on the turret.

This model also has both drybrushed highlights and a solid beginning on detailing. Anything that will be painted metallic is first painted black. The aquilas are shaded and outlined with thinned down black paint before being detailed with white.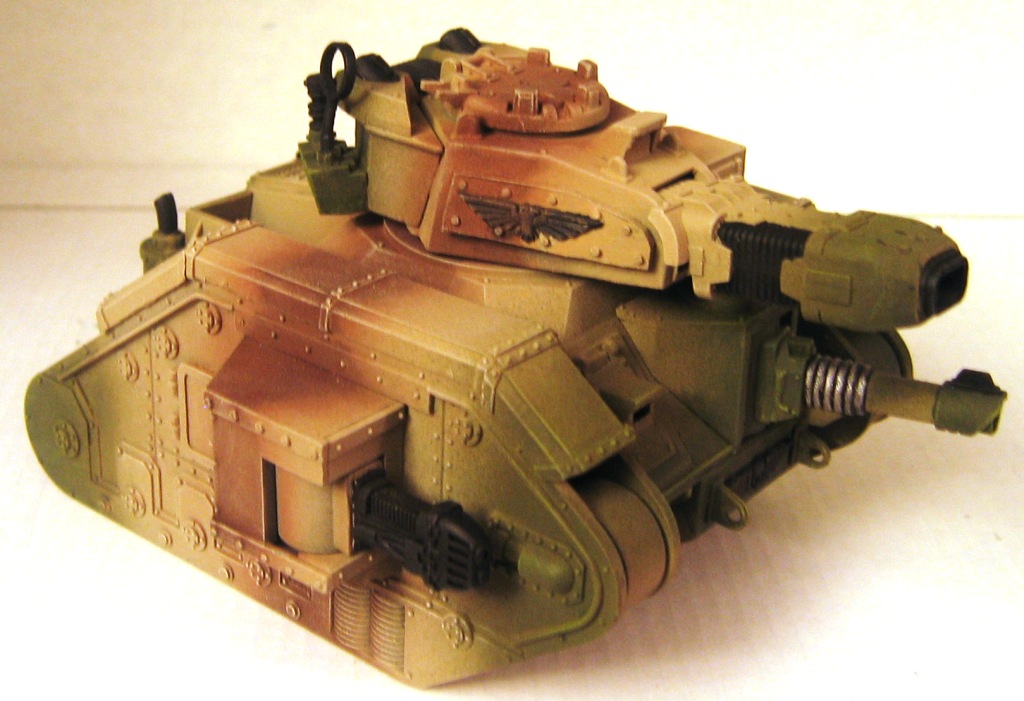 This is a completed model with final details and highlights fully painted.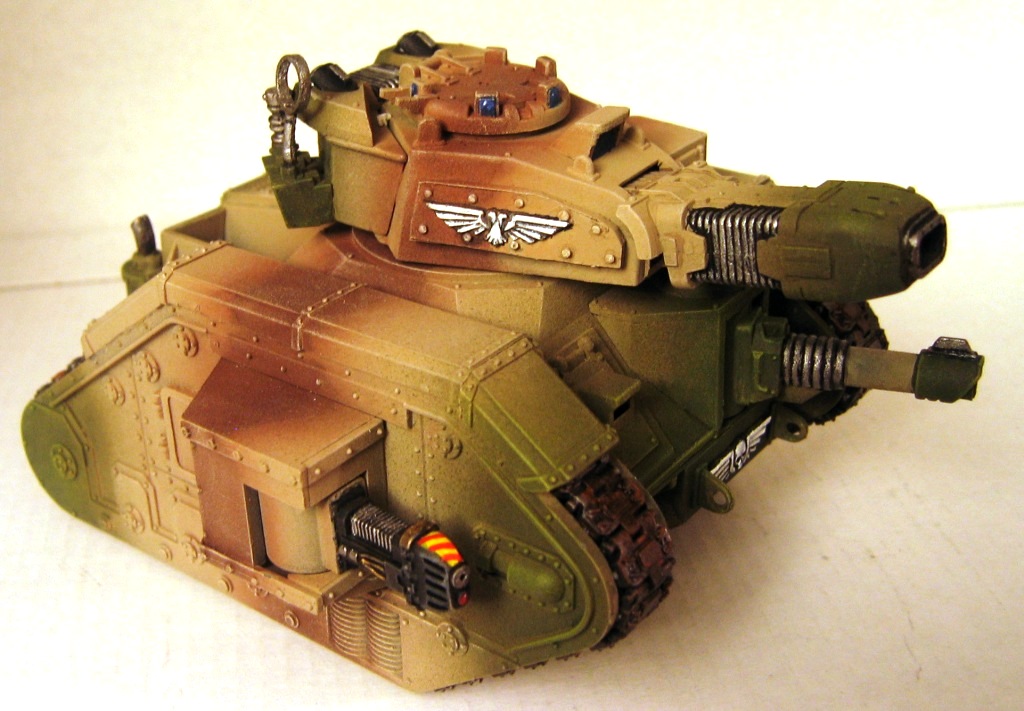 My Imperial Guard army is growing by a huge leap with all this Leman Russ variant converting and painting. By the time you're reading this I'll likely have finished painting seven Leman Russ variants, a Bane Wolf, a Devil Dog, a Hellhammer and a Stormlord. There are still a few more IG vehicles for me to do even after all of that and I'm sure I'll really be in trouble again when some of the other IG vehicle kits get released in the hopefully near future. I'm really looking forward to US GW's "Tanksgiving" event this year!