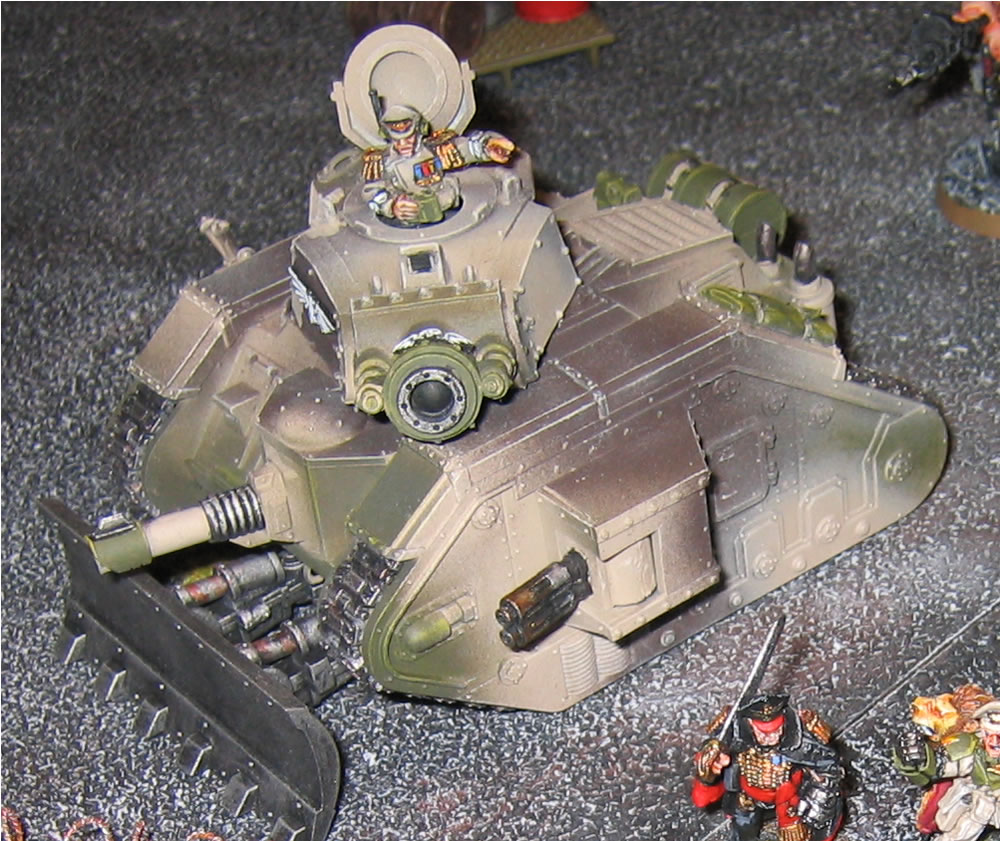 Warhammer 40,000 "treadheads" have been drooling over the list of Russ tank variants on page 49 of the latest incarnation of the Imperial Guard Codex ever since it was released a few months ago. The now numerous weapon variations and combinations one can stick on the venerable old Leman Russ tank model are dizzyingly exciting for Imperial Guard commanders. Which turret variants to build? Which weapon combinations to add to the hull and sponsons? The possibilities have never been so much fun.
Some other questions that all the new Russ variants raise for many IG commanders are:
1) Whether or not to wait for kits for the variants not yet available and
2) If one doesn't want to wait for kits, what can be done through conversion to build some of the new variants and finally
3) How best to make use of all those extra cool bits available in the new Demolisher kit after one builds a single tank model from it.
I wouldn't even begin to try and answer question number 1, that's up to each modeler to decide, but for those that have decided to go ahead and try their hand at building some of the variants not yet available as regular GW stock items, I think I can help while answering question numbers 2 and 3 together. Best of all, everything used in the conversions covered in this article is made from the same polystyrene plastic. No metal or resin bits were used at all, so get out your plastic cement, put the super-glue away for a while, and lets get to converting!
First, all those extra weapon bits in the new Demolisher kit will leave you with a plethora of options to add to other tank kits. If you have some regular Leman Russ tanks around you'd like to convert, those parts will be most helpful, especially for upgrading the sponsons or hull weapons on your Russ to something other than the heavy bolters or lascannon that comes with it. A simple cut and glue job with a modeling saw and some plastic cement will do the trick.
When it comes to the turret weapons things get a little more complex, but certainly not overly difficult. Some cutting of the battle cannon and replacement with those extra turret weapons from the new Demolisher is also possible. For variants not covered by either the regular Russ or new Demolisher kit, other resources are available like plastic tubing or parts from other GW tank kits. In the pictures below, I'll go over five different conversions using the aforementioned items.
This Punisher conversion is one of the simplest. If you've built an Executioner or Demolisher from your new Demolisher kit, you'll have a left-over Punisher gatling gun. Simply cutting the battle cannon near the gun root and plugging in the Punisher cannon will give you an instant Punisher variant. Note that I replaced the hull lascannon on this model with a heavy bolter from another Leman Russ. This tank will get 29 dice when firing from a stationary position! This is a more-is-more machine gun tank for mowing down infantry and light vehicles.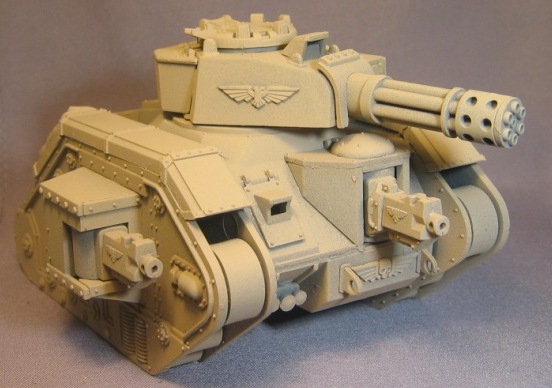 This conversion involved cutting off a battle cannon and gluing an Executioner plasma cannon to it. Only the part of the battle cannon that allows it to fit in the turret and elevate has been kept here. The turret has been widened with plastic card armor plating to match up with the shield near the root of the plasma cannon. Rivets were made from plastic rod. The sponson heavy bolters have been cut off to make room for plasma cannon bits from the new Demolisher kit, making this a "super-plasma" Executioner. One of the heavy bolters that was removed from this model was used to replace the lascannon on the Punisher shown above.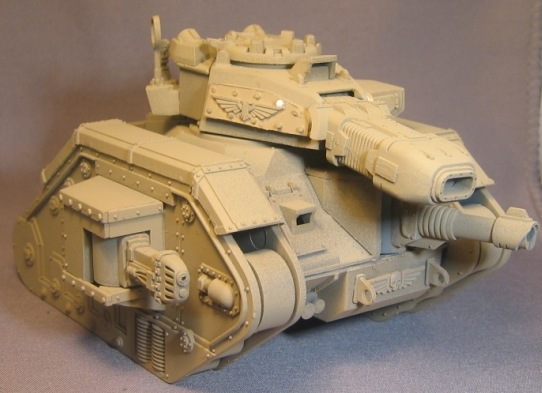 This Demolisher was converted using the plastic Demolisher cannon from the new Demolisher kit. The sponson heavy bolters have been replaced with plastic multi-meltas also from the new Demolisher kit.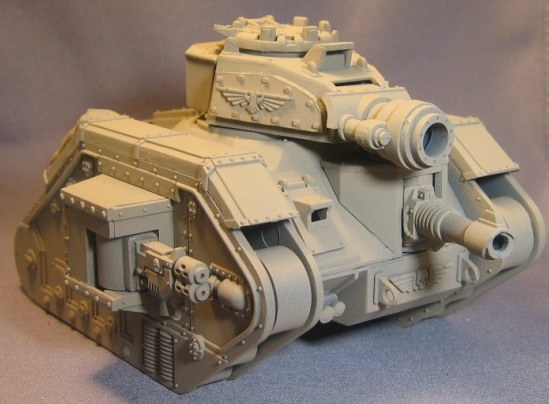 My Vanquisher was made by cutting out part of the battle cannon and replacing it with plastic tubing. I determined the length by looking at the proportions of the barrel in relation to the lascannon beneath it in the line drawing on page 49 of the Guard Codex. I made what is for me an unusual decision to eschew sponsons in this case because the Vanquisher is a dedicated long-range tank destroyer, so I figured the main turret gun and lascannon would be all that is needed here.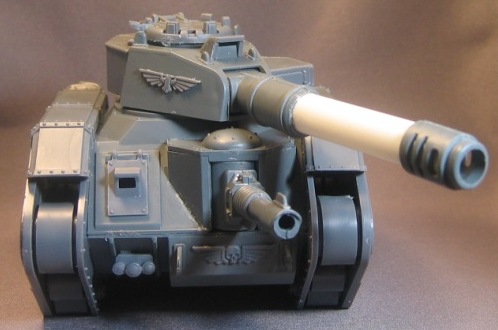 Finally, I built an Eradicator using the Hellhammer barrel from a Baneblade kit along with some plastic card, strips and rod to make the armored shield at the gun root.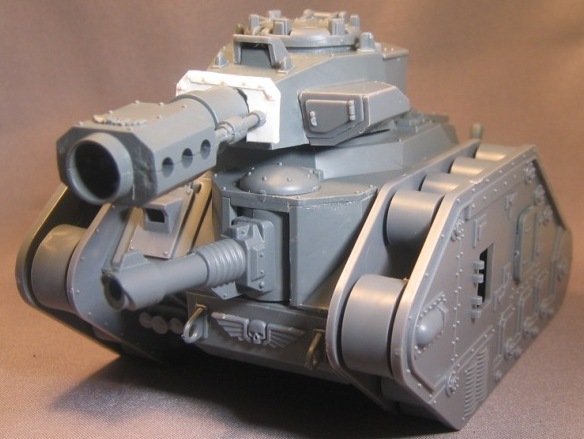 There you have it, some simple ways to get the most out of the old Leman Russ kit and the new Demolisher/Executioner/Punisher kit. A guardsman's armor may metaphorically be his contempt for the enemy, but nothing beats having some real armor in the form a bunch of Leman Russ variants to back him up. Happy tank building. Dismissed!
Half the fun of building these conversions was just figuring out how to do so. I've been sitting on that Apocalypse bundle deal of ten Leman Russ tanks since late 2007 waiting to see all the new possibilities for them that would be available in the new IG Codex before proceeding with assembly and I'm really glad I did. I never dreamed when I bought that big boxed deal that I'd be able to build so many different versions out of it. When the conversions shown are painted, they'll look much like the older Demolisher shown at the top of this article, which I painted for my IG army when I built the core of it back in 2006.
Finally, I'll leave you all with a question. You may have noticed in the pictures above that I did not yet add sponsons to my Eradicator. That's because I'm still trying to decide if I want to just put the usual heavy bolters on there or upgrade to something a bit more colorful. If you were building an Eradicator, what if anything would you use on the sponsons? As a hull mounted weapon? Imperial advisors may leave their comments below.