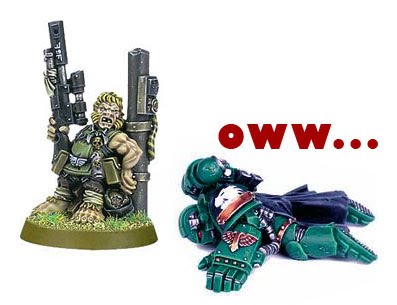 So we all love to sit around and tell tall tales, and today is one of those days.
I've often found that in the end, its the crazy events that happen on the tabletop that leave the longest and warmly remembered memories years after all the hardcore games pass into dust.
So today lets hear about some of your most over-the-top, downright hilarious, or just bloodsoaked combats in memory. Those models who wouldn't just roll over and die, but shattered the bell curve and earned their place in the hall of tabletop heroes.
I'll go first. The Fly Lords very first map-based campaign took place almost 10 years ago, and after 4 months of bitter struggle came down to a critical make or break game. Mkerr had thrown his lot in with Chaos and the entire camapign came down to a single assault on the last turn with a full squad of 10 Daemonettes charging into one of JWolf's 5-man ratling squads holding an objective in cover. To everyone's shock, guess who came up on top, and sealed the fate of an Imperial world? The humble cooks of the Imperial Guard. "No one expects the Dutch Oven to the groin"

~Have fun guys.