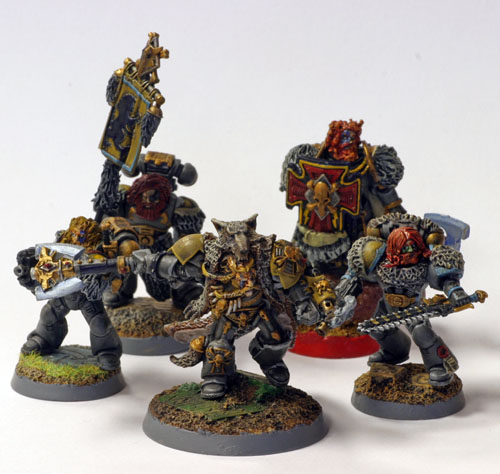 Images brought to the community by Warseer's: Rabianegra
With the Space Wolves release window just around the corner, all kinds of stuff is breaking of late. Lets see what's been bounding around the net int he last few days.

Latest from Warseer's Ragnar:

"I've seen the dex. I am a very happy puppy player, i think Phil captured the spirit of the wolves.
Bjorn and Canis are by far my favorite HQ's. Ragnar is a combat monster!!!
Bjorn is armour 13/12/10 with a built in 5+ inv. save he is also a ven dread. he comes with a assault cannon but u can give him a plasma cannon for FREE with a BS 0f 6!!!! he has 4 base attacks at I3 and WS6. all this for 270pts. he allows all frendly ubits with (iirc) 12″ to reroll moral. if he is killed all SW become feerless and becomes a new objective to be captured.
Canis is riding a HUGe wolf … and the model looks great. he allows Fen. Wolf pack to become Troops. and there is a unit of wolf riders . Canis has 5 base attacks but if he gets surounded he goes crazy and get one attck for evry model in base contact.he has a pair of wolf claws. hes S5 T5 bc he is riding the wolf.
Ragnar gives himself and the unit he joins d3 extra attacks on the charge. he already has 5 built in. with WS6 and S5 thanks to his Sword hes a tornado in combat. Put Ragnar in a unit of Blood Claws and it a distructive combo because the BC get +2 attack on the charge.
Ulrik is back and hes pissed LOL hes gives the unit he joins prefered enemy angainst a unit type he chooses at the start of the game.
Logan is a true comander. he gives special rules to any unit he joins i cant remember them all but one of the is relentless. othe then that he has not changed much.
The trickster is a BC unit upgrade. And he could be a lot of fun.
The T-hammer thrower is S10. he throws the hammer 6″ at S10 AP1 assault 1. and he gets an extra attack for his shield. "
BoLS Bjorn Tidbits:
-Armour 13 12 10
-Venerable
-5+ Invuln
-If he dies, his remains count as an objective. In KP missions, no KP are awarded to the enemy if the owning player has a friendly model in base contact with his remains at the end of the game. If the owning player has no model in base contact at the end of the game, D3 kill points are awarded to the enemy (such is his importance to the chapter)
~Standard caveats on all these IC rules rumors, but the Codex is just around the corner (October 3rd). We should be getting all kinds of stuff by Gamesday-UK. Overall, the Bjorn rules seem really good. He's the toughest dread in the game and if thse killpoint rules are correct, his legendary reverance to the chapter has been captured on the tabletop as well. What's your take on these minis and rules?