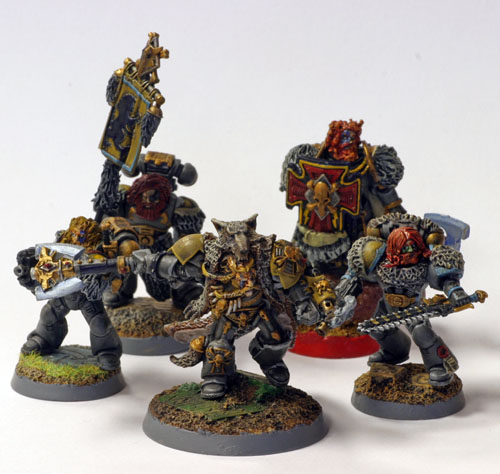 So a lot of folks are freaking out about Rune-priests in the new Space Wolf Codex. I think they are pretty powerful, but on the other hand are quite killable. There is no denying their potent abilities, and in particular this psychic power I have very slightly paraphrased:
Jaws of the World Wolf
"As a psychic shooting attack, trace a stright line along the board, starting from the Rune Priest and ending 24″ away. This line may pass through terrain. Monstrous creatures, beasts, cavalry, bikes and infantry models that are touched by this line must take an Initiative test.(bgb p.8) If the models fails the test, it is removed from play. Monstrous creatures subtract 1 from thier dice roll due to their tremendous size and strength. A roll of a 6 is always a failure."
Some are saying this is the "new lash" others are running around saying the sky is falling. Lets do a quick rundown of who really get hurt by this power and who takes it stride:
The Winners:
Eldar and Dark Eldar. These guys in general have I:5 and even the mighty Wraithlord is only affected on a 6. If anything this ability in the meta-game balance may net-help these forces.
The Losers:
Tau, Carnifexes, Necrons, and anything Nurgle. These are the big-expensive and slow guys who are going to howl bloody murder. Remember that the power is "remove from play", not instant death, or wounds inflicted, or anything else. I can't see how any defensive wargear or saves could apply.
Everyone else is somewhere between these extremes and will lose guys here and there, but nothing big.
~What's your take on this power? I for one am intrigued to see a stat-test in 40k. They are all over the place on the WFB side of the fence, but virtually unheard of over in 40k land. Personally, I think the power has the same achilles heel of Lash, being short range, and is in the hands of a 2 wound guy whi is not particularly hard to kill.

I do agree that overall Rune-Priests are one of the most potent units in the new codex. In my test game I certainly had much more problems dealing with one than Ragnar, and I now prioritize their destruction very highly in any Space Wolf List. Have at it guys.