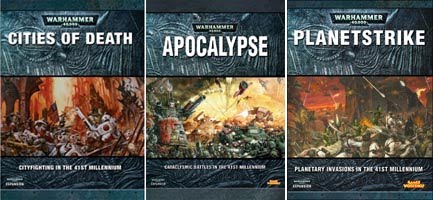 Over the last few years, GW has been cranking out their line of game "expansion" products, to widen the definition of what it means to play Warhammer 40k.
First we saw Cityfight/Cities of Death. This tested the waters, and was the springboard for GW's line of urban terrain.
Next came the big dice roll of Apocalypse, and the associated mega-product bundles and the Baneblade (still perhaps the most technically impressive kit released by GW).
This year came Planetstrike with its bastions and defensive terrain kits.
The question for you is are you satisfied with these products, and how much do you think they open up the game and general hobby? Do you like the use of resources, or would you instead choose a smaller game with more regular codex and updated mini releases?
~The floor is yours, and by all means lets hear your likes, dislikes and thoughts on the expansion line products. Poll, right hand column, ATTACK!