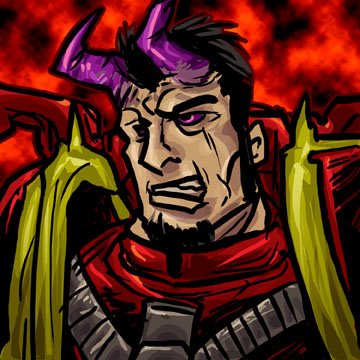 Goatboy here, rested and feeling good after my honeymoon in Hawaii. I stopped by the comic store Other Realms and chatted it up a bit with the owner there. If Katie wouldn't have threatened me with destruction, I would have brought an army down to play one night haha. Oh well, maybe next time.
So today I want to chat about figuring out your opponents bluff. What do I mean about a bluff? Well normally a bluff in 40k is some kind of unit or group that is designed to take your opponents attention. Yes, the unit can "win" the game at times, but it is really designed to attract your opponent and seem bigger then they really are.
We all know of these types of units. The game is full of them especially in the newer armies (TH/SS, Nob Bikerz, Nobs, IG FNP Command Squad, Plague Marines, Space Marine FNP Command Bike Squad, Seer Council Jerks, etc). There seems to be a trend of these type of units coming out as new codexes are released. I've already talked about using these hammer units as a way to push towards your opponent. They are hammers, but in all reality they are bluffs you use to try and keep your more important units alive and winning the game for you.
We all know that a lot of games devolve into kill fests, but for those smart players who pay attention to the scenario, they can lose the majority of their army and still win the game. Some of the other blog writers talk about this, and what I want to go into today is the ways your opponent might be trying to pull this and ways to break their bluff.
The first way to break the bluff is to throw your own bluff unit into their bluff unit and just keep them out of the game. TH/SS termies fighting each other is about as exciting as watching paint dry. This works the same with the other "unkillable" units as well.
So what do you do if you can't stop a bluff with your own? One way is to ignore it. Very few armies have super fast bluff units that can get in your face and stay there. Most of the time, once they unleash whatever nonsense they can throw at you, they are spent for a turn or two. So let them have something to do, get their job "done" and then be left out high and dry to hold their junk as they try to look bad ass.
The other way is to build certain aspects of your army that can counter this bluff in a way that will leave them stranded. Drop pod marines are a great way to cheat the bluff. Sometimes outflanking can also do the same thing as they change your setup or create new strong areas of your setup where there were none. Deep striking seems to be a big key to helping this out even with the inherent disadvantage involved with it. (If you want to know more, I plan on writing a how to deal with deep striking armies at some point) The biggest thing with any of these options is that it takes you knowing your opponents army and reading what he plans on doing.
This is one of the harder skills to achieve, as it takes playing a lot of armies as well as playing all the time. Once you start to recognize opponents signals you can easily see the strong points within their army, and how they plan on winning. Now this isn't something I can just tell you how to do, as it takes a lot of repetitive games as well as a consistent drive to pay attention to every aspect of the game – which isn't always the most fun for people. I know I don't like to treat every game as this great contest of wills, as I feel playing by the seat of your pants can add a lot of fun factor, even when dealing with "tournament" armies. But the only way you can get better is by playing the game as much as you can.
One way I can tell a bluff is by how your opponent is moving his bluff units. Usually these units play the same way every game. You throw them at your enemy, hope they stick for a turn or two, and then set everything else up to allow you to control the aspects of the game. Their tactics involve scare-factors, as well as being a bit tougher to deal with then a normal unit. Thus they need more "attention" if you want to destroy them. So when you see something getting thrown into what you might consider a foolish position, know that your opponent wants you to shoot at them for a turn or two and you can respond as needed to the other parts of their army that are obviously more important.
Another common giveaway sign is an opponent not taking much time with these units. Anything that seems to be, well not cared for as much as the others is a good example of a bluff unit. As I said before, these units usually play the same each game, with turbo boost, 12 inch movement forward, etc being their key to winning. So watch what your opponent pays attention too. That will also help you key in on what you really need to kill.
I know some of this is pretty obvious to veteran players. We read each codex, front to back and look for the chinks in their design that allow for some kind of breaking and creation of these bluff and hammer units. It is these types of units that I feel create the cool tactics you see within the universe of 40k. It makes the game more complex than just sitting back, rolling some d6's and looking at a chart to figure if you made something go boom.
Again if you have any questions shoot them to [email protected]. Sorry for the lack of minis to show this time around. This week is looking to be a nice vehicle week as well as some small fantasy stuff. Orks will be back next week and some other tweaks to the IG that is sitting at my table staring me down. I have a small Grey Knight commission to work on too, and you guys may have heard about this pesky game called Space hulk. heh.